With summer in full swing, the outdoors beckon. The weather is perfect for lounging by the pool, indulging in alfresco brunches with family, partaking in shopping excursions with your lovely attendants, and hitting the road for romantic getaways with your beloved. Many brides will be saying "I do" this season while others will be attending celebrations of family and friends in anticipation of their own upcoming nuptials. Regardless of whether you're attending a summer soirée as an attendee or the guest of honor, we want to be sure that your skin is ready for its close up!
Discover a selection of the best beauty products our editors are loving this season that will have you looking radiant on your big day and all the days leading up to your wedding and honeymoon!

Whether for your big day or to complement the gorgeous outfits you'll be wearing to bridal functions this season, sun-kissed skin is always in fashion. You can achieve this glowing look at home by simply adding a few drops of Clarins Radiance-Plus Golden Glow Booster to your moisturizer. This self-tanner produces natural-looking results and contains aloe vera extract to soften skin. $45; Available at Sephora and clarins.com.



Long nights of pre-wedding celebrations with friends and family can take their toll on your skin. The Airelle Skincare Age-Defying Eye + Lip Treatment helps brides freshen up not only by reducing the puffiness around eyes and lips, but also by firming these delicate areas. Its highly concentrated blueberry extract is packed with antioxidants to nourish skin and combat the fine lines that appear in these zones as you age and start to see the negative effects of sun exposure. $68; airelleskin.com.

The hub of a bride's wedding planning seems to be her trusty cellphone – from reading digital bridal magazines for ideas to calling and texting vendors, family, friends, and her fiancé. With so much use, bacteria can accumulate on the surface of your phone and contribute to blemishes. Tuck Well-Kept cleansing towelettes housed in stylish packaging (including "The Britt" bridal pattern shown above) in your purse to wipe your screen clean when needed. The pocket-sized towelettes also work well for removing pesky fingerprints from sunglasses. $5.99; staywellkept.com.

As you venture out to relish the wonderful warm weather, remember to protect your face from harmful UV rays. Murad Anti-Aging Moisturizer Broad Spectrum SPF 30 PA +++ is light, hydrates skin without causing blemishes, and reduces early signs of aging. Using a formula that contains saw palmetto, sesame seed, and argan kernel extracts, it regulates oil production to help keep pores clear. $48; Available at Nordstrom and murad.com.

After a day of running around to wedding-related appointments, unwind with a fragrant bath. Mixture Bath Bombs are handcrafted and wrapped in colorful tissue paper. You can choose from a selection of over 99 scents, including gin & lemon, stargazer lily, and marine. When you drop the sphere under running water, it begins to effervescently dissolve and releases moisturizing jojoba oil, shea butter, therapeutic oils, and fills the space with a lavish aroma. Each eight-ounce orb can be used multiple times. $7.99; mixtureusa.com.

While washing your face removes most makeup, oil, and dirt, sometimes further assistance is needed to achieve a polished appearance. The Le Mieux Skin Perfecter is a rechargeable beauty tool for the neck and face that you can easily incorporate into your regimen. Utilizing professional-strength ultrasonic waves, the product gently deep cleans and exfoliates your skin, extracts blackheads and whiteheads, and visibly improves lines and the look of enlarged pores. You can also use it to infuse your pre-existing skincare products. $225; 888.327.8188, skinperfecter.com.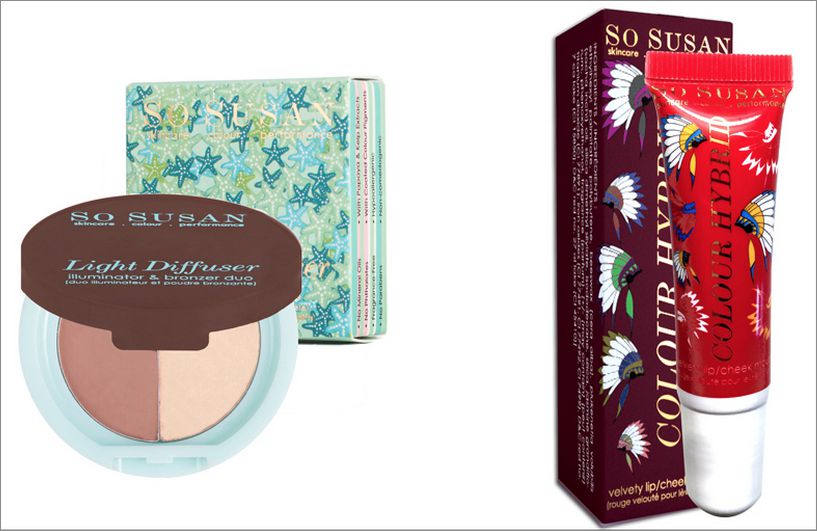 Jet lag and long hours on the road can be tiresome for women traveling to destination weddings. Bridesmaids are sure to appreciate a little makeup pick-me-up to get them in the spirit of the planned celebrations. Rich in antioxidants, cocoa, papaya, and kelp extracts, the So Susan Light Diffuser ($18) helps rejuvenate fatigued skin and offers a compact with a bronzer and illuminator duo. Each can be used individually to contour or highlight, or blend them together to create an overall glow. Finish with a dash of color from the So Susan Colour Hybrid ($17.50) lip and cheek "cream-mousse." Made with organic sacha inchi oil – which contains Omega 3, 6, and 9 – and jasmine extract, the product restores moisture to chapped skin. Created in Pantone's 2015 color of the year, the rich Marsala shade complements all skin tones. So Susan Light Diffuser ($18) and Colour Hybrid ($17.50); sosusan.com/en.
If you've tried these products before, let us know what you think of them in the comments! Or share your beauty must-haves with other brides.
Opening photography by Elizabeth Messina