Congratulations are in order for Super Bowl LIV winner Patrick Mahomes II and Brittany Matthews! The NFL player and star quarterback of the Kansas City Chiefs proposed to his high-school sweetheart, fitness trainer Brittany Matthews of Brittany Lynn Fitness, on Tuesday, September 1, 2020 just a day after her 25th birthday and minutes after receiving his Super Bowl ring during the special ceremony at Arrowhead Stadium.
Brittany shared a slideshow of photos from the picture-perfect proposal in an Instagram engagement announcement today, Wednesday, September 2nd. "On a day that was meant to celebrate you, you turned it into celebrating us. It's always us, it's always you and me. The words you looked into my eyes and said to me at this moment, will NEVER leave my mind! You made this day perfect, you took my entire breath away and I could not have imagined anything better. I love you, forever and always! Cheers to spending our lifetime together and an inseparable bond."


Though Patrick Mahome's Super Bowl ring is luxurious and filled with diamonds, the most impressive diamond is arguably the one on his fiancées finger. The 24-year-old QB shared the news on his Instagram Stories with a preview of the gorgeous engagement ring.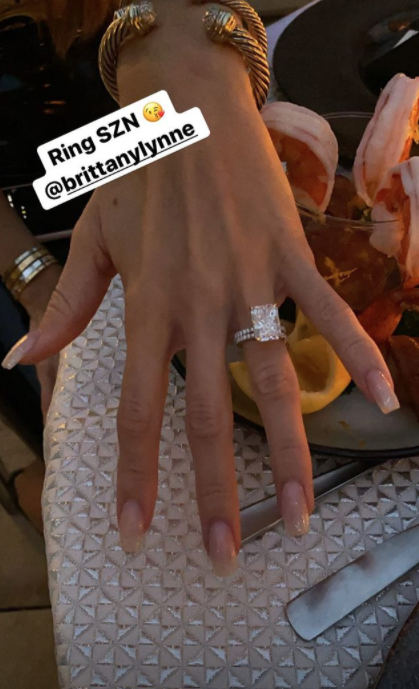 Courtesy of Patrick Mahomes II's Instagram Stories

The pair, who has been together since high school and even went to prom together, has a week of engagement bliss before the NFL season starts next week, with the Kansas City Chiefs facing off against the Houston Texans on Thursday, September 10th at 5:20 PM (Pacific Time).


Congratulations to the happy couple! We can't wait to discover more details about their upcoming wedding! To see some of our favorite NFL weddings, click here!