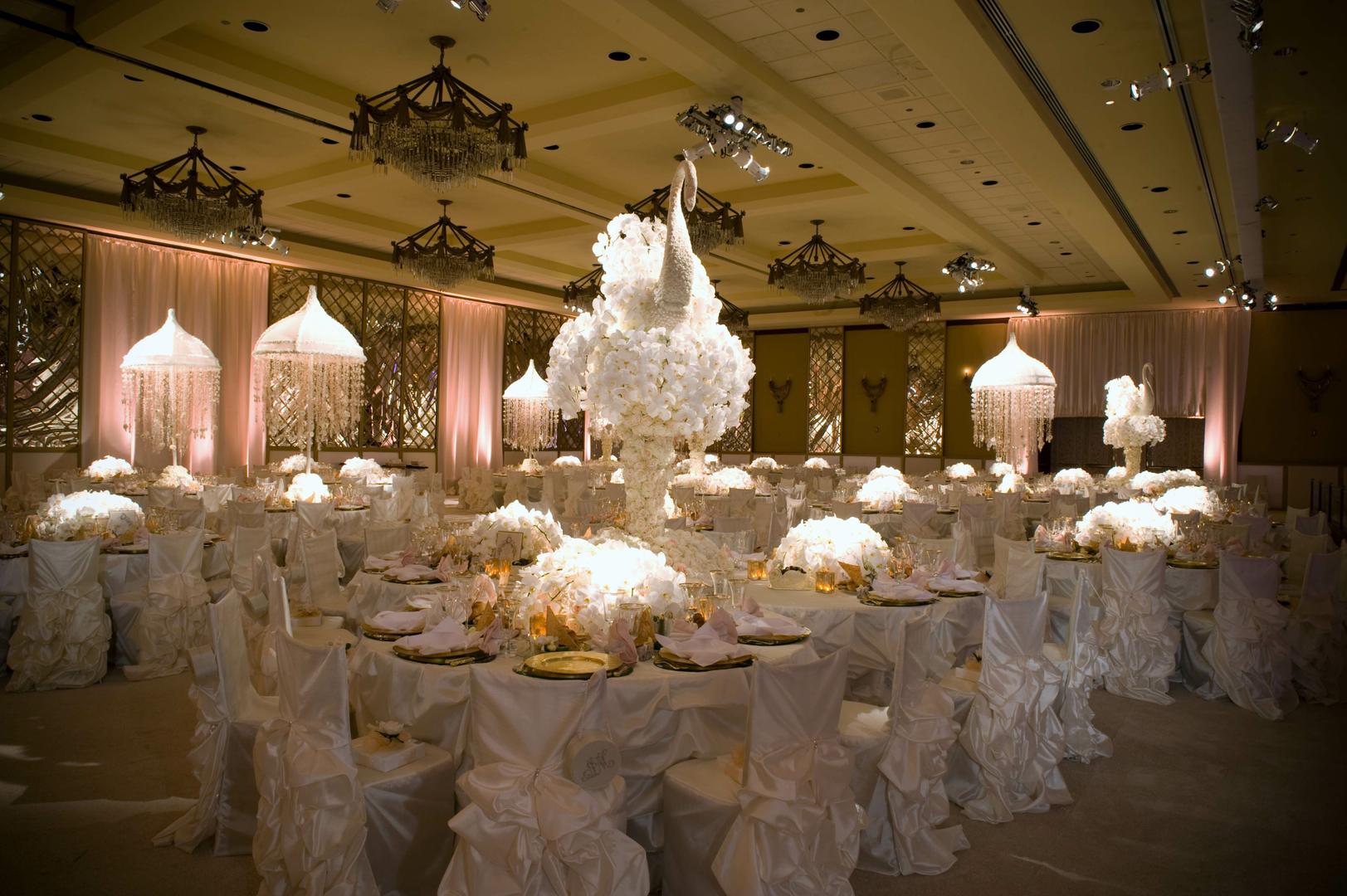 One rapidly growing trend for weddings is designing the décor to be a reflection of the bride and groom as individuals; their relationship thus far; and their dreams for the future. This more intimate approach allows family and friends to make a personal connection to the couple, thus making the reception an event they will look back on fondly for years to come. Making a lasting impression on your loved ones simply requires some reflection, creativity, and planning. Below are some fresh ideas to get you started.
ALTERNATIVES TO VASES
Centerpieces are often the most memorable of all wedding décor. As guests enter a wedding reception, it is the centerpieces that greet them and set the mood for the entire event. Beautiful flowers of varying heights and textures play an important role in making centerpieces standout; however, so do the vessels in which the blossoms are displayed. Vessels that are personal and unique tell a story to guests, showcasing the wedding couple as well as the flowers.
Think Seasonal. For a winter wedding, capture the essence of a wood-burning fireplace by having your floral designer nestle flowers into a hollowed-out log. In the summer months, consider swapping out the log for a piece of driftwood. You will still evoke a rustic feeling, but more coastal than woodsy. Other options for spring and summer are white porcelain pitchers (these can work for traditional or modern receptions depending on the lines of the piece), and canisters and watering cans of galvanized metal.
Think Sentimental. Ask family members if they would be willing to let you borrow heirloom vases, wooden boxes, and candlesticks. Incorporating heirloom pieces will add an element of nostalgia and make your centerpieces more special. Do not be afraid to mix and match old pieces with new pieces, or scour flea markets for complementary vessels. This works especially well for vintage-inspired receptions.
Think Out-of-the-Cage. Collect antiqued birdcages and have your florist fill the interior of each with moss and flower heads. The outside of the cage can then be adorned with small floral groupings. This is a lighthearted and unexpected vessel that can actually be quite chic.
VESSEL-FREE OPTIONS
Arrangements without vessels can be costlier, but you'll definitely make a statement with this look. One well-known designer (who is famous for the vessel-free arrangement) masterfully hangs chandeliers of flowers over entire dance floors, creating a breathtaking display suspended overhead. If cost is a consideration, a good florist will be comfortable providing alternatives to grand designs, such as strategically suspending the arrangements over just a few tables while simplified arrangements are placed in containers on the tables that remain. There are plenty of vaseless designs that will be new to guests without being cost prohibitive to create.
Think Branches. This is a treatment that will surely "wow" every guest at your reception: Have your floral designer create a beautiful display of cherry blossoms that "sprout" from a hole in the center of a table. It creates the look of a fresh canopy of blossoms throughout the room.
Think Light. A grouping of candles with flower heads or petals sprinkled around the base always makes for a classic and elegant focal point. An added benefit of this type of centerpiece is its soft, romantic glow.
Think Dutch. In Holland, floral designers expertly create hand-held bouquets that are so perfectly twisted at the base that they can stand up on their own and serve as centerpieces. Since this type of arrangement is not kept in water, it's important to consider which type of flowers you incorporate to maximize the centerpiece's longevity. Always keep in mind that you do not have to abandon the traditional vessel altogether. Clear, glass vases can be easily updated simply by varying their shapes. Incorporating cylindrical, fishbowl, hourglass, and cube vases into your design makes for a unique look. Other variables to have fun with are the heights and embellishments of the vases. Whether you choose to go vaseless, traditional, or somewhere in between, the key to creating something distinct and personal is in the details. Thinking about each vessel as an accessory in and of itself will ensure it is just as artful as the flowers it does or doesn't hold.
Opening photograph by John Solano Photography