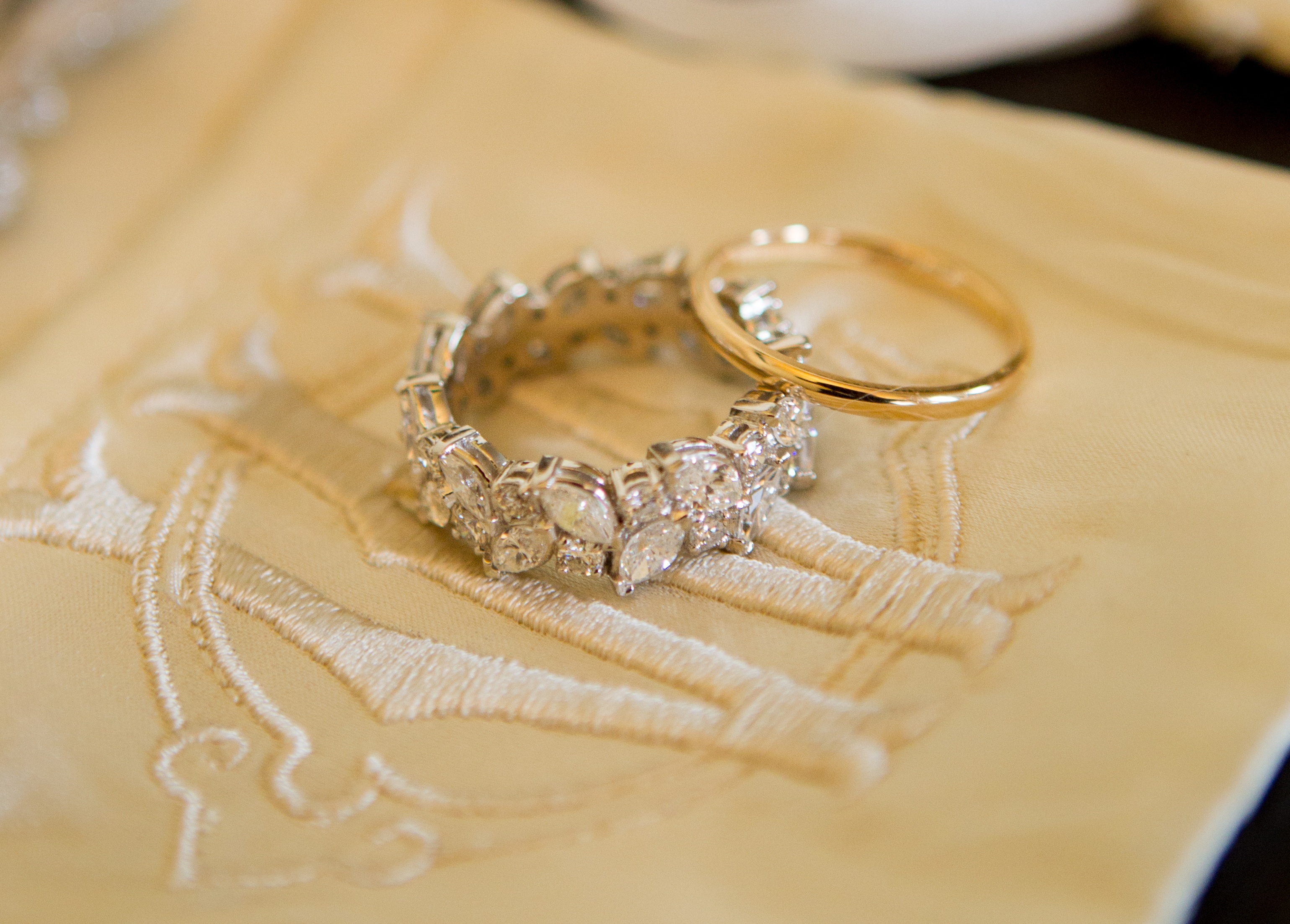 After the gown, jewelry is the most important accessory on a bride's body on her wedding day. Brides need to remember that their jewelry will be in every photo and finish her ensemble on her special day. It is the complement to the gown, elevating and completing the entire wedding-day look.
ACCESSORIZE EARLY
I recommend that a bride begin looking for her jewelry at least three months before her big day. However, there are a few things to consider before you begin your search:
Spending Limit. Typically, my bridal clientele spends between $500-700 on their wedding jewelry, but every bride has a different number. I definitely recommend staying within the amount that is suitable for you, so set a limit beforehand to prevent overspending.
Types of Jewelry. Depending on the neckline, your dress may or may not call for a necklace. Consider the main components of your bridal ensemble, and which jewelry pieces will accent them best. Keep in mind that you don't want to look over accessorized. For instance, it is important that your headpiece does not compete with your earrings or any of your other jewelry. Keep earrings simple and delicate if the headpiece is elaborate.
The Formality of Your Wedding. Just as you want your Jewelry to complement your headpiece and gown, you want your accessories to be appropriate for the formality of your event. Destination weddings tend to be more casual, for example, and therefore the focus should be on pieces that are light, airy, and not too overpowering. For a black-tie affair, a bride may opt for a more "glam" look, in which case large earrings and a wide cuff can do the trick. If she has a simpler gown, an elegant, statement necklace paired with a statement cuff will work wonders to elevate the entire look to fancy and formal.
FINDING YOUR STYLE
Once you have an idea of your price range, the pieces that are of most interest to you and the general style you seek, you can begin shopping in earnest. When selecting your accessories, keep in mind that your wedding is not the day to pick up and wear a trend, but most importantly to wear pieces that will express your personal style and taste.
Statement Pieces. Big jewelry is definitely "in"! Statement necklaces, earrings, and brooches that are intricate and eye-catching are appropriate for the fashion-forward, stylish bride.
Color. A pop of color always looks great, and can be done in a few ways. You can pick up the color of your bridal party's dresses or the colors in your bouquet. Since we are seeing gowns with colored sashes, you can also match your jewelry to your sash. Color is especially popular for beach weddings.
Vintage. If your wedding style is a throw back to the 20s, 30s, or 40s era, a vintage-type piece will completely fit with your wedding-day ensemble. Look for a piece that is slightly darker for a more "antique" feeling. Your guests will think you're wearing an heirloom piece passed down from your great-grandmother with the bonus of a modernday feel to it!
Heirloom. Family jewelry has enormous sentimental value, but combining looks from different generations can be tricky. It is important to bring your "something borrowed" or "something old" with you when selecting the rest of your bridal jewelry. Another option is to wear your heirloom piece for the ceremony and your own jewelry for the reception.
Gold. Gold is fresh and definitely a new contemporary look for bridal. Gold especially complements ivory gowns beautifully!
Classic. Some brides want the classic, traditional bridal look, and that is definitely a smart way to go! Simple teardrop earrings paired with a delicate bangle will leave no question mark on your wedding-day look. A simple necklace or a piece that incorporates pearls have always been the marker for a timeless wedding-day style.
After gathering information on your wedding-day look, it's obvious that your jewelry is one of the most important accessories on your wedding day. Leave yourself time to search for the right piece. Make sure you have a clear vision of what you want to look like on your wedding day and that the jewelry you're choosing reflects this. It's nice to take risks with your style, but remember these are the pictures you'll be looking at for years to come! You want to look like yourself – just a very special version of you.
Opening photograph by Denis Reggie Photographers