While there are thousands of flowers to choose from, most brides decide to incorporate roses, hydrangeas, and orchids into their floral design; however, we love when couples select unique blossoms for their design scheme. While they may only bloom for a couple months out of the year, cherry blossoms are an absolutely jaw-dropping choice for your wedding. If they're not available and you can't imagine your big day without the look of cherry blossoms decorating your tables, ask your floral designer about faux cherry blossoms (as seen in this real wedding)!
Cherry blossoms, known as "sakura" in Japanese, are a symbol of spring and renewal, which is a lovely sentiment for a wedding! The trees, which offer short-lived blossoms that typically bloom in March and April, were first introduced to the United States in 1912 as a gift from Japan – and ever since, they've been a romantic addition to the country's landscape. For those couples lucky enough to live near them, the lush, flowering trees make for a wonderful site for an engagement shoot, day-of portraits, or even the wedding itself. Popular parks providing cherry blossom trees include: Balboa Park in San Diego, Branch Brook Park in Essex County, New Jersey, Fairmount Park in Philadelphia, Lake Balboa in Los Angeles, Sakura Park in New York City, and the Tidal Basin in Washington, DC.
Even if you don't live near rows of stunning cherry blossom trees, the flowers can certainly be incorporated into your wedding décor. Cherry blossom flowers can range in color from various shades of pink to white and ivory, so they fit beautifully within most wedding color palettes and look lovely as both ceremony décor and reception centerpieces. If they're out of season or unavailable, faux cherry blossoms are a wonderful alternative, as well as using a cherry blossom design motif on paper goods, your bridal gown, or even your wedding cake decorations!
Take a look at the images from real weddings below, all of which feature cherry blossoms. To see more from these celebrations, be sure to click on each photo.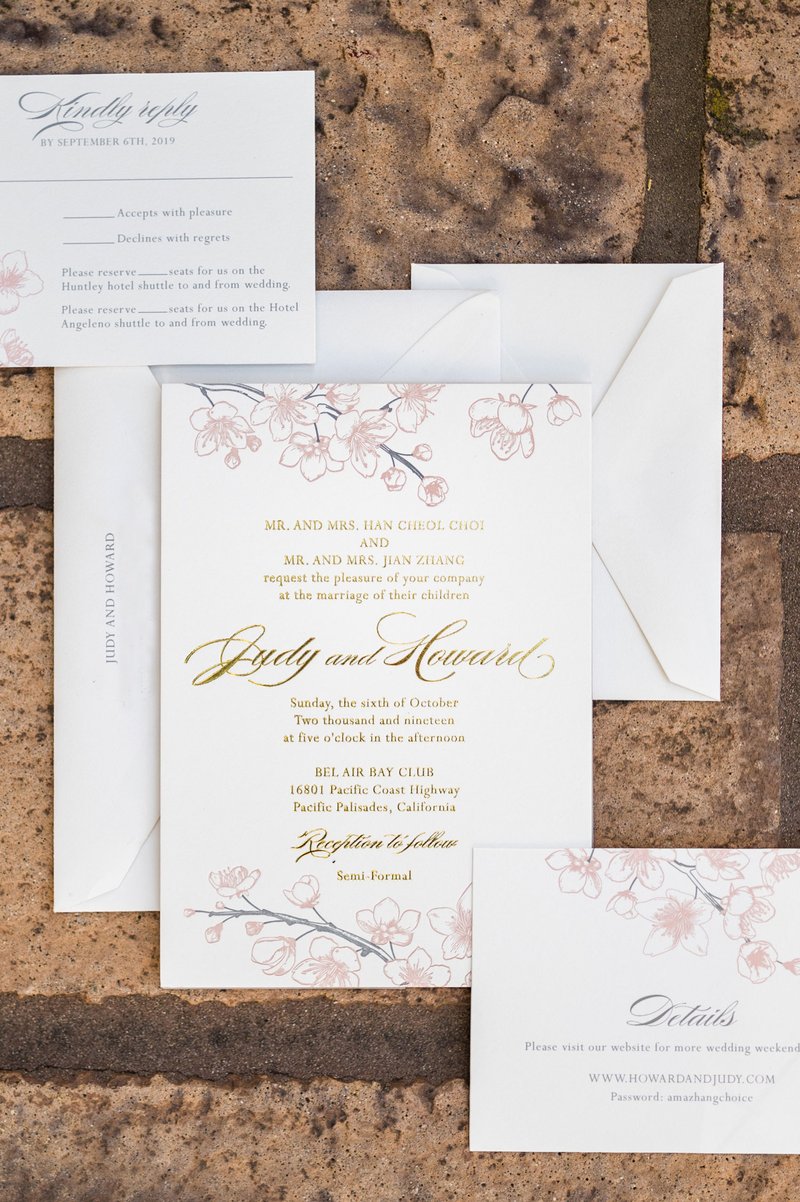 Photo by Tomas Skaringa of The Big Affair Photography; Planning & Design by Tessa Lyn Events

Photo by Tomas Skaringa of The Big Affair Photography; Planning & Design by Tessa Lyn Events


Photo by Jay Lawrence Goldman Photography


Photo by Laurie Bailey Photography; Planning & Design by Tessa Lyn Events

Photo by Amy Anaiz Photography

Photo by John & Joseph Photography

Photo by Christine Bentley Photography

Photo by Amy Anaiz Photography


Photo by Maya Myers Photography


Photo by Laurie Bailey Photography; Linens by Luxe Linen; Plannning & Design by Tessa Lyn Events

Photo by Maya Myers Photography

Photo by Michael Falco for Christian Oth Studio

Photo by Rene Zadori Photography; Floral & Event Design by Eddie Zaratsian Lifestyle and Design

Photo by Tomas Skaringa of The Big Affair Photography; Planning & Design by Tessa Lyn Events


Photo by Tomas Skaringa of The Big Affair Photography; Planning & Design by Tessa Lyn Events

Photo by Christine Bentley Photography

Photo by Jay Lawrence Goldman Photography


Photo by Jacqui Cole Photography; Rentals by Revelry Event Designers

Photo by Ralph Raphael; Planning & Design by KA Mariage

Photo by Rene Zadori Photography; Floral & Event Design by Eddie Zaratsian Lifestyle and Design


Photo by Jay Lawrence Goldman Photography

Photo by Tomas Skaringa of The Big Affair Photography; Planning & Design by Tessa Lyn Events

Photo by Amy Anaiz Photography


Photo by Rene Zadori Photography; Floral & Event Design by Eddie Zaratsian Lifestyle and Design