When it comes to DIY projects, we'll be the first to caution brides against attempting to plan too many elements of the wedding alone, without the help and guidance of professional vendors. The last thing any bride needs is to be stressed out about bedazzling 200 chair covers the night before the wedding! However, for artistic brides who can't imagine not getting their hands dirty and creating at least a bit of the décor by themselves, we've determined the best items to DIY that won't add to their stress – and will actually be fun opportunities to personalize their celebrations.
The following five projects are easy to customize and don't require a huge time commitment or professional skills in order to create a beautiful finished product. Just let your creativity shine!
1. Bride & Groom Chair Labels


Decorate your special chair at the reception with a handmade sign! Since this sign is just for you, feel free to get creative and design a gorgeous label that makes you proud to be the bride. Glitter, fresh or fabric flowers, ribbons, and even trinkets that represent your interests will all give your sign an extra bit of style and personality. Think of it as an opportunity for you to show off your artistic side in a completely low-pressure way – you're only making one sign, after all! See how real brides and grooms saved their seats at the reception. Photo by Callaway Gable; Consulting by Levine Fox Events; Rentals by Revelry Event Designers
2. Ceremony Goodies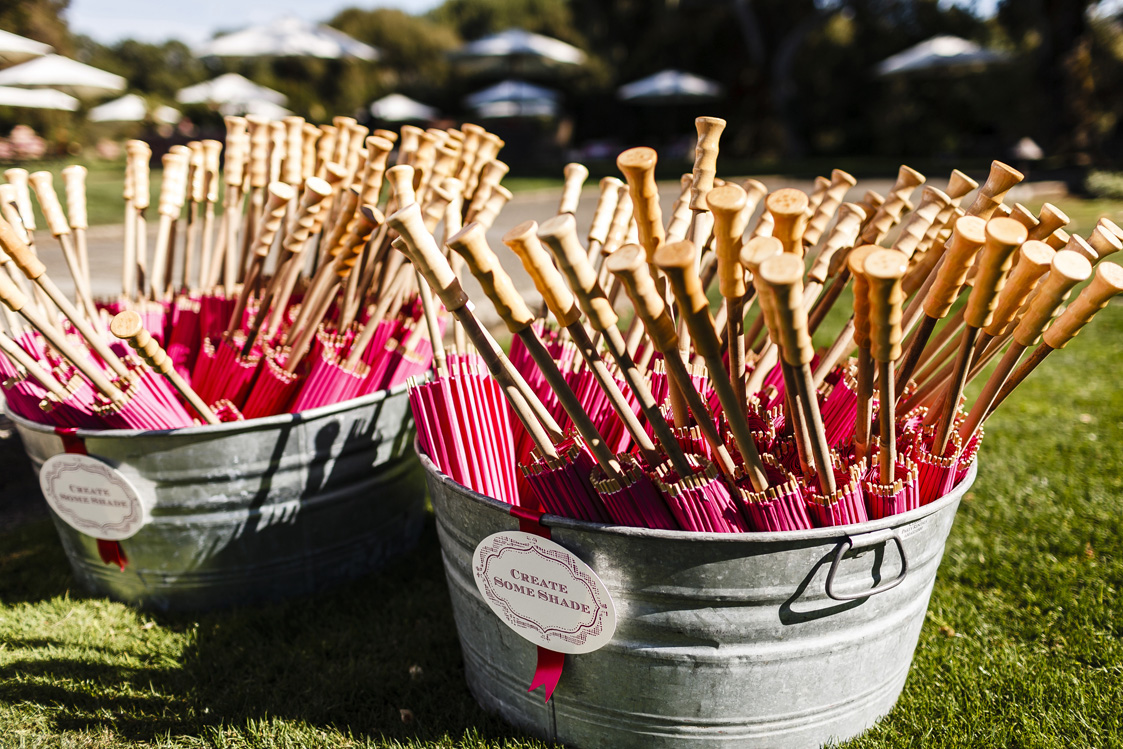 Guests will be grateful to receive accessories that will keep them comfortable for the outdoor ceremony, like umbrellas, flip-flops (if they'll have to walk on sand), sunglasses, and pashminas. Shop for your favorite cute accessories, display them in large buckets or baskets at the entrance to the ceremony, and hang pretty signs encouraging guests to help themselves. Happy guests = an even happier wedding ceremony! Photo by Chrisman Studios
3. Table Numbers


Table numbers are a great DIY project because you likely won't have to make more than 10 or so, minimizing your workload and stress, and there's a ton of room for creativity. Name tables after streets you've lived on, places you've visited, meaningful locations on your college campus, your favorite movies, or simply design pretty cards that match your tabletop décor. You'll give your reception tables that much more personalization and personality! Photo by Kelly Kollar Photography
4. Dog's Leash


Will your dog be joining you for the ceremony? Help him look his best by adorning his leash and collar with flowers or greenery. Wrap vines around the leash, and secure blooms on the collar with ribbon. What proud dog mama wouldn't want to dress her furry friend in his festive finest on the wedding day? Shop for your favorite flowers and greenery and see how beautiful you can make him! Photo by Jasmine Star Photography
5. Tasty Favors


If you have any bakers in the family (or you yourself love to whip up sweet treats), now is your chance to share their specialties with your guests. Wrap up individual portions of cookies, popcorn, candy, or other homemade snacks and distribute them as favors at the end of the night. This is a great contribution for moms and other friends or family members who are craving an opportunity to help out with the wedding planning. And guests will love this down-to-earth touch! Photo by Marisa Holmes
If you're having trouble deciding which DIY projects to tackle and which to avoid, read these tips before committing to a do-it-yourself wedding.