1. All Eyes on the Bride (and Groom)
To ensure privacy and prevent photos from being leaked to the media, celebrities ask guests to refrain from bringing cameras or phones to wedding festivities. The result: a more intimate setting for you to say "I do." Imagine looking out into the crowd and seeing all of your guests smiling back at you, instead of hiding behind phones trying to take the perfect photo. Guests who become "amateur photographers" often interfere with your hired photographer's ability to capture important moments. Promise to share professional photos online afterwards, or host a viewing party to really showcase the beauty of your special day.
2. Include Customization
Personalize your wedding to reflect you as a couple. If you dislike cake, who says you need to have one? Design your wedding your way, and do not feel obligated to follow traditions or trends. Guests will remember that it felt like a celebration of the two of you.
3. Consider a Big Reveal
Who doesn't love surprises? Try keeping the wedding venue a surprise for your guests. Have everyone arrive at a designated location and provide transportation to the event space. It could be in the same city, or if time and budget allow, another city, state or even country. Guests will be talking about the surprise for years to come.
4. Make it an Extended Experience
Treat your guests to a full weekend of festivities. Instead of one night, celebrate for two or three days. If spending limits allow, invite all of your guests to the rehearsal dinner or welcome party, and end the weekend at a farewell brunch with all of your guests. You will appreciate the extra time with everyone.
5. Privacy, please!
Select a wedding venue that provides exclusivity to you on your big day. A location which only hosts one wedding per day will leave you and your guests feeling like you have the whole place to yourselves. If privacy is important, you may want to eliminate public locations on the property to avoid unwanted spectators.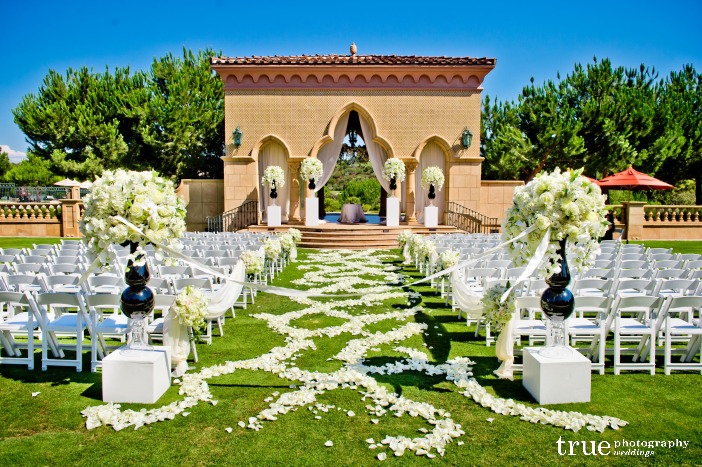 About Wedding Specialist Paige Levy Kouretchian
Paige Levy Kouretchian manages every detail of weddings at The Grand Del Mar. From selecting the perfect suite for the bridal party to share time-honored rituals, or scheduling a pre-wedding tee time for the groomsmen, she ensures your day will unfold just as you've always imagined.
About The Grand Del Mar
California's premier triple Five-Star resort and TripAdvisor's #1 Luxury Hotel in the United States, The Grand Del Mar combines Old-World Mediterranean charm with modern luxury. Lavish guest rooms, a Five-Star spa and golf course complement an exquisite array of venue options for up to 600 guests. From the romantic Capella chapel to breathtaking pavilions and terraces, occasions can be sun-kissed or starlit — and absolutely unforgettable. 858.314.2010, WeddingsAtTheGrand.com.