While many newly engaged couples look forward to hosting weddings in their hometowns, many brides and grooms prefer to whisk loved ones away to destination weddings – either in the United States or abroad. Since many couples meet and fall in love in cities and states different from the locations where they grew up, destination weddings have become increasingly popular. Choosing to host a destination wedding is a great choice for many engaged couples, as it provides the best of both worlds. Since guests will have to travel regardless in many instances, brides and grooms are taking advantage of offers abroad that provide themselves and their loved ones with exciting vacation destinations in exotic locales.
From villas in the Greek isles to castles in France, there are a wide range of venue options available for rent around the world. Couples who love wine may cherish a wedding in Italy, while adventurous duos may prefer to host a celebration at a lush, jungle estate in Costa Rica. Take a look at the unique destination properties available for rent on Airbnb, below, to inspire your own destination wedding event.
Greece
The islands of Greece are beautiful places to celebrate everlasting love. A favorite destination for couples getting married, throwing extravagant bachelor(ette) getaways, or honeymooning, the white-washed walls and views of the sea are unmatchable for unforgettable events. Couples can rent a villa on the small island of Antiparos in the Aegean Sea for one week. With enough space to host 16 guests, the site is the perfect place to celebrate an intimate, poolside wedding.

Bali
Bali has long been a popular destination for honeymoons, and now, many couples are combining their honeymoon vacations with destination weddings. Located on one of Bali's beautiful beaches, this spectacular villa features all of the items on a destination-wedding checklist, including a sparkling pool and beautiful vegetation. The bride and groom can happily call the villa home, or invite 10 of their closest loved ones to share the venue with them on the days leading up to the wedding.

Italy
Lovers of fine wine will find this villa near Montepulciano attractive, as it belongs to one of the region's famous winemakers. Boasting an Italian garden and a private swimming pool, this estate is both charming and sophisticated. The large, green lawn is the perfect place to host friends and family for an alfresco ceremony and enjoy time as newlyweds following the nuptials.

France
Celebrate your love and 800 years of history at this French château. The historic castle is available for weddings and is ideal for couples who love English history and television series such as Downton Abbey. The romantic space accommodates 12 guests, making the private venue a lovely place to host parents, the bridal party, or other loved ones prior to the ceremony.

Spain
Located only 15 minutes from the heart of Barcelona, this estate is a wonderful location for brides and grooms to celebrate their love with an intimate group of friends and family. The large property provides a wonderful setting for an outdoor ceremony and reception, and the proximity to the city is attractive to visiting guests since they'll be able to easily find nearby accommodations and activities following the celebration.

Costa Rica
Known for adventurous activities and tropical vegetation, Costa Rica is a popular location for jungle weddings and honeymoons. In lieu of celebrating at a resort, a private villa offering pools and lounge areas to wedding groups is appealing to couples desiring tranquility and a private space to unwind with loved ones.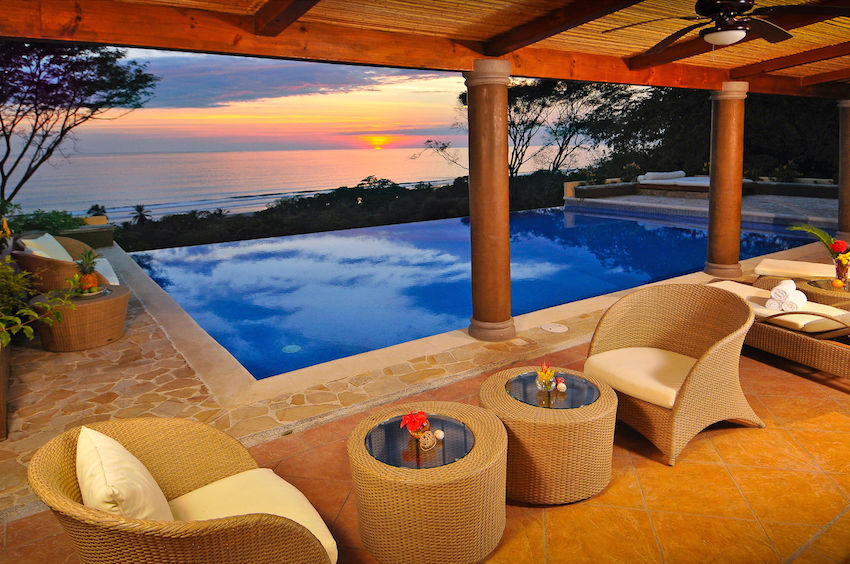 Australia
Couples desiring a destination wedding down under will love the privacy of this South Haven, Kangaroo Valley venue. With large patios and overlooks boasting breathtaking valley views, the private estate is a beautiful place to exchange vows surrounded by family and friends.

England
Located only two hours from London in Suffolk, England, this historic country home features a great hall and drawing room perfect for wedding ceremonies, while a vast grass lawn is ideal for outdoor cocktail hours or receptions.


When planning an event at a private venue, be sure to consider all of the implications. Hotels and resorts provide amenities that may not be available at private estates, so it's important to have your wedding planner confirm details prior to booking. We also recommend reading reviews from each host and asking questions to ensure the rental property meets all of your expectations from the beginning of the planning process to the end of your honeymoon.
To view more destination wedding sites and locations from around the country and the globe, click here. And to see real weddings in various locations around the globe, visit our weddings page and search by your preferred destination.
Photos courtesy of Airbnb