A color palette of soft whites and neutrals works beautifully for any season – the accents typically help the scheme lean into a more seasonal style. For example, whites paired with muted greens or pastels look lovely for spring soirées, while burgundy accents are fitting for fall fêtes. Bright metallics or deep blues tend to bring about a wintry feel, while brighter colors are ideal for summertime nuptials.

If you're absolutely set on having an all-white wedding – or bridal shower, engagement party, etc. – let the below photos and tips be your guide. Callista Osborn of Callista & Company joined forces with Hally Eckman of March to create gorgeous tablescapes in elegant wedding white paired with natural elements and romantic accents to inspire the décor of your big day. Read on to discover how to best design an event with a neutral, mostly white color scheme.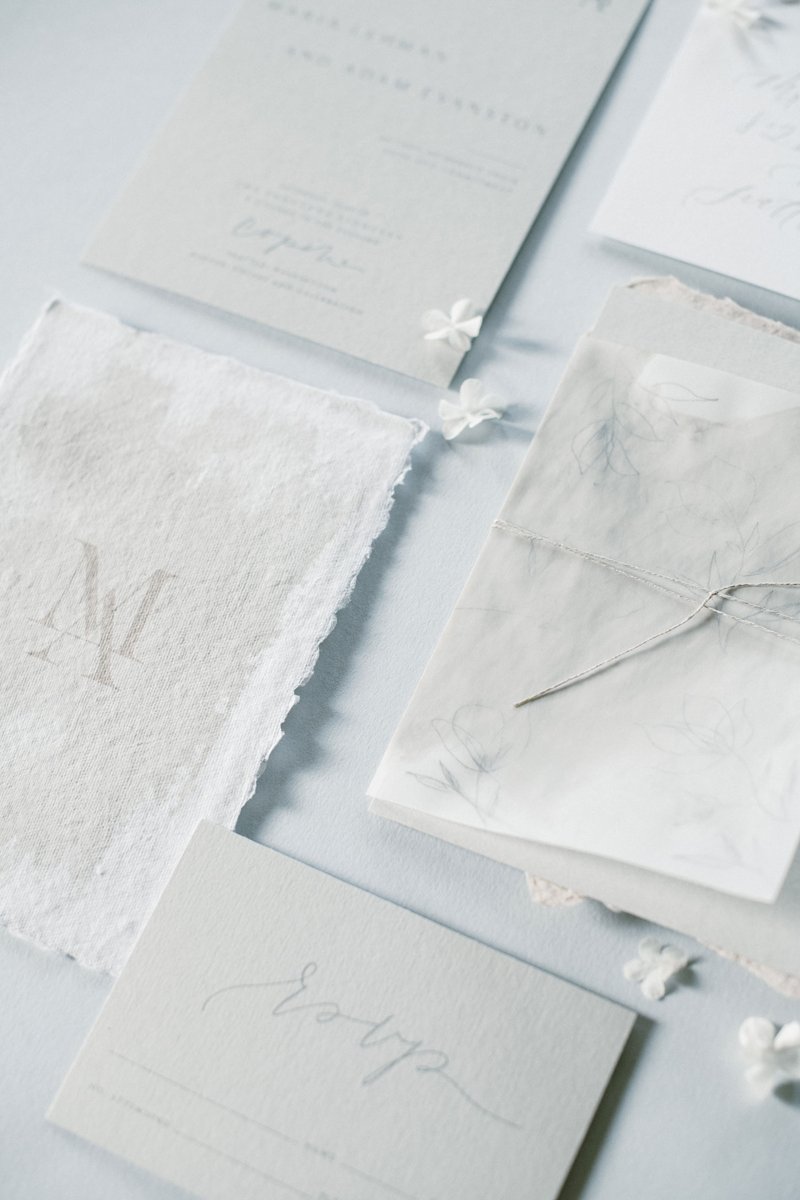 Photos by Kristen Marie Parker

Light wood details and crisp white florals worked together to create a seemingly effortless tablescape ideal for a celebration taking place during any season. The sophisticated centerpieces, stationery, and place settings pictured appear collected, well-thought-out, and would be beautiful for a laid-back garden wedding or a graceful engagement party or romantic bridal shower.
"Set a white linen as your base, and then build the tablescape in layers of complementary tones and textures," suggests Callista of Callista & Company for those desiring a neutral tablescape. "We first placed a linen runner and large, white ceramic chargers on the table. Our light grey napkins were folded in a clean rectangular shape with no pocket, as to best showcase menus by La Happy. The vellum menus featured refined typography and a slot for a white place card, with the guest's name elegantly scripted in calligraphy. Contemporary stemless glassware, café au lait colored candles, and gorgeous floral arrangements by March completed the effortlessly elegant look."

Photos by Kristen Marie Parker

When selecting the florals to best represent the natural, white motif of the tablescapes, Callista worked with March to design low centerpieces that appeared refined and put together, but also freshly picked from the garden. Though the florals showcase various hues of ivory, the pairing of specific blooms with accents of greenery helps create depth.
"Create visual interest and movement in white floral arrangements by mixing textural elements and seasonal foliage with soft, classic blooms," shares Hally. "In these arrangements, garden roses, ranunculus, and spray roses were used for softness and size variation in the focal flowers. Columbine, rice flower, and scabiosa were incorporated for texture and movement, while silver poplar and variegated dogwood foliage added a bit of depth and hints of greenery among all of the white."

Photos by Kristen Marie Parker

Though the tablescapes would be lovely with just the refined linens, florals, and place settings, the vessels the florals were placed in and the candles used for ambience were of the utmost importance to both Callista and Hally, as they set the tone for the décor and provided the table with a romantic feel. They suggest others consider the same details when designing a neutral tablescape.
"Try incorporating a neutral ceramic vase and nude candle for subtle color variation on the tabletop. Here we selected Creative Candles tapers and votives in Café au Lait and handmade ceramic vases in Honey," Hally describes. "Select vases and candles that feel natural in the surrounding environment and blend well with other shades of nude and white."

Photos by Kristen Marie Parker

Floral Design by March; Linens by La Tavola Fine Linen; Planning & Design by Callista & Company; Stationery by La Happy; Venue: Copine

For more inspiration from Callista, discover tips on setting a beautiful holiday table and discover a gorgeous springtime tablescape. Find more expert advice, click here, here, and here.