There's something so lovely about the South – and especially Southern weddings. The thought of warm summers spent on the porch sipping sweet tea evokes a sense of calm, even in the midst of wedding planning. And, if you are in fact planning a wedding in a Southern state, there's a good chance you'll want to offer this same sense of peace and comfort to your loved ones throughout the celebration.
From serving comfort foods and homemade pies, to utilizing monograms and oak tree motifs, there are plenty of ways to add a Southern homestyle twist to any wedding event. Whether you're hosting your wedding in the South or hope to infuse some Southern charm and hospitality into your wedding elsewhere, we've put together 15 ways to incorporate a taste of the South into your event. Have more ideas? Share your thoughts in the comments!
1. Choose a Southern Setting
A charming lakeside setting is the perfect place to say "I do." The serene ceremony space can be set up under shady trees, or in an open field flooded with sunlight. Decorating the site with a wooden ceremony arch and aisle can add a bit of rustic flair to an alfresco setting regardless of location.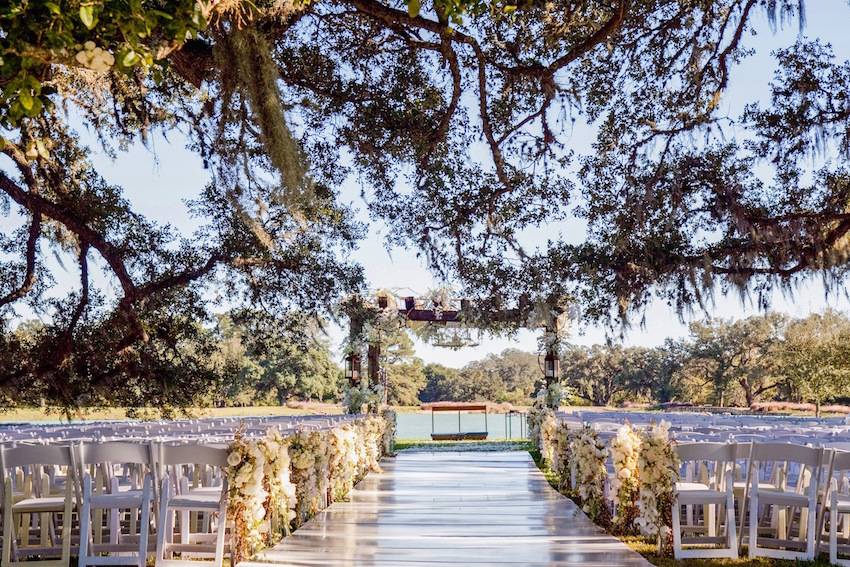 Photo by Michael Carr Photography
2. Incorporate an Oak Tree Motif
A symbol of the South, oak trees are often used in wedding motifs since they symbolize strength in love and life. In the case of this couple's wedding invitation, the mighty oak also represented the Southern location of their wedding.


Photo by Adrienne Page
3. Offer Sweet Tea to Guests
Nothing says the South more than a glass of sweet tea. Especially ideal for summer weddings, drink stations filled with refreshing iced tea will offer a soothing beverage for your guests during the ceremony, cocktail hour, or reception. For an even more Southern twist, offer mason jars instead of traditional glassware.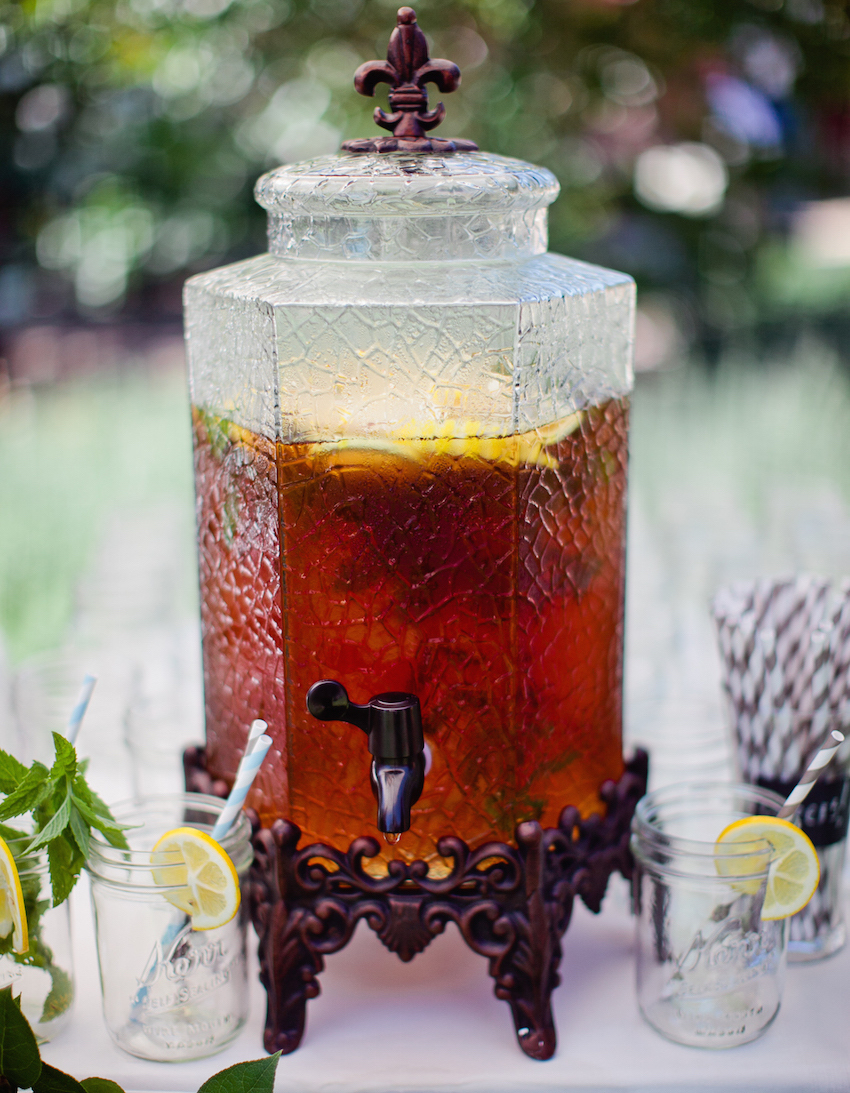 Photo by Meg Perotti
4. Decorate the Ceremony with Magnolia Leaves
This lakefront wedding ceremony featured an arch made of magnolia leaves, which are prevalent in Southern areas. The distinct golden brown and emerald green hues of the leaves are perfect for a rustic wedding with a Southern flair.


Photo by Vue Photography
5. Wear Cowboy Boots
Whether you want to show off your Southern style with cowboy boots in a short dress, or keep them hidden beneath a long gown, stylish boots are more comfortable than traditional wedding shoes and are perfect for brides and bridesmaids who want to stay true to their country roots.


Photo by Stephen Karlisch
6. Provide Southern Goodie Bags
Since guests were coming from across the country to attend their celebration in Charleston, South Carolina, this couple provided out-of-towners with welcome bags filled with Southern goodies including pralines, Charleston Chews, and biscuits. Fill your own welcome bags with local favorites that pay homage to the South.


Photo by Adrienne Page
7. Serve Fried Southern Hors d'Oeuvres
From fried chicken to fried pickles, the South is known for their delectable crispy comfort foods. Even if your dinner menu features elegant formal fare, you can still offer Southern favorites as passed hors d'oeuvres during the cocktail hour!


Photo by Vue Photography
8. Serve Drinks in Mason Jars
To instantly add Southern style to your wedding, serve drinks in mason jars tied with raffia ribbon. Not only are they easy for guests to hold as beverage containers, but they also make for adorable DIY centerpieces.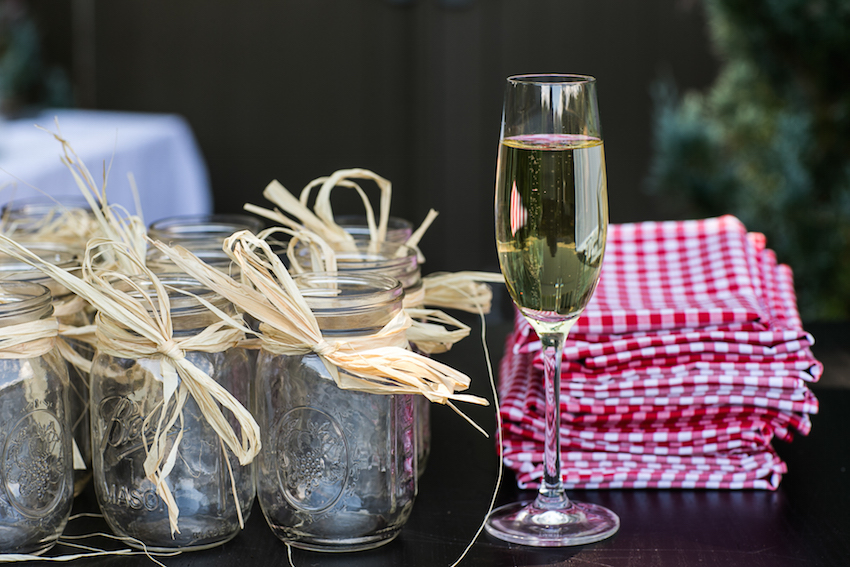 Photo by Images by Berit, Inc.
9. Select a Southern-Inspired Signature Cocktail
Pay homage to your hometown with a Southern cocktail, such as The Sazerac. This couple listed drink ingredients in gold foil on a coaster during the cocktail hour.


Photo by 6 of Four Photography
10. Add Monogram Details
Preppy Southern style is all about the monogram, and luckily, there are plenty of ways to incorporate your monogram into wedding décor. From gobo lighting on the dance floor, to embroidery on linen dinner napkins, to invitations and signs, the options are endless.


Photo by Chrisman Studios
11. Design a Southern Wedding Centerpiece
This couple's Southern wedding featured tall silver urn centerpieces filled with orchids and foliage native to the South, including magnolia leaves, wispy willow, cat tails, and freshly picked cotton.


Photo by 6 of Four Photography
12. Offer Homemade Pie Favors
Send guests home with homemade pies baked in mason jars like actress Keri Lynn Pratt, whose mother created the delicious treats. For a rustic touch, introduce desserts using a chalkboard sign. (For more chalkboard sign ideas, click here.)


Photo by Jana Williams Photography
13. Choose State-Shaped Wedding Favors
Show your state pride with wedding favors! This couple celebrated the groom's home state of Texas by sending loved ones home with pralines in the shape of the Southern state.


Photo by Steve Steinhardt
14. Give Homemade Jam as a Wedding Favor
Freshly made jelly or jam served in a mason jar is a memorable favor that keeps on giving long after your big day. Use fresh seasonal ingredients that are local to the Southern region, or create your own unique varieties like this jalapeño jelly.


Photo by Vue Photography
15. Present a Pie Station
If you love pie or peach cobbler, offer the freshly made desserts to your wedding guests. We've even seen a couple forego a wedding cake altogether and offer only a pie bar to loved ones!


Photo by Dave Richards Photography
For more Southern wedding ideas, visit our weddings page to search real wedding events by your favorite location in the South!