Mesmerize your guests with a wedding design that "reflects" each and every gorgeous décor element of the celebration! Mirrors are a modern, sophisticated way to bring a hint of shimmer to every part of the wedding. Virtually any surface can be covered with mirrors, from the tabletops, to the vases, to the bar. We're also seeing couples using mirrors as signage, painted seating charts, menus, programs, and even adding snippets from the vows onto mirrors of all sizes. Mirrors can be fragile, so be sure they are displayed securely, and if you're placing items like vases on top of a mirror, consider lining the bottom of these items with a soft fabric to prevent scratching.
Discover unique ways to design with mirrors, from real weddings across the country, below. Because mirrors are colorless, they can be combined with flowers and details in any color, style, or theme. Let your creativity shine!
Ceremony
Impressive mirrored columns flank the entrance to this aisle, topped with glass vases filled with calla lilies. The effect: the flowers appear to float in midair!


Photo by Unique Design Studio
Program
Instead of passing out paper programs, write the schedule of events and the names of the wedding party on a large mirror and display it at the ceremony.


Photo by Kristen Weaver Photography
Seating Chart
Turn your seating chart into a work of art by painting or engraving names and table numbers on a mirror framed with lush flowers.


Photo by Lauren Ross and Nancy Cohn
Place Cards
These octagonal mirror ornaments double as seating cards and favors.


Photo by Walters & Walters
Bar
A striking geometric bar blends into the scenery while adding modern style to the reception.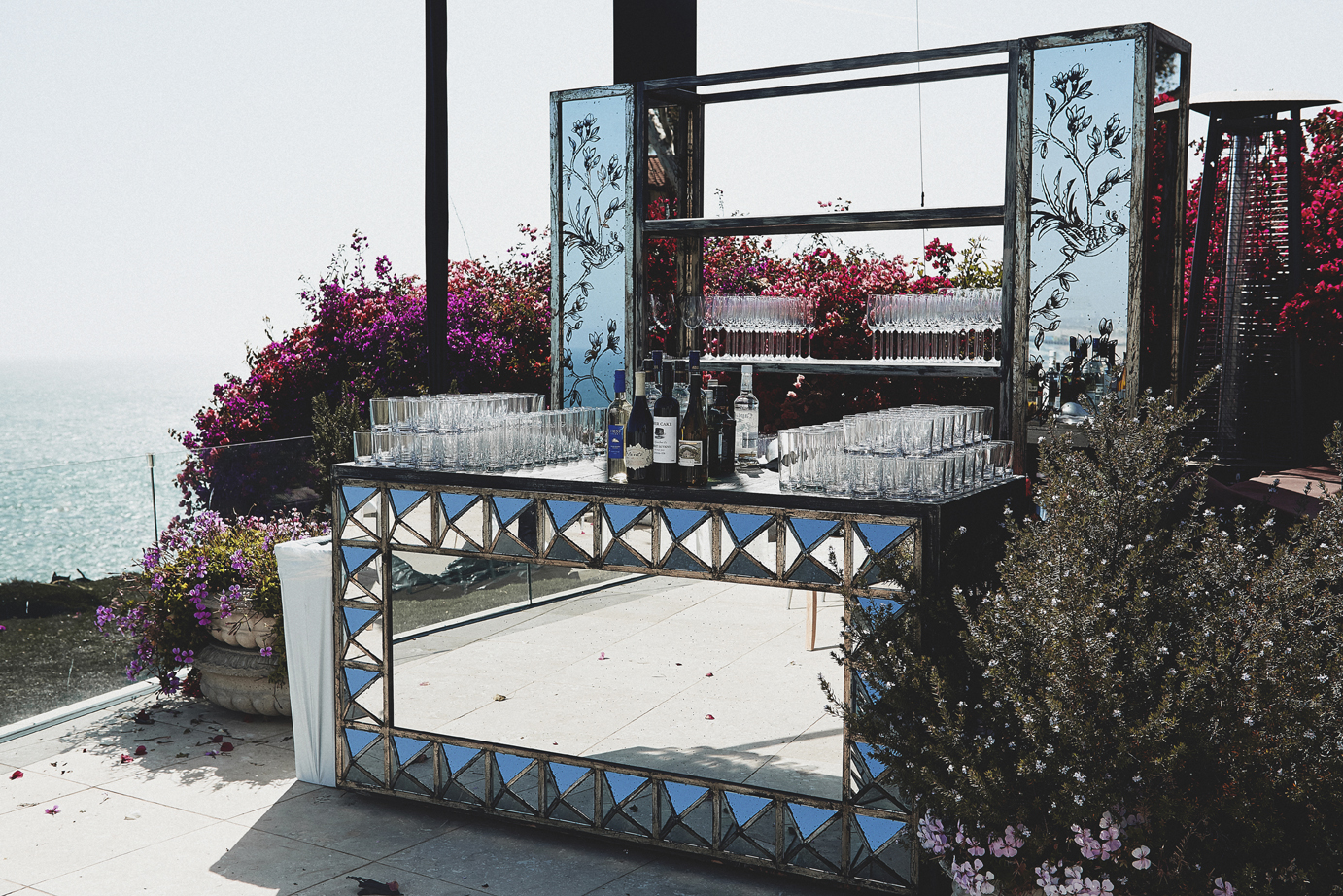 Photo by Daniel Kincaid
Cocktail Menu
On the bar, display a gold mirror featuring the cocktail selection.


Photo by Amy & Stuart Photography
Tabletop
Place a mirror on top of your tablecloth for an easy, modern way to bring glamour and shine to the reception. Or, for a more antique and vintage look, choose a table edged in wood that has mirror accents built directly into it.


Photo by Daniel Kincaid


Photo by KingenSmith


Photo by Troy Grover Photographer
Décor
Paint selections from your vows onto a large mirror surrounded by a gold frame. Label your chairs with elegant mirrors featuring "Mr." and "Mrs." written in paint. Display flowers in tall mirrored vases to give centerpieces a "floating" effect!


Photo by Daniel Kincaid


Photo by Kristen Weaver Photography


Photo by Josh Lynn
For more mirror wedding decoration ideas, visit our Mirror Details + Décor board on Pinterest!