Having purchased a condominium shortly before their wedding, Jenna (née Wallis) and Jeremy Bauer were ready to start fresh, desiring brand-new pieces for their first home together. "Jeremy lived on his own prior to us becoming engaged, and it was a complete bachelor pad, with a spoon in one pattern and two forks in another," describes Jenna. Though the bride teased her groom about his former kitchen items, she was serious about creating a wish list that represented both of their tastes, similar to that of the modern-meets-timeless aesthetic of their wedding décor.
They decided to register together in-store at their chosen retailers: Bloomingdale's and Crate and Barrel. At Bloomingdale's, Jenna and Jeremy searched for a variety of items – from cool kitchen tools to home-accent components. "Our recently married friends recommended we register there because they have a wonderful range to choose from," explains the bride. They selected a gorgeous torched serving set by Michael Aram, an elegant glass pitcher by Nambé, and handy cooking equipment.

Photo by Bob & Dawn Davis Photography
Crate and Barrel was the perfect place to decide on products like tongs, spatulas, storage sets, and measuring cups. It was also where Jeremy was most excited because he planned to add bar items. He elected for a handsome decanter, sleek stainless-steel barware, and cocktail glassware. Meanwhile, Jenna settled on entertaining pieces, cookware and bakeware, as well as a stunning "Tate" centerpiece bowl.

Jenna and Jeremy confirm they couldn't be happier with all that they received from their registries. "The entire process was fun!" reminisces the groom. "It was so nice to help shape our new home with gifts from our favorite people." Jenna encourages others to select pieces that work well for their own unique preferences. "Some of my favorite gifts are quirky ones from our list! Add what makes you happy, so you'll receive items you truly love."

"Some of my favorite gifts are quirky ones from our list! Add what makes you happy, so you'll receive items you truly love."

KitchenAid pasta roller set, $200; Bloomingdale's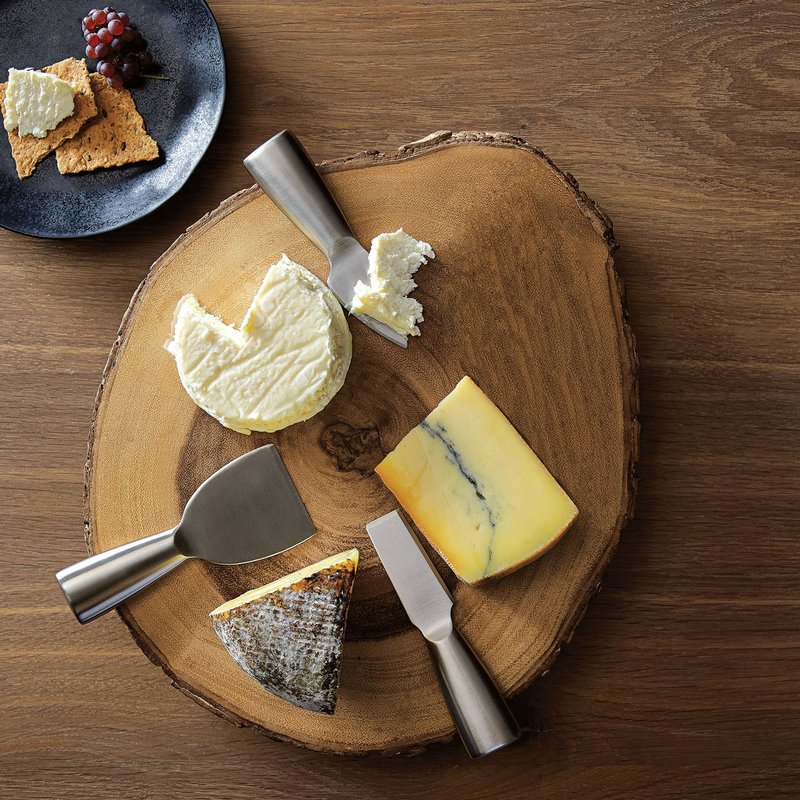 Acacia wedge server, $25; Crate and Barrel


"Tour" red wine glass, $14; Crate and Barrel


Villeroy & Boch "Bellisimo" dinnerware collection, $30-$50/piece; Bloomingdale's


"Tino" decanter, $45; Crate and Barrel


Cambridge baking dish with rack, $30; Crate and Barrel


Michael Aram Torched Collection medium bowl, $325; Bloomingdale's


Ricci Argentieri "Bramasole" 45-piece flatware set, $525; Bloomingdale's


"Tondo" 10.5" bowl, $40; Crate and Barrel


Michael Aram Torched Collection serving set, $110; Bloomingdale's


Annieglass "Edgey" XL baquette tray, $263; Bloomingdale's


"Ona" large pitcher, $25; Crate and Barrel


"Tate" centerpiece bowl, $149; Crate and Barrel


Michael Aram "Calla Lily" cake server, $65; Bloomingdale's

Registry Tips from Jenna & Jeremy
Consider the future. "Though we sought out items for our present home, we also wanted long-lasting pieces we could use in a larger house in the future."
Update often. "We were surprised with several wedding showers and were blessed to receive many registry gifts. We found it was best to monitor and add to the lists frequently, so guests had options in various price points."