When it comes to planning your wedding day, it all starts with a vision. Thankfully, floral designer Toby Kassoy of Lilla Bello is offering her expert advice on how to stay focused while planning your dream wedding, designing the perfect wedding flowers, and encapsulating the essence of who you are as a couple on your big day! "I've been a wedding florist for over 20 years and no two couples I have met have ever been the same," shares Kassoy. "This is a good thing, no actually it's a beautiful thing! But for that very reason, there is not a one-way approach to start planning for your wedding."
Take a look at Toby Kassoy of Lilla Bello's advice for designing your big day – from the first meetings with vendors to the end of the reception! Use her feedback as inspiration for your own vendor meetings and days of planning!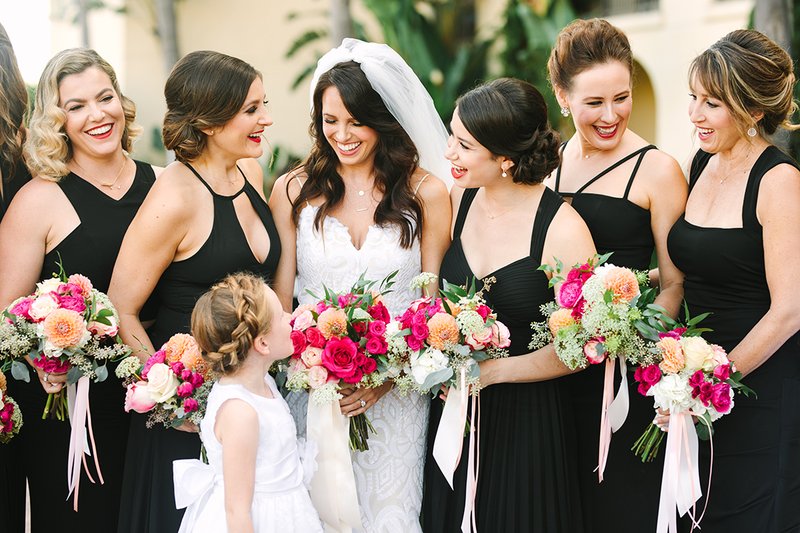 Photo by Mary Costa Photography; Floral Design by Lilla Bello
Getting to Know You
When I sit down with couples for the first time, I try to spend the first chunk of time getting to know who they are as a pair. I want to experience their energy and dynamic together. If one of them isn't at the meeting, I ask questions to the one who is present. "How did you meet?"; "Tell me about the proposal."; "What are some things you enjoy doing together?" Once I start to get a sense of who they are as a couple, I ask them a simple question: "What are your top threes?" For example, "Food, Flowers, and Photography" or "Venue, Wine, and Flowers." Notice how I put flowers in there both times? These are areas you should commit to not skimping on. They are going to make you the happiest, as well as add to the experience of your loved ones who have gathered to celebrate you. These are the details everyone will notice as a reflection of who you are. At the end of the day, that's what matters the most!
Talking Wedding Flowers
Let's talk wedding flowers. If florals are one of your top three, does that mean everything has to be dripping in flowers? Certainly not. Unless of course you want it to. I find that most couples have their vision as a style, such as loose garden blossoms – or they gravitate towards a particular type of flower, like a peony or garden rose. All of this is critical intel as I begin to conceptualize where to focus your floral dollars. If your ceremony is going to be an easy, breezy 20-minute ceremony, let's keep that area simple, elegant, and understated, while focusing on your reception tables, which will be more extravagant and an absolute reveal to your guests' experience. Lastly, don't skimp on those finishing touches. A delicately placed bloom on each napkin has such a lasting impact – it's like a personal "thank you" to each and every guest who has gathered there to celebrate you. Don't want to spend the extra money? Consider ditching the "party favor" and save your guests the pain of having to keep that bottle stopper or scented candle with your names on it.

Photo by Maya Myers Photography; Floral Design by Lilla Bello; Planning & Design by Sterling Engagements
Details Matter to Us
Alright, time for some specifics. Your personal flowers consist of anything that's dedicated to a specific person: bridesmaids, groomsmen, parents, etc. A bridal bouquet is the showgirl, if you will. It has all of the premium elements the bride loves the most, without skimping on anything. Perhaps we edited peonies out of the ceremony structure due to expense, but the bridal bouquet is going to have stunning peonies in all their glory!
As for bridesmaids, I tend to gauge this bouquet based on how many bridesmaids there are. If there are three or more, let's keep their blooms petite and sweet – no peonies, for example, as we don't want to overshadow the bride. Fellas, your boutonniere can be super cool too! Touches of blooms can correspond with the bouquets, but these can be mismatched, always small, and full of fun textures.
Flowers for mothers can be tricky – wrist corsage, hand-tied posy, or nothing at all? Ask each of them what they would like! Even if they prefer different things, we will make sure they are cohesive and of equal elegance.
Wrist corsage pros and cons: Very traditional and classic, but interferes with jewelry.
Hand-tied posy pros and cons: Adorable and elegant, but not hands-free.
I've lost count of how many moms have tracked me down on a wedding set up asking me to convert their corsage or posy… please ask them ahead of time.
It's All About You as a Couple
Your ceremony area will be the first experience for your guests. It must reflect you! Is it a stunning arch in a lush garden with wild untamed blooms and vines? Or perhaps it's a dramatic chuppah, covered in flowers that puddle to the ground with candles in every possible direction. Or an overlook from a stunning mountaintop with a blanket of petals leading you to your beloved. Even if your ceremony site isn't covered in flowers, it must be done with elegance and thoughtfulness to who you are as a duo. This is where the magic of the day begins. We don't want a dry eye in the room.

Photo by Kevin Le Vu Photography; Floral Design by Lilla Bello
Your Guests' Experience
While your guests congregate for a cocktail after the ceremony, they also have a small job to do: Find their table assignments! There are about 101 ways to approach this, but remember this is a transitional area. It's a one-hour pit stop, if you will, between ceremony and reception – so don't overthink it, but don't neglect it either. Mostly, be considerate of your guests' experience. If you have 500 guests, a table filled with tented cards will look like a stampede of elephants ran through it in about 10 minutes, and your guests will find themselves searching high and low for their name that just five minutes earlier was perfectly alphabetized. Tented cards on a spacious table work beautifully for a guest list under 150. Consider a tall statement floral in the middle of a round table. This enables you to give your guests enough space to explore, as well as provide them a floral tease into what might be awaiting them in the dining room. Another beautiful trend is using a full-length mirror or signage with your guests' names calligraphed clearly and large enough for them to find their assigned table at a glance. We will always make sure a gorgeous floral swag can be draped asymmetrically over the corner for some blooming eye candy!
Now, it's time for the big reveal. Your reception is where bread is broken, Champagne is toasted, friends are united, families are gathered, speeches are spoken, tears are shed, and stilettos are tossed aside for some serious dancing! Your reception tables are ground zero for it all, so let's make sure they are beautiful, warm, luxurious, and memorable. Because we know that florals were in your top three, this is where we step in.
It's very easy to wander down the rabbit hole and create Pinterest board after Pinterest board of all the latest trends – and don't get me wrong, trends are a great way to inspire a contemporary twist to a traditional occasion. But also remember that this room has to be a reflection of who you are as a couple. So be sure to ask yourself if this is a cool trend that you enjoy looking at, or if it's a true reflection of you! Are you a bold, saturated color couple? Or are you more natural and organic in your personal choices? These are all things that translate into florals, and it's our job to make the conversion. There are endless gorgeous ways to transform your tabletops into a beautiful canvas of elements that are in harmony and balance on your tables – and again, don't forget the small details: ornate votive holders or a fern sprig tucked into the napkins. It's an endless discovery of treasures that will make your guests feel totally loved and a part of this ever special day.
To learn more about working with Lilla Bello, click here. Find additional wedding planning tips and advice here, and gather inspiration from this rooftop wedding and this gorgeous celebration in Malibu.