Summer is almost here, which means it's time for trips to the beach, warm nights, fruity cocktails, and relaxing visits to your favorite swimming pool. If hanging out poolside is your favorite warm-weather pastime, why not pay homage to this classic summer activity at your wedding? Ceremonies and receptions overlooking a sparkling, refreshing pool are elegant and modern, while also projecting a cool, laid-back ambience.
A backyard swimming pool offers convenience and a completely personalized wedding experience. Resorts, on the other hand, often provide stunning views and space for larger parties. Lush flowers may be placed around or on top of the water; or, leave the pool unadorned and simply let the peaceful waters serve as a relaxing backdrop. Check out 7 gorgeous poolside weddings below, and click on the location to learn more about each celebration.
Carlsbad, CA
A white "floating" aisle laid across the pool allowed the bride to walk on water at this resort venue!

Photo by Kris Kan
Puerto Vallarta, Mexico
This gorgeous reception overlooked the resort's pool as well as the ocean beyond.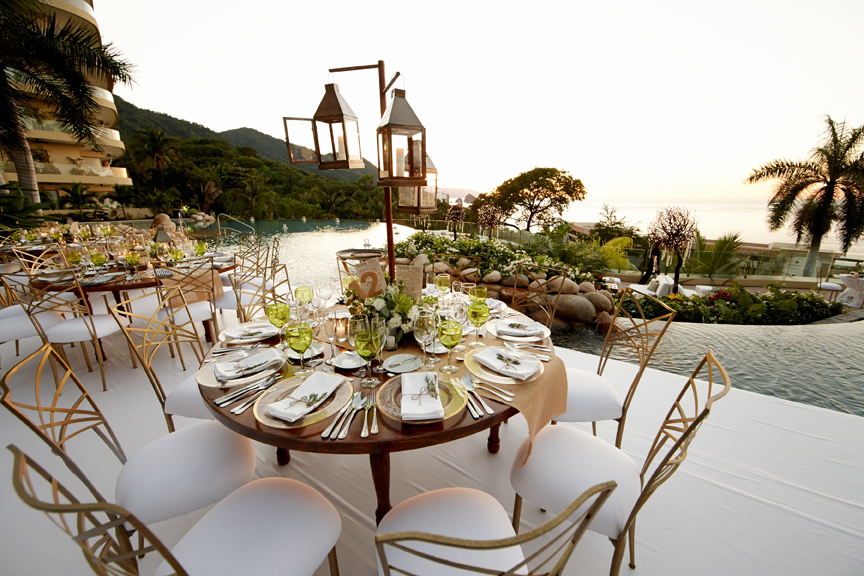 Photo by Paul Barnett
Malibu, CA
Dinner tables adorned with ivory linens and hot pink and purple flowers were arranged around a peaceful villa pool.
Photo by Erik Umphery
Santa Barbara, CA
Bride Isabelle Bridges, actor Jeff Bridges' daughter, celebrated her wedding with a pink and green reception in her family's backyard.

Photo by Melissa Musgrove Photography
Rancho Mirage, CA
An aisle covered with flower petals led to a floral arch at the base of a resort-style pool.

Photo: Photo by Michael Segal Photography
Playa Herradura, Costa Rica
A partially indoor pool allowed guests to remain in the shade, while still enjoying the poolside view.


Photo by lunaphoto
Santa Monica, CA
The pool deck of a chic beachside hotel was tranformed with colorful lighting projections and spotlights. Black-and-white cabanas housed the dinner tables!


Photo by Embrace Life Photography
Opening photo by Amanda Sudimack for Artisan Events