The winter months of January, February, and March are historically the least popular months to tie the knot, with brides and grooms favoring spring and late summer/early fall months. Sure, couples are wary of the effect cold weather will have on their nuptials. But let us reveal a little secret: winter weddings are extremely underrated. There's a certain magic and sophistication to a celebration surrounded by snow, and it's refreshing for guests to attend a wedding outside the typical "wedding season." Sure, you may have trouble finding peonies to add to your centerpieces, but there are other flowers and greenery that look just as gorgeous on your tables. And don't forget the cozy winter accessories you can wear with your gown!
So this goes out to all the winter brides who planned fabulous celebrations when no one else dared. And for all the couples still deciding their wedding date, take this as encouragement to consider the advantages of a winter wedding!
1. Snow is a beautiful wedding backdrop.


Pristine mountains of bright white snow and gently falling snowflakes serve as a stunning backdrop to a wedding. Decorated with deep jewel tones like green, blue, and red as well as accents of wood and fur, a snow-covered venue offers a uniquely beautiful alternative to the more common garden, beach, or countryside scenery of spring and summer weddings. Plus, there's just something about a white wedding gown and ivory flowers against snow that pops. Photo by Handeland Tesoro Photography; Consulting by Alex Events Inc.
2. Prices tend to be cheaper.


Since June through September are the most popular months to say "I do," you can expect to pay more for venues and vendors during that time... and often considerably less during the winter "off-season." You could score the exact same venue, caterer, and florist for far less than you would for a celebration six months later. Do keep in mind, though, that planning events around the December holidays and Valentine's Day may still be a challenge. Photo by Bob & Dawn Davis Photography
3. A tropical honeymoon or destination wedding will feel even more luxurious.


What better time than the dead of winter to invite your loved ones to jet off to a warm destination wedding? They'll love an excuse to visit a tropical paradise like Hawaii or Mexico, and you'll love being able to celebrate your marriage in a beautiful location, away from the rain and chill of your hometown. Photo by Paul Barnett Photographer
4. You won't have to compete with all the summer weddings.


There's a reason why summer is known as "wedding season" – suddenly it seems like everyone you know is tying the knot within just a few months. Instead of being just one of many weddings your guests will be attending during the season, stand out from the pack with a January or February celebration. Your wedding will naturally have a different style and feel than the summer weddings, thanks to colder temperatures and different seasonal flowers, so there's less of a chance your reception will look exactly like everyone else's. Your guests also won't be suffering from "wedding fatigue" and will be thrilled to have a fun party to look forward to in the dead of winter! Photo by Handeland Tesoro Photography; Consulting by Alex Events Inc.
5. It's the perfect time to serve your favorite comfort food.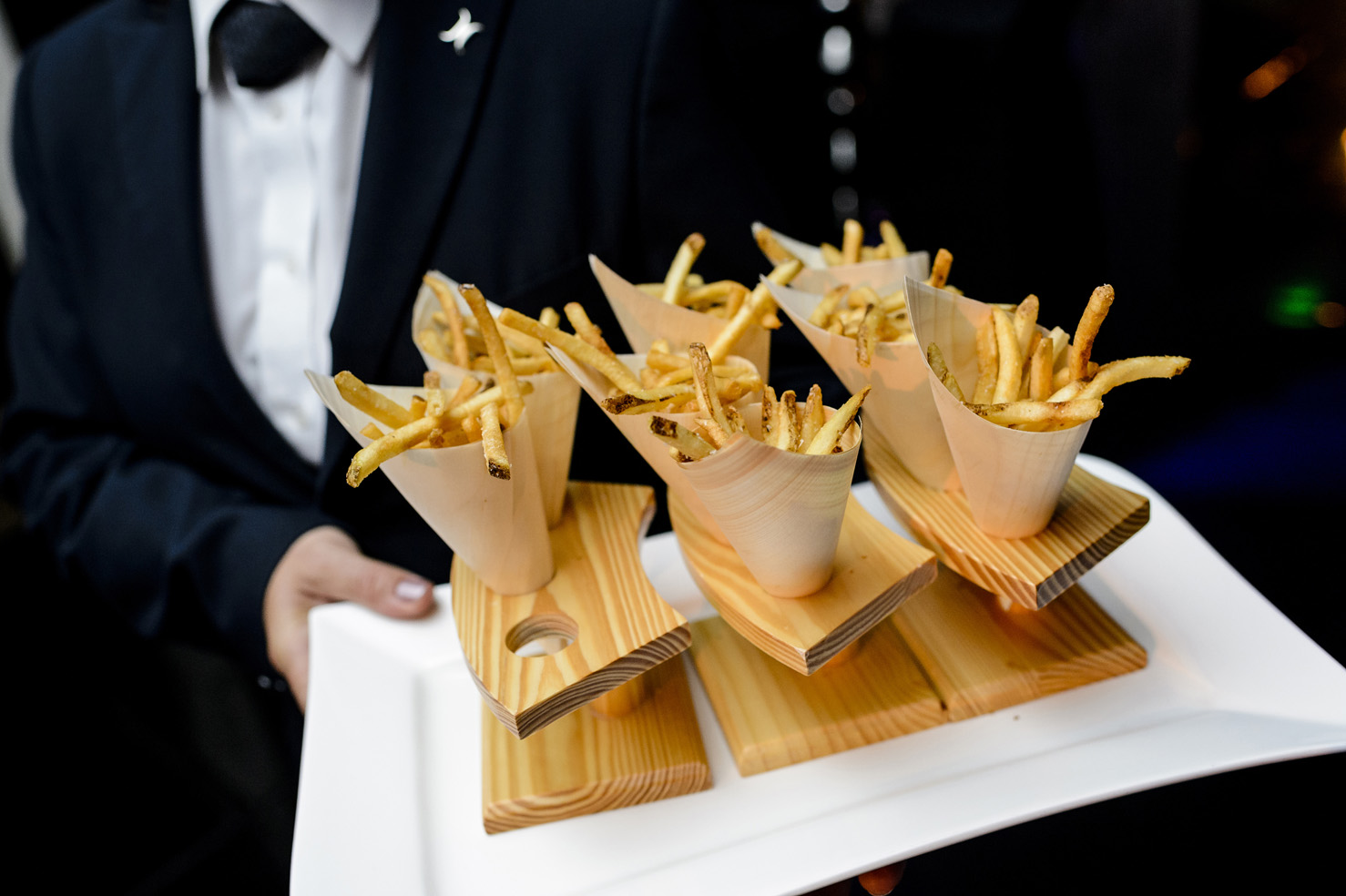 Is there anything better than hunkering down with delicious comfort food while it's cold and snowing outside? This is the ideal season to serve snacks like macaroni and cheese, steak, mashed potatoes, and cake – warm treats that feel especially satisfying on a chilly night! Photo by Chrisman Studios; Consulting by International Event Company
6. Some seriously pretty flowers are in season in winter.


Not all flowers go into hiding during the winter! Chrysanthemums, amaryllis, Gerber daisies, roses, and lilies all bloom in the colder months. This is also the perfect season for festive flora like evergreens and berries (not to mention antlers and pinecones!). Photo by Dalal Photography; Consulting by Mindy Weiss Party Consultants; Rentals by Revelry Event Designers
7. You can wear dramatic gowns and cozy accessories.


Thanks to warm temperatures and outdoor venues, summer brides are often compelled to choose light gowns that will keep them cool throughout the day. But winter brides can feel free to choose those heavier dresses and ball gowns that would leave summer brides sweating (or, if you'll actually be indoors the entire day, you can also feel free to wear one of those breezy summer gowns!). Add fun accessories like fur shawls, capes, sweaters, and gloves to keep warm in style. Brides who can't wait to bust out their chunky knits every fall: this is your season! Photo by Aaron Delesie Photographer
Opening photo by Handeland Tesoro Photography