Military couples make unimaginable sacrifices every day for our country, and their wedding day is the perfect time to honor their service. There is doubt that the military has played a substantial role in each couple's relationship, likely determining where they lived while dating or where they'll settle down as husband and wife, as well as their time apart helping them realize their love for one another. Couples can recognize this aspect of their relationship in the décor and traditions of their special day, from the formalwear to their exit at the end of the night.
Below, discover seven ways to honor your (or your partner's) military service and your patriotism as a couple. Think subtle red, white, and blue color schemes and personalized details that signify your membership in the military. All of us here at Inside Weddings thank you for your service and wish you a joyous wedding day!
Dress the Part


This is a bit of a no-brainer: Your partner should wear his uniform! It's an utterly timeless look that allows him to represent his military background on one of the most important days of his life. He can wear it for the entire celebration, or just for the ceremony and then change into a more casual suit or tuxedo for the reception. Military women are allowed to wear either a dress or their uniform – choose whichever is most meaningful to you! Photo by Kortnee Kate; Click here to view more from this couple's wedding, designed by Viva Bella Events!
Exit Under a Saber Arch


For the classic saber arch tradition, officers from the bride or groom's unit form two lines outside the ceremony venue and raise their sabers, or swords, to form an archway. The newlyweds will then exit the ceremony under the arch as an usher annouces the new Mr. and Mrs. The last two saber bearers traditionally lower their swords, trapping the couple, while another bearer gently swats the bride's behind and welcomes her to the branch. Saucy, traditional, and crowd-pleasing! Photo by Renee Sprink Photography; Bridal gown by Monique Lhuillier
Play Up a Patriotic Theme...


It's totally possible to design a red, white, and blue celebration that's sophisticated, not "Fourth of July BBQ." Just be sure to focus more on the blue and white hues and use red sparingly. Glitter, crystals, and greenery help elevate a themed celebration into an elegant event. Warm up the space with a mixture of materials and surfaces, like this cozy brick wall. Photo by Coppersmith Photography
... Or Add a Touch of Navy Blue


If a patriotic theme sounds like a bit too much, incorporate just a few simple blue and white accents, like these boutonnieres. The colors will subtly remind you and your guests of your spouse's military service without competing with your overall design scheme. Photo by Coppersmith Photography
Choose Details Inspired by Travel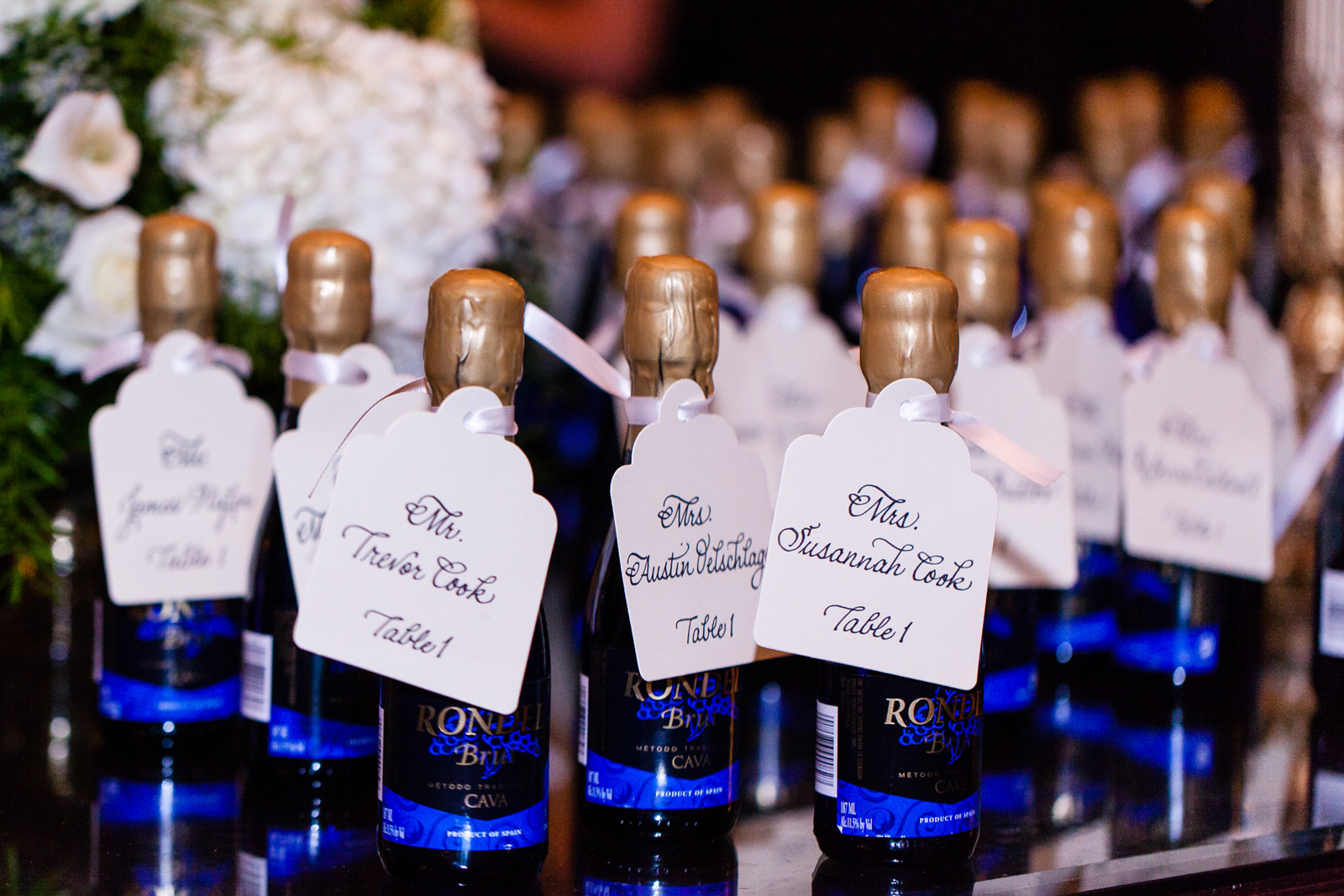 Honor the locations he or she has traveled to throughout their military career. One couple gave guests mini bottles of sparkling white wine from Spain, where the groom was deployed during their engagement. Table names are also a great way to personalize your celebration with nods to places you have traveled together! Photo by Renee Sprink Photography
Serve a Military-Themed Cake


You can get super creative with your cake design and ask your designer to incorporate details like dog tags, uniforms, insignia, medals, and any official seals. This incredible confection is not only dessert, but a work of art (and undoubtedly a focal point of the reception!). Photo by Coppersmith Photography
Have Guests Give You a Patriotic Send-Off


Pass out small American flags, and invite guests to send you off to your honeymoon under stars and stripes! Optional: patriotic music or a brass band! Photo by Renee Sprink Photography
For more patriotic wedding ideas, view the Red, White & Blue Inspiration board by Images by Berit, Inc., or choose one or two hues from this iconic color palette to focus on – whether you prefer red, white, or blue!
Opening photo by Joe Buissink