From wedding dresses to bridal veils, silk and satin ribbons have long been associated with weddings. However, there are many other eye-catching ways to use ribbon in your wedding décor. Since ribbon is available in many different patterns, colors, fabrics, and textures, integrating ribbons is an easy way to add distinctive character to your ceremony and reception details.
From your bridal bouquet to your wedding cake, see how beautifully beribboned details can accent your décor, and then let us know in the comments which ideas you like most!
Beribboned Bridal Bouquets


Ribbon can be used in a variety of ways to accent wedding bouquets. A simple cascade of ribbon offers an understated look, while ribbon-wrapped stems look neat and trim, and also provide a satiny canvas for embellishment. Photos (L-R) by Adrienne Page and Jay Lawrence Goldman Photography
Ribbon-tied Ceremony Programs


Simple wedding programs get an infusion of color and opulence when tied together with satin ribbon. You can match the ribbon to your wedding colors or simply go neutral for a classic look. Photo by Images by Berit, Inc.
Ribbon-draped Aisle and Stairways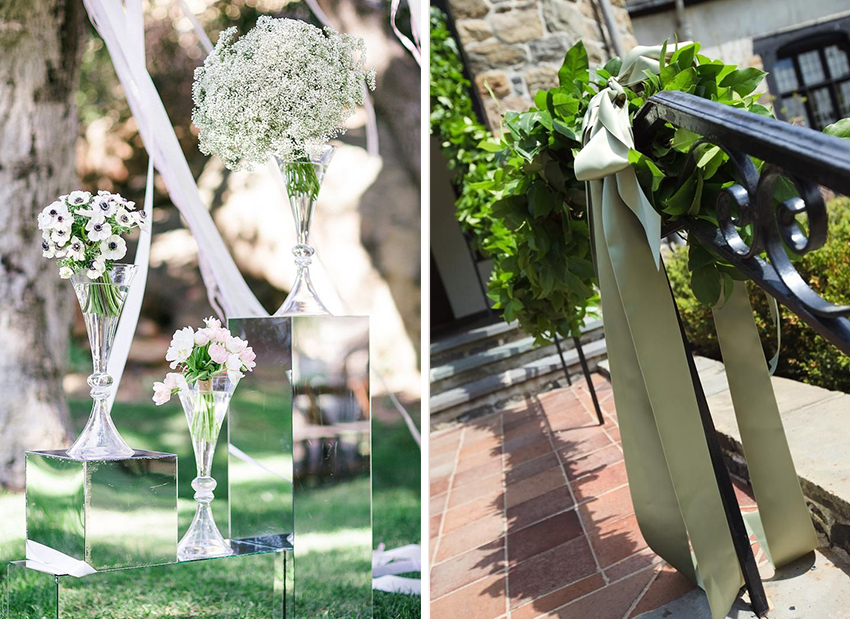 Swags of ribbon add an ethereal quality to aisle arrangements and give standard stairways color and emphasis. Photos (L-R) by Ryan Phillips Photography and Images by Berit, Inc.
Beribboned Lighting Fixtures


Simply trailing long lengths of ribbon from chandeliers or other lighting fixtures instantly adds a romantic effect to your wedding décor. Photo by Ryan Phillips Photography
Hand-tied Seating Cards


Affixing reception seating cards to tree branches with luxurious lengths of ribbon lends a magical air to your celebration. Photos (L-R) by Brett Matthews Photography and Donna Von Bruening
Seating Embellishment


The backs of reception chairs are a blank canvas for decorating, and ribbons make pretty hangers for signage or flowers. Photo by Ryan Phillips Photography
Cake Decoration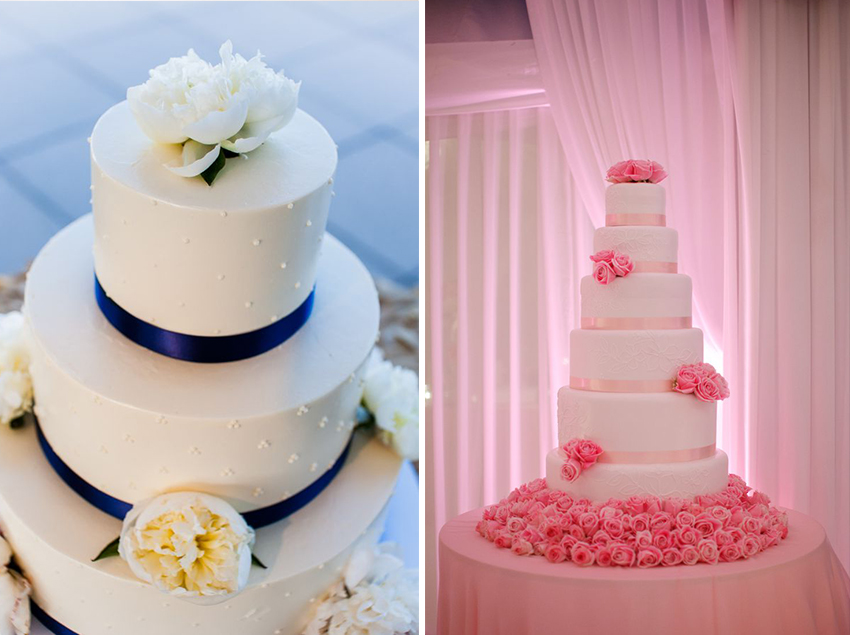 Emphasizing stacked tiers of wedding cake with ribbon is one of the simplest ways to add color and texture to the design. Photos (L-R) by Images by Berit, Inc. and Samuel Lippke Studios