It's been over a year since "naked" cakes first appeared in bakeries and on cake stands, but the effortless confection is showing no signs of covering up.
Believed to be the brainchild of Momofuku Milk Bar owner Christina Tosi, the cakes are characterized by the absence of any buttercream or fondant on the outside of the cake. Rather, the layers of cake and filling are topped with fruit, fresh flowers, or nothing at all, allowing the beauty and simplicity of the confection to shine through. The style complements a natural, rustic, or bohemian celebration, and looks gorgeous displayed on a dessert table surrounded by other scrumptious sweets. A word of caution: since naked cakes are exposed to the air, they dry out quickly, so they must be assembled as close to serving time as possible.
Even though they don't feature the elaborate fondant designs of traditional wedding cakes, naked confections still offer tons of opportunities for creativity and personalized touches. Spark your imagination with these too-pretty-to-eat naked cakes!

A pumpkin spice cake with cream cheese frosting is adorned with a classic topper and rustic leaves. Photo by Vue Photography

Guests would be delighted to receive individual naked sponge cakes topped with fruit and tiny flowers! Photo by Michelle Lacson Photography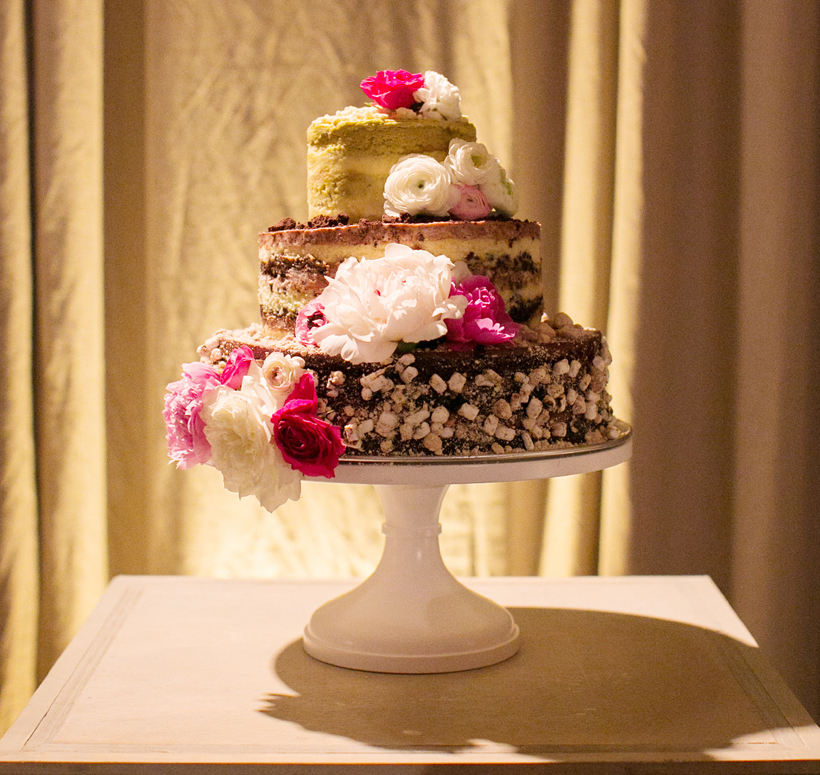 Usually hidden underneath frosting and fondant, layers of cake and filling take center stage in this naked cake! Photo by Adam Barnes
Fresh flowers and fruit highlight the natural, organic feel of a naked cake. Photo by Marc Royce Photography

Perfect layers are topped with berries for a guilt-free spin on the classic wedding dessert! Photo by Sarah & Ben
For more wedding cake inspiration, visit our Cakes & Desserts photo gallery. And tell us in the comments: Would you choose a "naked" wedding cake for your own celebration?