All eyes will be on the aisle at the ceremony, so don't forget to show it some love with a gorgeous design! One of our favorite ways to decorate the aisle is to use flowers and flower petals to create a natural "runner." Lay petals on a fabric aisle runner or directly on the ground's surface in delicate patterns and shapes; or, cover the entire aisle with a "carpet" of florals. Rose petals work well due to their large, flat shape, but you can experiment with other flowers too, like dahlias or daisies. Simply let your imagination and color palette be your guide!
If your wedding ceremony is outdoors, be mindful of wind – one breeze and your hard work could be scattered. Speak with your florist or wedding planner about how to keep petals from flying away. For a more affordable option than fresh petals (or if your indoor venue doesn't allow them), consider using silk petals.
To see how real brides and grooms adorned their aisle with flower petals, take a look at the inspiration below. For more beautiful photos from real wedding ceremonies, visit our image gallery.
Shapes & Patterns
Use flower petals to form graceful swirling patterns down the aisle.

Photo by Christine Bentley Photography
Sand Art
Highlight the aisle at a beach wedding, without laying down a fabric runner guests may trip on, by sprinkling flower petals directly on the sand.


Photo by Ira Lippke Studios
Awesome Ombré
Can't get enough ombré? Your aisle is a creative place to show off the gorgeous trend! Lay petals in increasingly dark (or light) shades down the aisle to add drama to your walk to the altar.


Photo by Christine Bentley Photography
Floral Carpet
Cover a fabric aisle runner with a lush carpet of petals for a luxurious, romantic entrance.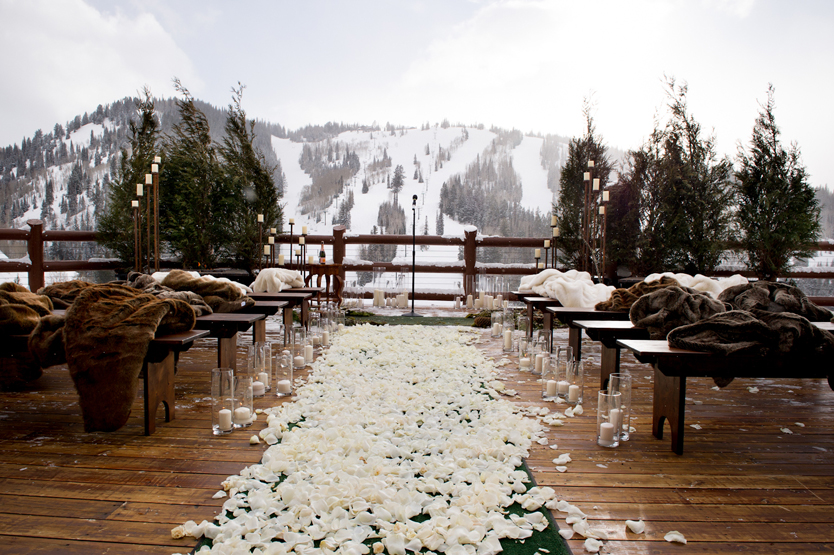 Photo by Handeland Tesoro
Indoor Garden
Even if you're tying the knot indoors, you can still line your aisle with petals! To make the flowers pop, lay a white fabric runner over the flooring and place petals on top.

Photo by Bob & Dawn Davis Photography