Michal Ott didn't have to pass Go and collect $200 in order to get a marriage proposal – all she had to do was take a chance!
Ott had always been a huge Monopoly fan and enjoyed playing the game with her boyfriend of three years, Justin Lebon. But the set they used, a custom board Lebon had made in high school, was missing pieces and showing signs of wear. So last Christmas, Lebon decided the perfect gift would be a new Monopoly set custom-made to honor their favorite places – that also featured a hidden compartment for an engagement ring and a special Chance card asking his beloved to marry him!
Woodworker Mark Becker constructed the Monopoly board, and Lebon named all of the properties after places he and Ott had lived, as well as their favorite vacation spots. He created cards in Excel and collected money and game pieces from other Monopoly sets. And most importantly, hidden under the Luxury Tax space was a special compartment for the ring.
Ott was thrilled when she opened the gift on Christmas 2015 and realized that the entire game was about the two of them. After showing her all the parts of the board, Lebon suggested they play the game and told her to roll the dice. These dice, however, were fixed to roll a 7, meaning Ott would land on Chance and have to draw a card from the Chance card pile. The top card read, "Will you marry me? If yes, advance to Luxury Tax."
Lebon asked Ott to marry him, and when she said yes, he asked her if she wanted to see something cool. He turned a key to reveal the engagement ring hidden underneath the Luxury Tax space.
"She could not believe the lengths I had gone to," Lebon wrote in a post on Imgur last week, where he also shared the photos. "She loved every second of the proposal, and I'm glad she did. It took a lot of planning, but I enjoyed every second of it. I'll never forget that day, and Christmas will be that much more special to us. I love you Michal!"
The couple, who lives in Livermore, California, told Buzzfeed they plan to marry on the Hawaiian island of Maui in 2017. See the amazingly detailed game in the photos below!

The game board was wrapped and ready to be opened on Christmas morning.

The finished product! Justin had the board constructed out of wood and named each property after a location the couple has lived or vacationed.

The top of the board is removable, revealing storage for the game pieces.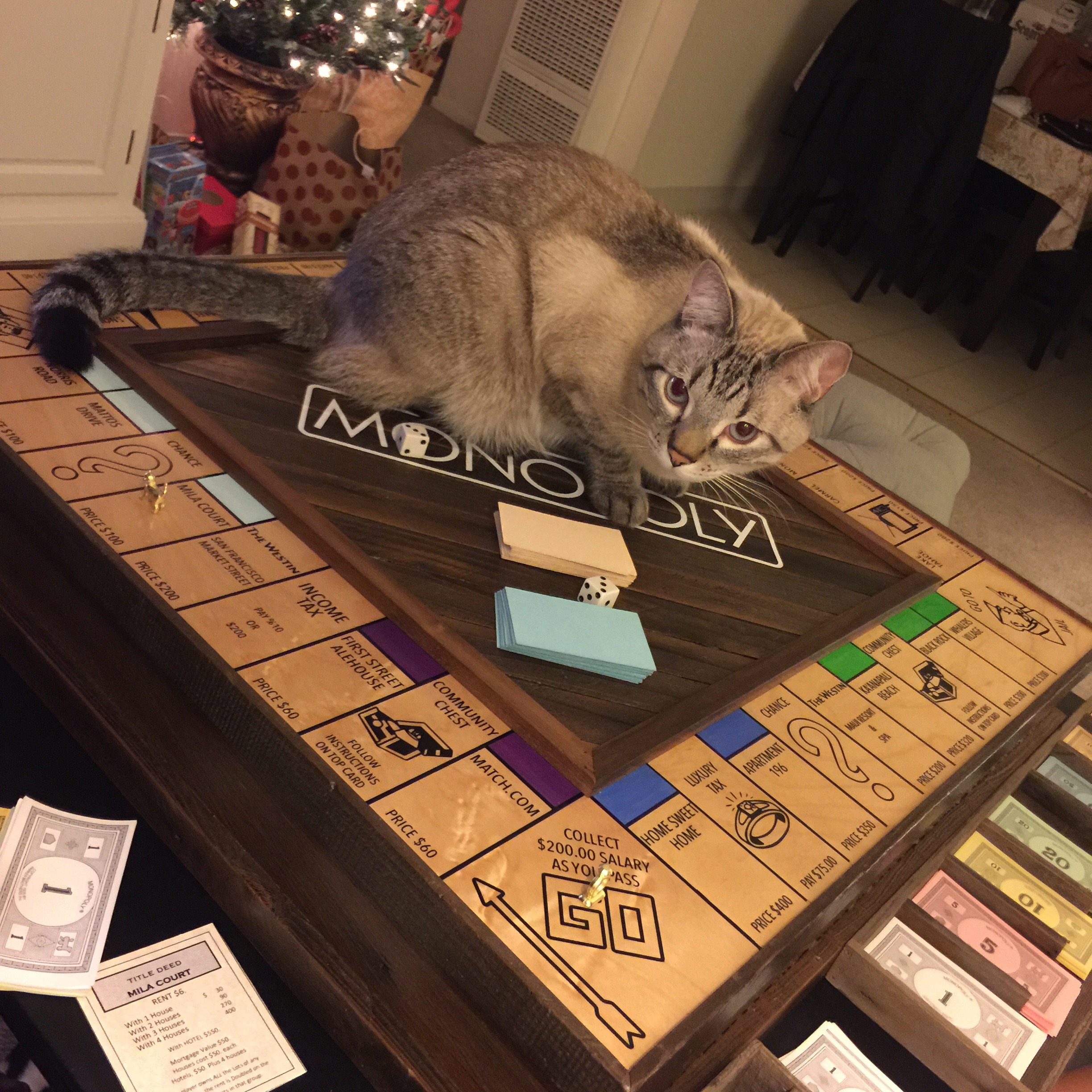 The properties began with "Match.com," which is how they met, and ended with "Home Sweet Home."

Justin fixed the dice so Michal would land on Chance on her first roll. The first card in the stack read "Will You Marry Me?"

Justin turned a key at the Luxury Tax space to reveal a hidden compartment that contained an engagement ring!

She said yes!
Photos courtesy of Justin Lebon