A micro wedding (as the name suggests) references a small wedding; however, it is distinctly different than what we all may know as an "intimate wedding." Micro weddings emerged from the onset of COVID-19 and the name is not simply a reference to a smaller, intimate wedding, but also a wedding that is the byproduct of reenvisioned plans as a response to the global pandemic. In fact, a micro-wedding is a wedding event that probably did not start out as a small wedding at all. It's small size is defined by safety precautions from the CDC, as well as state, local, and county COVID-19 regulations.
Though every wedding celebration requires the utmost organization, planning a micro wedding goes beyond the simple connotation of intimacy and enters the world of social responsibility. It is a demonstration of not only how to pivot previous wedding plans but also how to do so safely.
Selecting a Micro-Wedding Venue
One of the silver linings of a micro wedding is that the smaller guest counts open a world of options for venues. No longer limited by large guest counts, you can explore creative, unique, and fun options for your ceremony and reception sites. Think of private estates, architectural homes, art galleries, museums, gardens, rooftops, yachts, and other outdoor options that may not typically fit larger weddings.
Keep in mind that unique venues will also have unique considerations. You still want to ensure the space is conducive to vendor load-in/load-out needs, in particular for your caterer and rental vendors. Also, it's important to make sure that there is enough room for all guests and vendors to properly social distance.
If you are keeping a previously scheduled wedding at the same venue, make sure to communicate with the venue team to understand all of the new rules and restrictions that may have taken effect since the start of the pandemic and beyond.

Photo by Full Spectrum Photography; Planning & Design by Harutyunyan Events

Micro-Wedding Fashion
While shipping delays have subsided compared to earlier in the year, ordering your wedding dress may still have new considerations. Communicate with your bridal salon on designer and collection availability. Some designers have temporarily (or permanently, sadly) closed. Many brides are turning to RTW (ready to wear) as an alternative, including some of my personal favorites: Toni Matičevski, Alexander McQueen, Emilia Wickstead, and Tadashi Shoji. In particular, Vera Wang's new Fall/Winter '21 season has merged RTW and bridal into one collection, with looks I believe perfectly capture the style of micro-wedding elegance.
Aesthetically, you also want to take into account the venue as well as the smaller scale of the celebration. If you switched your ballroom venue for an outdoor garden, then perhaps an understated, elegant look is a better fit than a princess-style ball gown. You can always save the big dress for your bigger celebration down the road!
Guest List, Etiquette & Invitations
It is no coincidence the word "hospital" is in hospitality. The guiding principle of hospitality is, after all, to take care of people – a system of rules we observe to keep our guests comfortable, pleasant, and respected. In a world with COVID-19, that system goes beyond just comfort and pleasantry and becomes a social responsibility to keep each other safe.
Therefore, limit your guest list to only the closest people in your life, hence the "micro" part of micro-wedding. Consider each guest's potential impact on every other guest via their quarantining habits, age, underlying conditions, and travels. All of these factors will carry varying levels of risk. The CDC recommends guests maintain identical quarantining habits. Create a group plan for how everyone will remain isolated and get tested before the wedding.
Regarding invitations, it's a good idea to include a details card with the main invitation to explain the event precautions that you will be taking, as well as expecting from guests. Send announcement cards to friends and family whom you are unable to invite. These cards can include a Zoom link to share your ceremony virtually should you choose to do so.

Photo by Mi Belle Photographers; Planning & Design by Harutyunyan Events

Micro-Wedding Vendors
While you may be able to somewhat control how your family quarantines leading up to your micro wedding, you will not be able to do that with all of the vendors involved. Vendor attendance creates a varying level of risk. The more vendors staying the duration of the event, the more risk level you assume. Therefore, you will want to ask yourself which vendors you need and which ones you can potentially do without.
Communicate with your vendors regarding precautions as well as postponement policies. You also want to discuss a contingency plan in the case they are unable to work the event. Many vendors and venues are offering micro-wedding packages. The silver lining of a micro wedding is that you may be able to afford better, premium-quality vendors. I cannot stress enough the importance of investing in the best vendors you can afford. With COVID-19 and all of its complications, you only want to work with those vendors dedicated to looking after you and your loved ones.
Try to work with vendors who have been certified in training for COVID-19 safety measures, which is newly becoming available within the industry. For catering, have individualized plated meals – skip self-serve stations or buffets. For an officiant, ask someone who is already attending as a guest to double as your officiant. For rentals, look into sanitizing machines, plexiglass barriers for the bar, and crowd-control inventory. For hair and makeup, consider hiring an artist who can do both hair and makeup to further minimize risk. Make sure all vendors remain socially distanced and wear masks (even face shields for catering servers) at all times.
Designing a Micro-Wedding
In terms of event décor, your ceremony backdrop will take center stage as the typical larger décor elements of a wedding may not apply. Work with your florist to create something you love that can also be repurposed into the dinner portion of the event. For the reception, the dinner table will be the main focus, so pay special attention to your centerpiece and tablescape elements – menus, place cards, candles, and accent décor along the table. As you will only need enough supplies for one-to-two tables, it may make sense to purchase elements that may not be available for rent.
A micro wedding is also a great opportunity to curate a spectacular culinary experience for your guests. Make it special by adding special courses, such as an amuse bouche or intermezzo. Consider offering a full menu with coursed wine pairings. You can even surprise guests with an unexpected dessert course, like gourmet cotton candy or artisanal pastries plated in unique, fun vessels.
Some logistical elements to consider: plan to have hand sanitizers at the welcome table and in the restrooms. You can customize the bottle labels to make them more unique and fun. Have extra gloves and face masks on hand for guests and vendors. Additionally, with outdoor venues, you want to remember to rent heaters in case it gets cold in the evening. It is likely with intimate groups that you may have more toasts – be sure to account for this in the wedding timeline, especially the kitchen's schedule.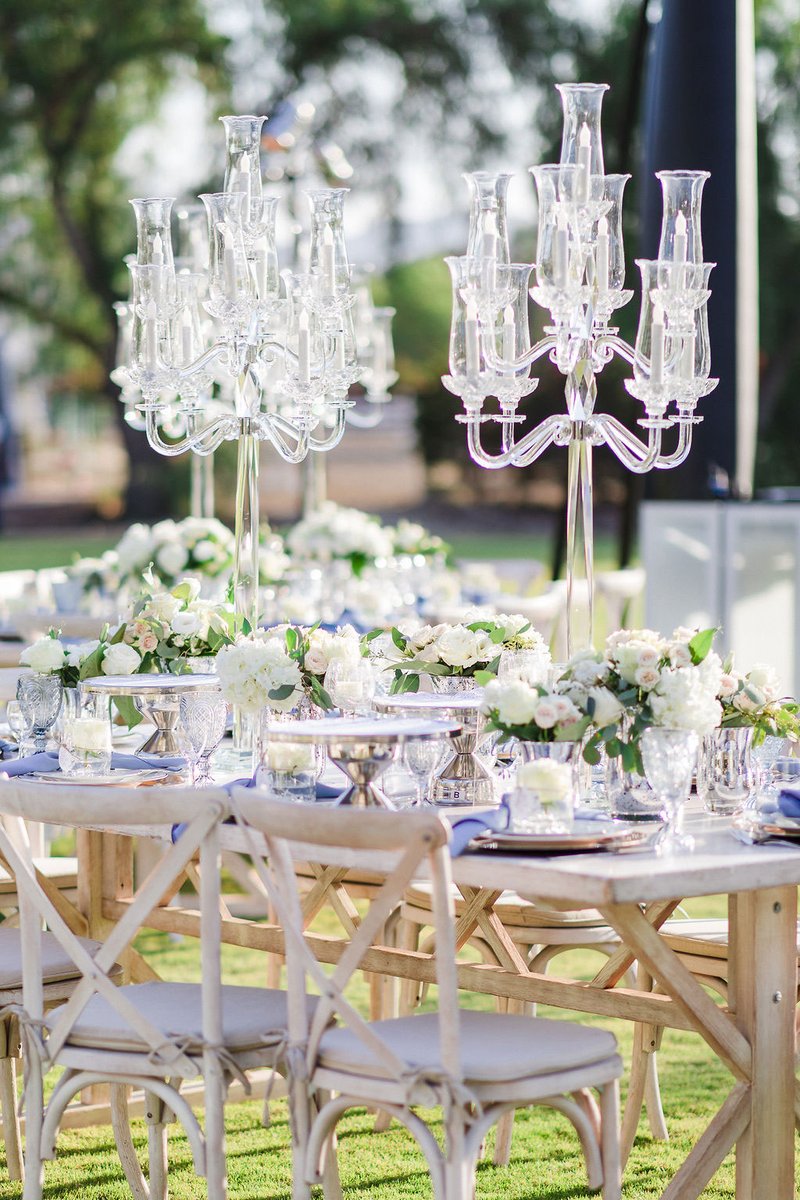 Photo by Full Spectrum Photography; Planning & Design by Harutyunyan Events

Happily & Safely Ever After
In many ways, micro weddings have taken us back to the basics and allowing couples to pause. They are no longer pressured to have the perfect Instagram-worthy wedding, and instead, they are just grateful that they have a wedding at all. It's allowed them to focus on what matters most: celebrating with their closest loved ones.
If 2020 has taught me anything, it's that we are resilient not only as a people across the world, but also professionals across the wedding industry. Stress is no stranger to the world of weddings. Weddings have always evolved and adapted to the world in which they take place, and we continue to witness their adaptability now. From bridesmaid drama to high-pressure in-laws, couples planning their wedding can navigate and survive many unchartered territories. The emerging art of the micro wedding demonstrates how they will survive celebrating their love in the coming year.