After their gorgeous destination wedding in California, Texas-based couple Natalie (née Clingensmith) and Zachary Wolf traveled to Vietnam, Cambodia, and Indonesia for a three-week-long honeymoon featuring exhilarating adventures and beautiful beaches that would turn out to be the trip of a lifetime.

Destination: Vietnam
After a long journey from Houston, the newlyweds started their honeymoon at Sofitel Legend Metropole Hanoi in Vietnam's capital. "Everyone we knew that had been to Hanoi had stayed there. It was beautiful!" shares Zachary. They explored the city on foot by day and experienced the Old Quarter at night on a cyclo, a pedal-powered rickshaw. They also spent one night on Paradise Peak, a wooden junk boat, to cruise Halong Bay. "It was incredible!" exclaims Natalie. The tour included an authentic cooking class, a visit to the Cua Van fishing village, and an elegant Bao Dai dinner.

"After spending time in Hanoi and then on the boat, the first time we really felt like we were on our honeymoon was in Hoi An," raves Zachary of their next destination. "We spent all day laying on the beach, swimming in the ocean, and lounging around the pool," he adds of their time at Four Seasons Resort The Nam Hai, Hoi An. In addition to sampling street food at the property's poolside party, they visited Shore Club An Bang Beach and took a cooking class at Red Bridge Cooking School, which began with selecting ingredients from the local market.


Photo courtesy of Four Seasons Resort The Nam Hai, Hoi An
The pair's last stop was Park Hyatt Saigon in Ho Chi Minh City. A vintage Vespa tour on their first night allowed them to observe the buzz of the modern locale. "It's a must!" notes Natalie. An authentic Vietnamese culinary affair at Cuc Gach Quan was also a favorite, as well as Japanese-Italian food at Pizza 4P Hai Ba Trung. "It's where all the locals go... We ate there our last two nights!" confirms Zachary. Another highlight was exploring the Mekong Delta through Mango Cruises, even visiting a local's home for tea to encounter an up-close look at life in the region.

HIGHLIGHTS
Enjoying Halong Bay. "Cruising along the bay at sunset with a bottle of wine was a one-of-a-kind experience. You must see Sung Sot (Surprise) Cave!"

Visiting Hoi An. "It was our favorite city and had the most beautiful sand out of all the places we visited. We loved riding bikes to and from the beach."

Shopping in Ho Chi Minh City. "It almost had a feel of being in Europe –high-end shopping, along with beautiful architecture and restaurants."


Photo courtesy of Natalie & Zachary Wolf

Destination: Cambodia
Their next stop was Siem Reap, Cambodia, where the honeymooners stayed at Belmond La Résidence d'Angkor. "We savored our time at this hotel!" remembers Zachary of the property built in traditional Khmer style along the banks of the city's tree-lined rivers. "They had a nice pool area where they provided complimentary drinks daily, as well as fun entertainment. Natalie even learned to create f loating f lower decorations," he adds, describing the property as very walkable to the restaurants, galleries, and markets in town.

On their first full day, the couple traveled by tuk tuk to a local monastery where a resident monk performed a private good-luck blessing to wish the newlyweds good health and a safe journey. "This was definitely unique," affirms Natalie of the special memory. "The monk tied red-yarn bracelets around our wrists, which we wore throughout our trip and once we got home." While Natalie and Zachary enjoyed all of the sites they visited, the famous Angkor Wat temple complex was a favorite. "Angkor Wat was incredible. It will blow your mind!" confirms Zachary of the largest religious monument in the world.


Photo courtesy of Belmond
The pair also recommends the evening Siem Reap Food Tour, where they relished savory noodle dishes, fresh seafood, and sweets from small family-owned restaurants and street-food stands. "We were thrilled with the experience," declares Zachary. "Our favorite dish was the dessert that evening bong'heim, made of shaved ice, milk, rice, fruits, and small cakes from a street cart off the side of the road on the outskirts of town."

Before they departed, their travel agency, Alluring Asia, arranged for a personal excursion Natalie and Zachary will never forget. "We donated a well to a family in need," shares Natalie, noting that they not only had the opportunity to visit the village, but also present their gift to the villagers. "You learn how poor Cambodia is and how basic things such as water are hard to come by," Zachary explains. "We decided that every year for our anniversary, we will donate a water well to a family in Cambodia."

HIGHLIGHTS
Being blessed by a monk. "It was such a unique opportunity that set the perfect tone for our first days in Siem Reap."

Playing with monkeys. "We were able to feed them and take some pictures at Angkor Wat temple."

Donating to a village. "It was great to walk away knowing that we were able to help out a family."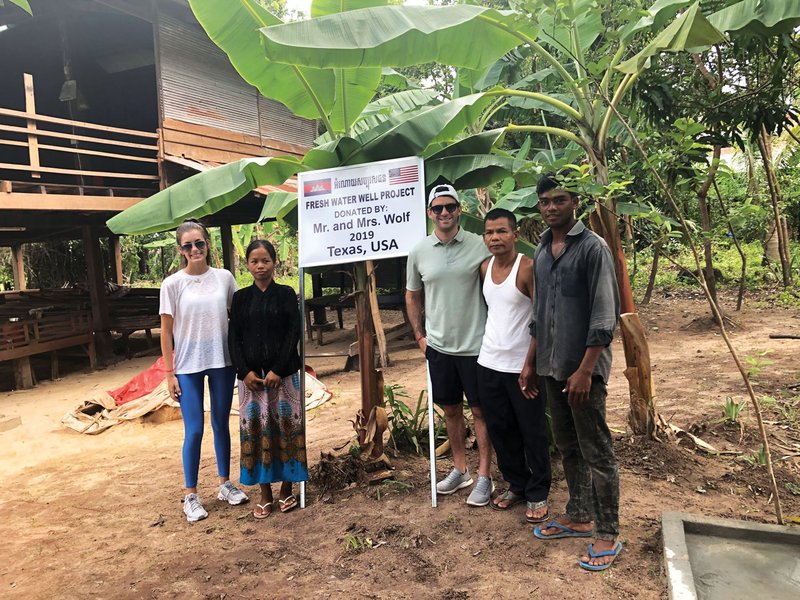 Photo courtesy of Natalie & Zachary Wolf

Destination: Indonesia
Natalie and Zachary completed their honeymoon with relaxing stays at three resorts. Four Seasons Resort Bali at Sayan was among their favorites. They visited Ubud's Monkey Forest Road, as well as the Pura Dalem Agung Temple, Puri Lukisan Museum, Puri Saren Agung Temple, and Ubud Palace. "There were monkeys everywhere!" affirms Natalie. The couple also enjoyed dinner at Bridges and Blanco Par Mandif Ubud, both of which they recommend.

Their penultimate stop was Amanwana, accessible by seaplane – one of the highlights of the trip. The luxurious accommodations included their very own eco-friendly, beachfront safari tent nearby the coral-rich seas and verdant jungle canopies. "Each day, we would lay out on the beach, snorkel, and watch the monkeys," says Zachary. "The world is your oyster here. There are no set times for meals or activities – when you are ready to eat, you can order anything you want. The food was incredible, and the staff was so nice!"


Photo courtesy of Aman
Before their journey home, the couple spent one last night in paradise at Four Seasons Resort Bali at Jimbaran Bay. They took in the picturesque vistas, lounged by the pool, and had sushi at nearby Sake No Hana to cap off the trip. "Traveling has always been a big part of our relationship," smiles Zachary. "Life comes at you fast and we hope to start a family soon, so we knew that we wanted to do something unique." Natalie agrees: "This was a once-in-a-lifetime opportunity to get away for three weeks and go somewhere we may never go again. We revel in exploring new places and seeing the world."

Photo courtesy of Four Seasons Resort Bali

HIGHLIGHTS
Seeing the Bali Swing. "It's an Instagram girl's dream. We mostly went for entertainment –they even rent outfits for people to change into!"

Witnessing wildlife. "Watching the monkeys over the coral every evening while we drank wine was so entertaining."

Relaxing at Amanwana. "This was our chill time. We mostly laid out by the beach, but we also took a sunset cruise, hiked, and enjoyed a beach barbecue."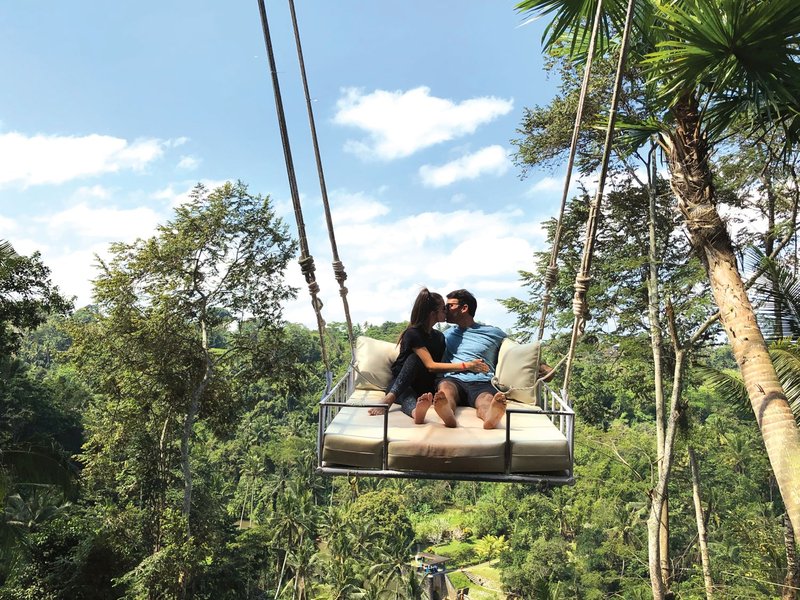 Photo courtesy of Natalie & Zachary Wolf
Travel Tips from Natalie & Zachary:
"Be mindful of what you eat, and understand that you're going to a place where the food and cleanliness standards are different. Bring over-the-counter medicine just in case!"
"We definitely overpacked! It's very hot, humid, and people do not dress up. We basically lived in our athleisure every day."
"Be prepared for traffic in Bali! Places we tried to go two-to-three miles away took 45 minutes to one hour to get to due to the busy one-lane roads."
"There are plenty of opportunities for great food, so don't overthink it! Although we booked most of our restaurants ahead of time, most places didn't require reservations."
"Look into the baggage weight policies of the regional airlines. Having an extra bag or paying for an upgraded ticket may be cheaper than fees for overweight luggage."