The day after their elegant Santa Barbara wedding, Margot (née Kollerer) and Brian Dudley traveled to the Seychelles and Bora Bora for a three-week-long honeymoon with romance and relaxation at the top of their vacation wish list.
Destination: Mahé Island, Seychelles
Desiring ultimate leisure for the first stop of their honeymoon, the newlyweds considered multiple beach destinations. "We really wanted to go somewhere exotic and tropical that we would probably not have the opportunity to go back to easily later in life," explains Margot. They narrowed down their choices to the Seychelles or Maldives and decided to go to with the former since the islands have more reliable weather in the fall when they'd be traveling. Since they had just hosted their wedding at a Four Seasons property in Santa Barbara, the couple decided to spend four nights at Four Seasons Resort Seychelles. "We absolutely loved it!" she exclaims.

Photo courtesy of Four Seasons Resort Seychelles
Their stunning villa at the romantic hideaway provided the perfect setting to decompress following the nuptials. "You feel as though you are living in a tree house," shares Margot of the exquisite accommodations. While recovering from jet lag, the pair spent most of their time on the beach and by their private pool. They also participated in some resort activities such as stand-up paddle boarding, kayaking, and enjoying an authentic Creole barbecue buffet complete with entertainment by a local band and dancers. With the help of the concierge, they rented a car to explore the island, stopping at a few different beaches – "Anse Takamaka being a stand out!" suggests Margot – and dining at La Grand Maison, which they highly recommend to others inclined to try fare outside of the delectable resort restaurants.
HIGHLIGHTS
Indulging in spa treatments. "We got massages at the amazing hotel spa that has the most beautiful views!"
Exploring the island. "We really enjoyed renting a car to explore the island on our own one of the days."
Watching the sunset. "We had nightly free Champagne at the hotel while watching the sun set from the highest point of the property."


Photo courtesy of Margot & Brian Dudley

Destination: Félicité Island, Seychelles
Having experienced the main island, Margot and Brian also wished to see what the smaller private islands in the archipelago had to offer. They chose Six Senses Zil Pasyon as their home for the next five nights. "We would highly, highly recommend it! It is unlike anywhere else we have ever stayed or probably will ever stay again," says Margot of the luxury property nestled between the island's verdant landscape and the turquoise waters of the Indian Ocean. After arriving by helicopter, the honeymooners were immediately greeted by their personal Guest Experience Manager (GEM) and transported to their private villa set amongst the granite boulders of the island. "Because there are so few rooms, it almost feels like you have the whole island to yourselves," she shares. "It's truly the perfect honeymoon spot!"

Photo courtesy of Six Senses Hotels Resorts Spas
Outings included a scuba diving adventure – which came with a short course since they were unlicensed –that allowed them to dive up to 40-feet deep, and a boat trip to nearby La Digue island known for its beaches and diverse wildlife. "It is home to one of the most photographed beaches in the world... Such a fun day and excursion!" smiles Margot. With the help of their GEM, the duo also enjoyed plenty of hotel activities –from exploring the island and surroundings on bikes and kayaks, to visiting the gym and practicing yoga, as well as indulging in romantic private dinners. "We loved every meal we ate during our stay," confirms Margot. They also visited the oceanfront spa on multiple occasions, watched movies under the stars, and viewed the sunset from the best vantage points with Champagne. "There is nothing about the Six Senses that disappointed!" she adds.
HIGHLIGHTS
Scuba diving. "We saw sharks, rays, eels, octopuses, turtles, and tons of fish. It was one of our favorite days from the honeymoon!"
Enjoying intimate dining. "We had multiple private dinners – one in the hotel wine cellar and one on a secluded beach... We loved every meal."
Boating to La Digue. "We rented bikes to explore the island and also got to see huge tortoises that roam freely and stop at the fresh fruit stands along the way."


Photo courtesy of Margot & Brian Dudley

Destination: Bora Bora, French Polynesia
Despite nearly 50 hours of transit time between the Seychelles and their next destination of Bora Bora, the couple was thrilled to finally check French Polynesia off of their bucket list. "Bora Bora had been my dream honeymoon destination as a little kid," reminisces Margot. "I had always seen pictures of its overwater bungalows growing up and just knew I wanted to experience that one day, if only for a few nights."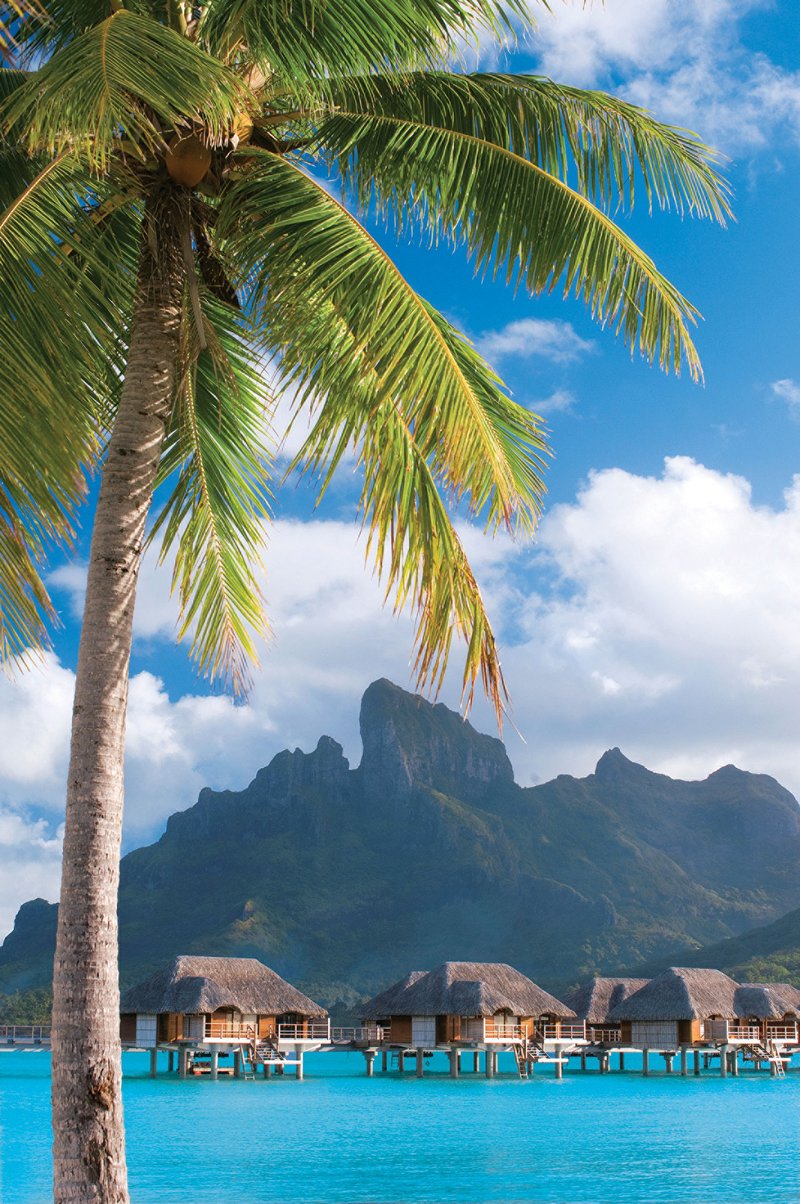 Photo by Peter Vitale
Since they already had plenty of beach time, Margot and Brian hoped to focus more on activities during their five-night stay at Four Seasons Resort Bora Bora. "We participated in a Jet Ski island tour, a full day snorkel 'safari', a jet-boarding experience, a kite-surfing lesson, a spa day, and lots of swimming and stand-up paddle boarding around the island," remembers Margot. For island fare, the couple decided to stay on property for most of their meals. "All of the fresh seafood is delicious!" she says. "The restaurants were incredible and one night they hosted a French Polynesian authentic dinner and a fire-dancing performance that was a total blast." On the final evening of their journey, the newlyweds took a private canoe ride to a white-sand motu (a very small island) for a magical dinner for two under the stars –a true highlight and a wonderful way to conclude the trip of a lifetime.
HIGHLIGHTS
Snorkeling. "The amount of wildlife we got to see and the bright colors of the fish and coral in Bora Bora was unparalleled. It was so special!"
Viewing the landscape. "The vivid colors are breathtakingly beautiful in a way no pictures are able to do justice."
Dining on a private island. "It was so delicious, so romantic, and the perfect way to end the trip!"

Photo courtesy of Margot & Brian Dudley
"If you want a relaxing, romantic, and beach-centered honeymoon, you can't go wrong with the Seychelles or Bora Bora," assures Margot. Though they spent most of their time onsite at each of the island resorts, "when we did venture out, we really enjoyed getting to know the local people," she muses. "Everyone was so kind and welcoming everywhere we went in both locations... We would absolutely love to go back to all three!"


Photo courtesy of Six Senses Hotels Resorts Spas

Travel Tips from Margot & Brian:
"Definitely check the typical climate for the month you plan to visit before committing. These are both destinations where you want sunshine and warm weather."
"Besides your swimsuits and cover-ups, you really only need to remember sunscreen, bug spray, and your passport. Pack light!"
"Keep in mind that you will be tired after your wedding, so relaxation is key at the beginning of your honeymoon. Activities and excursions are best scheduled starting a few days into your trip rather than right at the start!"
"We highly recommend going on your honeymoon shortly after your wedding rather than delaying it for a later date. There is something so special about jetting away with your new spouse right after your wedding, and you can't ever recreate that genuinely fresh newlywed glow. Plus, the trip enables you to really reminisce on all the magic you just experienced together!"
"No matter where you choose to go, don't be shy about letting people know that you are celebrating your honeymoon, whether that be on your flights, at your hotels, or when you are out at restaurants. You never know when you might get upgrades or special treatment!"