For couples planning a destination wedding during the Coronavirus pandemic, tensions may be high; however, it's important to remember that your wedding will happen! Travel will open up again, weddings will occur, and your dream of a destination wedding in whatever part of the world you desire can be a reality. On Wednesday, May 27th, we sat down with Beth Helmstetter of Beth Helmstetter Events on Instagram Live to dive into the topics many couples are currently faced with around the world.
"We're a boutique company based in Los Angeles, specializing in destination weddings. We've worked all over the world: Paris, Bali, Mexico, Italy, the Philippines, Korea, and of course, plenty in Southern California," she shares of her business, which focuses on planning celebrations in various destinations around the globe. Though the world has changed since many of her favorite events pictured below, the beauty of the destination wedding isn't going anywhere – so don't be afraid to keep planning your dream wedding day.
For couples currently in the midst of planning a destination wedding, we discussed many questions you likely have about wedding planning during a pandemic. Read a portion of our interview below, and head to our IG TV to see more!

Inside Weddings: If a couple has decided to have a destination wedding, what's the first step that they should take – especially if they're starting now with everything going on in the world?
Beth Helmstetter: Having a wedding planner to guide you through the destination wedding process is very valuable – especially if it's a destination you're not overly familiar with. Even more so in this climate, if you're choosing to commit right now to a destination – especially internationally – it's really important to have someone on the ground, so if it's not a wedding planner, maybe it's a catering manager or venue manager – someone who can really help you assess the climate, including the laws and mandates... If you're choosing to get married in Positano, for example, you're probably going there not only because you love it but because the energy of the destination is a certain way, so even if you're legally able to marry there right now, you might find out from your planner or your person on the ground that the energy isn't what it used to be, so maybe you want to hold off a little bit.... Having someone who can navigate that climate for you, especially when you can't get there yourself, is really important right now.
With destination weddings, we definitely navigate a lot of challenging environments and cultural elements, so it's just nice to have someone take that off of your plate if you can.

Photo by Carrie Patterson; Planning & Design by Beth Helmstetter Events
IW: What makes planning a destination wedding different? Is the process longer or shorter? What do you see with your couples planning destination weddings?

BH: Honestly, it can be about the same. Depending on where the destination is, you do need to take into consideration that you'll want to give your guests ample time to prepare for travel and navigate that process if they have to request time off, save up funds... those are things to keep in mind. We really recommend taking a couple scouting trips throughout the planning process, so depending on your schedule, you might want to plan around allowing for that. If you don't plan to take scouting trips, you can do it as quickly as anything else, but if you're marrying in say Paris and you want to get there twice before your wedding, you might not be able to do that realistically very quickly. So, about nine months is normal, but we have certainly planned a five-day wedding in Italy in less than three months and we've taken a year and a half for a wedding in Mexico. It depends how decisive you are and when you want to get married.
IW: Do you recommend usually about two scouting trips?
BH: Depending on resources, time, finances, I find that our couples have the best experience when they're able to do two scouting trips – one to see the venue and maybe do some initial research on vendors, and the second for food tasting and a design presentation. If you can only do one, I would highly suggest seeing the venue and maybe paying a couple of caterers to do a couple of tastings on that trip. It's not as fun, but you can always do the design session via video and phone, but seeing your venue and tasting your food is pretty important!
IW: What have been some of your favorite destinations to go to?
BH: It sounds so cheesy, but I really love everywhere we go. We get to be inspired by different cultures and there's such a different aesthetic everywhere and a different vibe we're creating. Europe is always beautiful, the architecture is amazing, the venues we get to work in are fairy-tales. Bali is very special, just laid-back and totally different, so if you want to have your guests experience a really unique culture, that's a great option. I also just love Napa (who doesn't love Napa?), Cabo, and places that may be a little bit easier to get to. I love them all.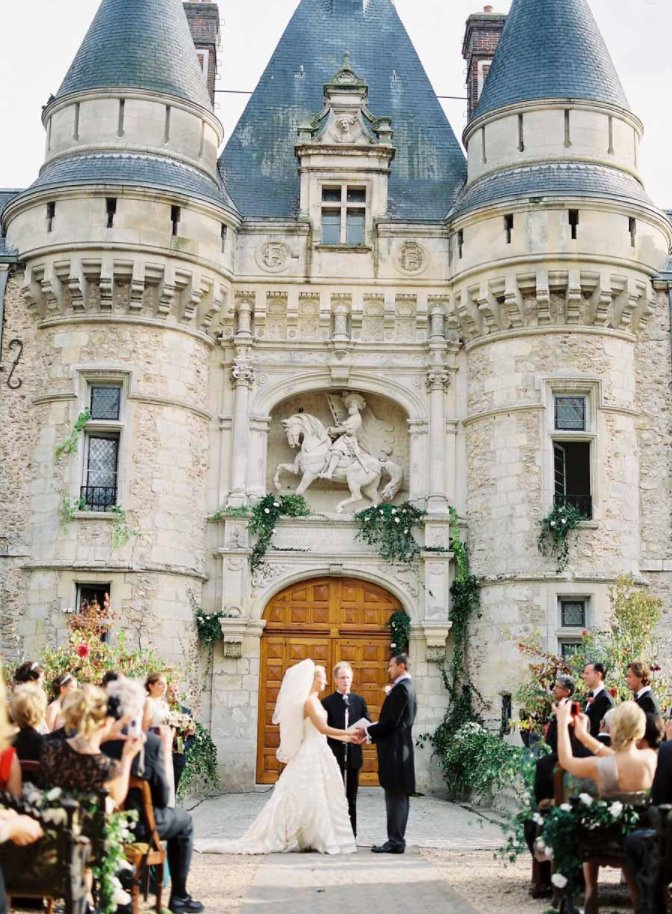 Photo by Steve Steinhardt; Planning & Design by Beth Helmstetter Events
IW: When you have a destination wedding, do you bring your entire team?
BH: For our scouting trips, it's always me and my senior event producer. We go to experience the destination from two different viewpoints: I'm a little bit more creative-minded, so I'm looking at design and what the guest experience can be, and she's looking at purely logistics – where will the generator be run from, where will the restrooms be, etc. On-site weddings depend on the guest count, but traditionally I bring my entire team (about five people). If I'm doing an event with 40 people in Mexico, I might only bring three members of my team, but it just depends on the guest count, the scope, and how many events.
IW: What is the best part of having a destination wedding?
BH: The most special part of a destination wedding is getting to have an extended amount of time with your guests. Most of our destination weddings have multiple events – it might be a simple snorkel sail that they go on one morning, it might be a cocktail by the beach, or it might be a huge, elaborate celebration – it depends on the couple. In each of those moments, they get to spend more time with their guests. What I really love is when I get to see this dynamic unfold where guests who were strangers when they arrived on Thursday night or Friday morning are just the best of friends by the end of the weekend.

Photo by Braedon Flynn Photography; Planning & Design by Beth Helmstetter Events
IW: What are the most challenging parts of having a destination wedding?

BH: The most challenging for the couple is probably related to everything I shared before – you're really taking your guests on vacation with you, so there's a lot more pressure on you to really take care of them, anticipate their needs, and make sure that they feel valued and special because they're committing so many resources to be there... all of that adds stress to all of our couples. Also, they can't touch and feel things as often as they want. There are also cultural barriers – in every culture, they see weddings with a different level of importance, and so navigating that and trying to deliver on our clients' expectations in a culture where a wedding may just typically be cake and Champagne for 60 guests can be challenging. We always get it done, but it's something we're always trying to figure out when we're in a new destination.
IW: How do you prepare in advance for a culture block at a destination wedding?
BH: Often with our destination weddings, we'll hire a local specialist who is our support person, our eyes and our ears for a variety of reasons: cultural blocks, accountability – maybe vendors might not feel the need to respond to us but they know that it looks bad on them to the local person who is supporting us at that time, language barriers... Sometimes it's other planners who can guide us, sometimes it's catering manager or venue manager, but finding someone there to guide you through is really important.
What I really love is when I get to see this dynamic unfold where guests who were strangers when they arrived on Thursday night or Friday morning are just the best of friends by the end of the weekend.

Photo by Erich McVey; Planning & Design by Beth Helmstetter Events

IW: For your couples, do they end up renting out the entire venue or use room blocks like any wedding?
BH: It's 50/50. I will say, if you're of the guest size for your guests to have the resources to buy out a hotel, it is so cool to take over a property and all stay together. When you get to buy out a property, you can use the space as you wish, there are less rules about curfews, and of course, everyone is staying together – it's an ideal situation for a planner, as well as the guests, and the couple, but it's 50/50. Some people do room blocks, and that's fun too!
IW: Do you see most of your couples going the intimate-wedding route, or the big-wedding route? Do you think guest counts will change with the current climate?
BH: It is also 50/50 – up until this point, we definitely have hundreds of people in destinations and sometimes we have just 40 people. I love them both for very different reasons. For the foreseeable future, I do think we're going to see smaller guest counts, and that may not even have to do with the mandates – we have no idea what's going to happen with that – but I think there will be some sensitivity to guests traveling, so you might just see a lower response rate than you would have.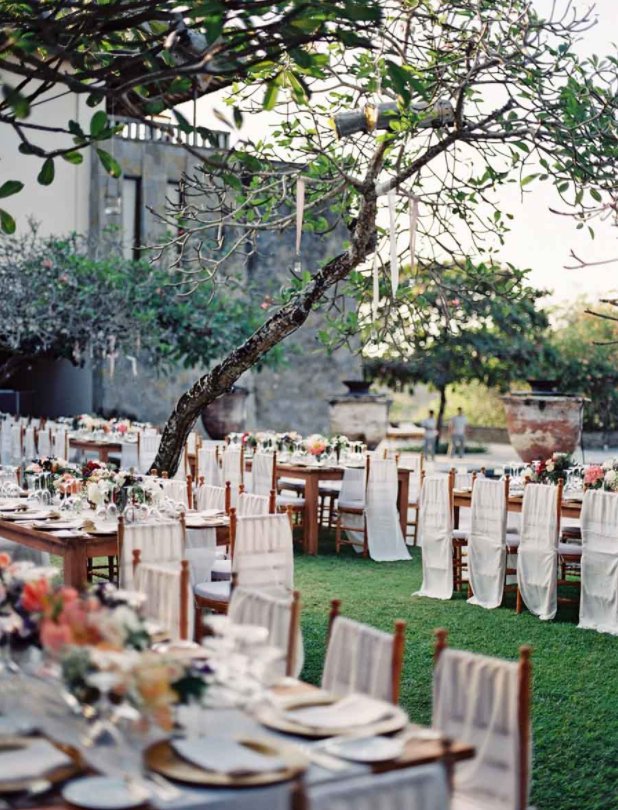 Photo by Steve Steinhardt; Planning & Design by Beth Helmstetter Events

IW: Do you find that destination weddings end up costing more, the same, or less than a California wedding?
BH: About the same as a California wedding, sometimes more. I do think that there's a misconception that people think that getting married in Central America or Mexico, it might cost less, and I would say that the line items might be less – for example, you may pay less for food and beverage in Mexico, but you're going to have more line items. You're probably going to have multiple events, even if they're simple like a welcome cocktail or farewell activity, things like welcome gifts are in 99% of our destination weddings, shuttle buses from the airport... so there are just more things to think about.
IW: Nowadays, even a hometown wedding can be a form of a destination wedding with families and friends spread around the world. What would you say is the difference between that type of wedding and a true destination wedding?
BH: We do a fair amount of weddings that are hometown weddings but are also destination wedding, where we're going to the bride and/or groom's hometown, but because so many people are traveling, they still want their guests to experience what their town is about. We did a wedding awhile ago in a small town called Chagrin Falls, Ohio, and we made a whole weekend of them going to the local market where they do these wine tastings, doing historical tours... so guests could not only be there for the couple, but also get that destination-wedding experience. Because it's so common, I always go back to how you take care of your guests – I think it's important to remember that guests are traveling often for weddings, so just be sensitive about what that experience looks like for them and that they're provided with all of the information they need to have a successful travel and a great experience with you for your weekend.
IW: How would you best prepare your guests before a destination wedding, as well as keep them involved throughout the weekend?
BH: We create an email on our couple's behalf where we introduce ourselves right away, so we can be a liaison with them and their guests. If you're not working with a planner, you should open up that dialogue with your guests and let them know if they have travel questions to ask. Wedding websites are also super important, not only communicating all of their hotel and accommodation options, but also any activities that they might want to explore – you kind of become an amateur travel agent where you're providing them all the information to travel there easily but also giving them a little bit of insight into the destination in case they want to explore on their own.
Keeping them engaged has a lot to do with the itinerary you create. I always like to keep in mind that you definitely want to welcome them, but keep in mind that depending on the location, they might want to explore on their own as well, so finding a nice balance between scheduled activities and giving them some free time is pretty important. When we created the itinerary for the five-day Italy celebration, we created events that were more "obligatory" – we collected RSVPs, and then we had more suggested activities like a yoga class, meditation, a cooking class, and that was the sort of thing where you could show up or explore on your own instead. It's all about how you communicate it throughout the process.

Photo by Lauren and Abby Ross; Planning & Design by Beth Helmstetter Events
IW: What kind of destination wedding activities do you recommend?
BH: I think it's really valuable to be arranging activities your guests would want to do anyway. For example, if we're in Hawaii, that might look like a sunset sail, or maybe the welcome party is luau-inspired. If we're in Tuscany, maybe a pizza-making class or a wine tasting. I really am all about making sure your guests get an authentic experience within the destination even though they're there for the wedding.
IW: Is the marriage license in another country still effective when the couple returns to the United States?
BH: Every country has different laws, so I can't speak about this across the board. Most of our international couples choose to marry in the United States and have more of a ceremonial celebration when they get to the destination, so it's not a legal marriage. In the past when we've done a legal marriage somewhere else, it usually involves hiring a lawyer and a translator to translate the license into English, so then it can be filed here in the United States. It's a lengthier process, it usually is a bigger investment because there are some legalities involved, but it can be done – just every country is a bit different. It's a pretty delayed process, which also delays joining insurance and all of the legalities that you'll need once you become a married couple.

Photo by Steve Steinhardt; Planning & Design by Beth Helmstetter Events
IW: What is the best way to keep couples who want to have a destination wedding at ease?
BH: It's just extra communication! We're planning several destination weddings internationally right now, as well as throughout the country, and we're in constant communication with our vendors. We're preemptively finding out things like cancellation policies, change policies, postponement policies, so they know worst-case scenario – this is what it looks like right now, but hopefully we don't have to use it.
IW: What is your best advice for a couple who is planning a wedding, whether they have a planner or not?
BH: Keep your planning committee small! The more people who are involved in the planning of your wedding, the more stressful it becomes... the more pressure you feel to make those people happy, all of those opinions to take into consideration – your vision usually gets watered down. Now that's not always realistic – there are parents involved, siblings, best friends... and if that's the case, I recommend breaking the tasks apart, and [for example] working on the cake and invitations with your mom, food and entertainment with your fiancé, and so on and so forth. That's my key to lowering stress.
For destination weddings, (I swear I don't say this because I'm a planner, but please) get a planner. There are just so many unknowns happening with destination weddings, so many cultural differences, you really want someone to help you navigate everything. It doesn't have to be someone like me that travels with you, but even finding someone in the local market is more important than you would think.
To see more from our interview with Beth Helmstetter of Beth Helmstetter Events on Instagram Live, click here.