Congratulations on your upcoming wedding! If you're in the midst of planning a Caribbean destination wedding, you've likely wished that you could test drive your wedding just like you can test drive a car before you buy it – especially if you've never visited a Caribbean destination. While this "test drive" concept is just a dream for many couples who are choosing their wedding packages, it can be a reality for those pairs planning a destination wedding in a Caribbean destination at Beaches® Resorts.
Some of the most popular destination wedding locations are located in the Caribbean along pristine white-sand beaches, which will set a romantic tone for you and your spouse-to-be, as well as your wedding guests. After your wedding ceremony, friends and family can enjoy relaxing on the picturesque beaches, fabulous spa treatments*, an array of exhilarating activities on land and sea, and experience a taste of island life. The gorgeous setting, easy-to-plan customizable weddings, and the nearly unlimited amenities of all-inclusive resorts in the Caribbean create the ultimate vacation and wedding destination.
Thankfully, Beaches Resorts offers a choice of three luxury all-inclusive resorts along the Caribbean's best white-sand beaches, which make for incredible wedding sites. From Jamaica to the Turks and Caicos, there are a number of properties that offer something unique and special. As if the choice between some of the best wedding destinations couldn't get better, Beaches Resorts now offers the opportunity to Test Drive Your Wedding with up to two nights in paradise.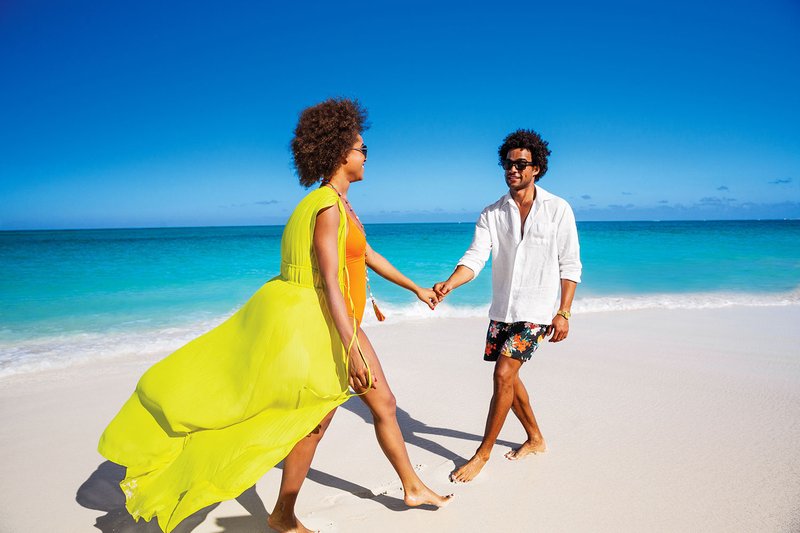 Photo courtesy of Beaches Resorts
How to Test Drive Your Destination Wedding
If you're like many couples who have always wanted to visit and "try out" their Caribbean wedding location before they actually book any wedding venues and vendors, your dream can now come true for a destination wedding in the Caribbean... The best part? Prices start at just $250 per couple, per night*, for all of the luxurious five-star amenities available at Beaches Resorts in some of the best locations for Caribbean destination weddings. Plus, you'll also receive up to a $600 credit* when you book your wedding group of at least five rooms!

Photo courtesy of Beaches Resorts
Find out how to get started and test drive your Caribbean wedding, below:
1. Choose Your Resort
First, select a Beaches five-star all-inclusive resort! You'll have the option to choose your favorite island properties that will make picture-perfect wedding destinations. With three destination wedding resorts and locations in the islands to choose from, there will certainly be one that's right for you.
Want to exchange vows at a resort with all-new rooms and suites? Adults and families alike will find something they'll love at Beaches Negril in Negril, Jamaica. Interested in a location with five different vacations in one? Try Beaches Turks & Caicos in Providenciales, Turks and Caicos, which showcases multiple villages – each with their own architectural style and ambience! Try Beaches Ocho Rios in Ocho Rios, Jamaica, which is another family-friendly resort that showcases a waterpark, scuba diving*, and more fun for the whole family!

Photo courtesy of Beaches Resorts
2. Pick Your Travel Dates
Considering that your Caribbean destination wedding test drive will be for up to two nights, you'll next choose three options for your arrival date! If you want to truly test drive your Caribbean wedding, we recommend trying to book your trip to the resort of your choice in the same month – or at least the same season – that you hope to say "I do" in front of your friends and family. Booking your Caribbean wedding test drive around the same time of year will ensure that you're not only testing the wedding venue and location, but you're also testing the weather and general feel of the locale that best fits your dream destination wedding.
3. Provide Your Contact Information
The last step is the easy part! Simply enter your contact information, so that your dream wedding test drive experience can get underway. The Beaches Resorts wedding team will review your choices of destinations, as well as your ideal travel dates, and they'll get back to you with options to help make your dream a reality and visit the islands. Now, sit back and get excited for the wedding planning that's to come!

Photo courtesy of Beaches Resorts
What to Expect from Your Wedding Test Drive
While you wait for your pre-wedding vacation to be confirmed, it's time to start looking forward to what's to come.
Meet Your Resort Wedding Team
Once you arrive at one of the all-inclusive resorts you selected, you'll get settled into your luxurious Caribbean resort accommodations. To learn more about your upcoming Caribbean wedding, you'll then have a meet and greet with your resort wedding team and wedding planner, as well as your wedding photography team – and take home a complimentary 5x7 photo! Since you and your fiancé(e) will want to review the décor for your big day and sample the sweets served at your reception, there will also be a wedding-linen sampling as well as a sparkling wine and wedding-cake tasting included!

Photo courtesy of Beaches Resorts
Experience All of the Amenities
Of course, you'll also want to enjoy the amenities that the luxury all-inclusive resorts have to offer brides and grooms, as well as their attendees! With multiple restaurants at each island destination, savor 5-Star Global Gourmet™ dining and receive unlimited premium liquors and Robert Mondavi Twin Oaks® wines. You'll also get access to unlimited land and water sports, visit the award-winning Red Lane® Spa, and enjoy nightly entertainment. There's truly something for everyone.

Photo courtesy of Beaches Resorts
Get VIP Treatment & Offers
While test driving your wedding – starting at just $250 per night, per couple* – you'll also get VIP treatment and special offers. Experience the romance of the Caribbean while enjoying a dinner for two with your own personal waiter and a complimentary bottle of sparkling wine to toast to your upcoming destination wedding. Then, if you choose to host your Caribbean wedding at the resort, you'll also receive up to a $600 credit* when you book five rooms or more!

Photo courtesy of Beaches Resorts
Traveling with Peace of Mind
Cleanliness has always been important to travelers, but now more than ever, couples and their wedding attendees require peace of mind when traveling amidst the Covid-19 pandemic. Cleanliness and safety have always been the top priority for Beaches Resorts, and they are committed to making everyone feel safe with their Platinum Protocol of Cleanliness™.
Cleanliness for Everyone
"Our new Platinum Protocol of Cleanliness encompasses added health and wellbeing requirements across all points of contact at every resort, including common areas, all restaurants and kitchens, bars, guest rooms, activities, fitness centers, spas, and includes all behind-the-scenes operations. We're leaving no stone unturned as we prepare to welcome guests back to the beauty and warmth of the Caribbean in a friendly, clean, and most importantly, safe environment," states Beaches Resorts.
From the moment guests arrive at the Beaches airport lounge before their private transfer, to the moment they leave the luxury resort, the industry-leading cleanliness practices of Beaches have been enhanced to include additional cleanliness measures, guaranteeing guests the peace of mind to enjoy their vacation with the utmost confidence. Cleaning practices across the resort and in each hospital-grade sanitized suite will ensure a safe environment, and guests will enjoy the open-air restaurants and activities that bring in safe breezes, while all team members wear protective face coverings.

Photo courtesy of Beaches Resorts
Cleanliness for Weddings
In addition to the resort's cleanliness protocol, destination wedding packages at each resort have also been updated to ensure the health and safety of the Beaches team, couples, and their loved ones. With reduced capacity for indoor and outdoor wedding venues, attendees will be seated further apart for everyone's health and safety. Buffets have also been eliminated and attendees will enjoy plated dinners and hors d'oeuvres served by staff wearing face masks and gloves. For those bridal parties who choose Red Lane® Spa for a picture-perfect look, personal-use makeup kits are available for purchase. If any of your invited guests don't feel comfortable traveling, Beaches offers a live-stream* option for the wedding ceremony and reception, so loved ones can celebrate from afar.

Photo courtesy of Beaches Resorts
With the Test Drive Your Wedding special, get ready to jet off to the islands in the Caribbean Sea and discover destination wedding resorts with your soon-to-be husband or wife. Start wedding planning by the beach and enjoy all of the amenities you'll be sharing with your loved ones, including gourmet dining, unlimited premium cocktails and wine, nightly entertainment, and your choice of activities both on land and in the ocean.
To test drive your wedding at Beaches, call your Travel Advisor, 1-800-BEACHES, or visit Beaches.com/weddings.
*Visit www.beaches.com/disclaimers/insideweddingsaprjune21td or call 1-800-BEACHES for important terms and conditions. Beaches® is a registered trademark. Unique Vacations, Inc. is an affiliate of Unique Travel Corp., the worldwide representative of Beaches® Resorts.