Though Luri Lee and Chris Mercurio vacationed in Bermuda for a mini-moon immediately following their Boston wedding, they later experienced a two-week-long trip to Italy that encompassed everything they were hoping for in a honeymoon.

Destinations: Florence & Tuscany
"Italy has everything we were looking for – great food, good sightseeing, and a romantic atmosphere," confirms Luri. Access Italy – the travel agency that organized the couple's itinerary and specializes in highly customized travel plans – recommended Baglioni Relais Santa Croce in Florence for their first three nights. "The service was fantastic, the architecture was beautiful, and we appreciated the quiet nature," Luri confirms.
Their Italian adventure began with a guided walking tour to discover Florence's history and see Michelangelo's David sculpture at Galleria dell'Accademia. The highlight, however, was their private cooking class. They met their instructor for cappuccinos before visiting a local market to choose ingredients for the four-course meal. "This was a day we will never forget," remembers Chris. Cuisine recommendations include gelato at Vivoli and dinner at Golden View Open Bar, which offers a delicious Florentine steak and a gorgeous view of the Ponte Vecchio.

Photo by Diego De Pol
Their next stop was Borgo Santo Pietro for two nights to experience Tuscany's wine, food, and scenery. "It was one of the most serene places of our honeymoon," reminisces Luri. They dined at two of the property's restaurants, which incorporate ingredients from the adjacent farm: First, Trattoria sull'Albero, designed around an oak tree, with "the best pizza!" Luri notes. Second, Michelin-starred Meo Modo. "Each meal looked like a piece of art – it was too pretty to eat!" she muses. To see more of the region, they took a driving tour of Montepulciano, as well as the Val d'Orcia valley's Pienza and Montalcino, where they visited Podere Le Ripi for a private wine tasting. "At each town, our guide Fabrizio would drop us off at the top and pick us up at the bottom, as we were left to wander at our own pace," shares Luri.

HIGHLIGHTS
Visiting Piazzale Michelangelo. "It's a great place to grab a drink and watch the sunset over the Florence skyline."

Cooking with Chef Claudio. "The class was originally set for three hours, but we ended up spending the whole day together, cooking and drinking wine."

Wine tasting at Podere Le Ripi. "We had a lovely time with our wine host, tasting Brunellos, and eating the best lasagna we've ever had."


Photo courtesy of Luri Lee & Chris Mercurio

Destinations: Rome & Capri
As Luri and Chris had never been to Rome, visiting Italy's capital was a must. Their close friends were also taking their honeymoon at the same time, so they coordinated a "buddymoon." "We got to spend all three days in Rome together, which was so much fun!" exclaims Luri. Ideally located near all the attractions, The Pantheon Iconic Rome Hotel, Autograph Collection was home base. "It also has an awesome rooftop bar, which was perfect for watching sunsets and having pre-dinner drinks," adds Chris. They enjoyed espresso at Roscioli Caffè, seafood at Pierluigi, and traditional Roman dishes at Ristorante Tullio and Taverna Trilussa. For gelato, they recommend Giolitti – "There's usually a line, but it's worth it!" hints Luri.
To make the most of their time in "The Eternal City," an eight-hour private tour of the major sites – including the Roman Forum, Trevi Fountain, and Spanish Steps – arranged by Access Italy gave them a luxurious insider experience. "A big highlight was getting priority entrance to the Colosseum and stepping on the stage where gladiators fought," Luri admits. Their final day included visits to the Vatican Museums, Sistine Chapel, and St. Peter's Basilica, "which were all breathtakingly beautiful," she marvels.


Photo courtesy of Access Italy
After nonstop sightseeing, two nights at Capri Palace were appreciated. They relaxed at the pool and frequented Il Riccio Beach Club. "It's located on a cliff overlooking the water and has such a fun, chic vibe," recalls Luri. So delicious they dined there twice, Michelin-rated Il Riccio was a top choice for seafood, as well as dessert in the on-site Temptation Room. "For someone with a big sweet tooth like me, it's a dream come true," Luri smiles. While on the island, they traveled by rowboat to the famous Blue Grotto sea cave, had gelato at Gelateria Buonocore, took a chairlift up to Monte Solaro, and traversed the Gardens of Augustus overlooking the Faraglioni islands. For their last night, dinner at Da Paolino Restaurant beneath lemon trees was everything they desired. "It was so beautiful and romantic, and the lemon ravioli was delicious!" affirms Luri.

HIGHLIGHTS
Dining at Pierluigi. "That was one of our favorite dinners – we would highly recommend the scallops, fried zucchini flowers, and the seafood pasta with Mediterranean lobster!"

Exploring Trastavere. "There are lots of great restaurants, bars, and cafes, and there's definitely a younger vibe there too."

Sampling limoncello. "Capri is the place for limoncello! With all the lemon trees there, it is made locally and a great treat before/after meals!"


Photo courtesy of Luri Lee & Chris Mercurio

Destinations: Positano & Ravello
Luri and Chris experienced la bella vita on the Amalfi Coast, starting with one night at Le Sirenuse in Positano. "This hotel is just as magical as it looks," reveals Luri. Dinner at Michelin-starred La Sponda was a dream come true for the couple. "To paint a picture, the restaurant is illuminated with hundreds of candles and you're overlooking the Mediterranean while Andrea and Franco serenade you at your table," illustrates Luri.

Photo courtesy of Le Sirenuse
Wanting to spend their final two nights somewhere especially romantic, the newlyweds chose Belmond Hotel Caruso in Ravello. "The hotel itself is a piece of art... the view from our room was absolutely breathtaking!" raves Luri, also noting the impeccable service they received from the moment they arrived. Savoring their final days together in Italy, the newlyweds lounged on their private terrace, explored the town of Ravello by foot, and enjoyed their last day on a private boat excursion. "Our skipper Gian Carlo greeted us with Prosecco and took us all around the Amalfi Coast," shares Luri of the experience, which included lunch at La Conca del Sogno on Nerano Bay and stops to swim and explore hidden grottos. "It was the perfect place to end our trip," Chris notes.
HIGHLIGHTS
Staying at Le Sirenuse. "Our room had an amazing view of the Mediterranean and all the colorful boutiques, cafes, and village homes. We never wanted to leave!"

Dining at La Sponda. "It was just as magical at night as it was during the day. The entire restaurant is lit up by 400 candles, and the food is superb."

Touring the Amalfi Coast. "We definitely recommend seeing the Amalfi Coast by boat! A highlight of the day was swimming within the three rocky Li Galli islands."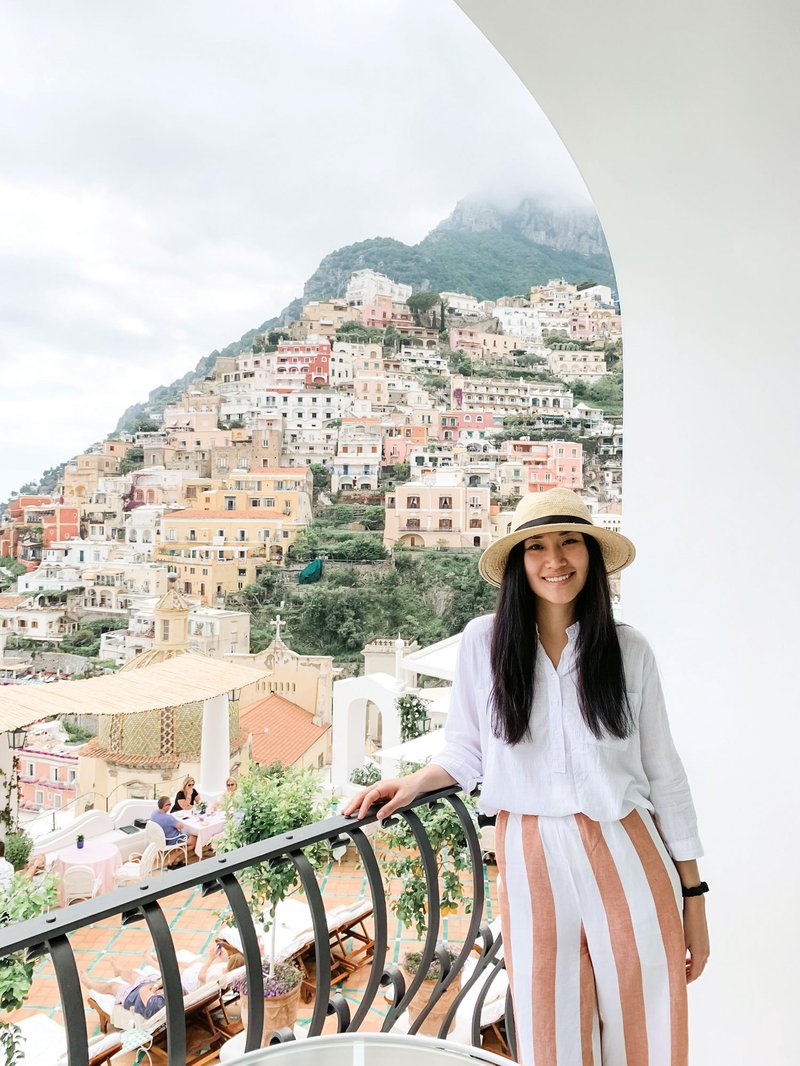 Photo courtesy of Luri Lee & Chris Mercurio
Luri and Chris confirm their extraordinary honeymoon experience is owed to the Access Italy team, who arranged all of their hotels, activities, reservations, and transportation, and also acted as a concierge once they arrived. "Everything was seamless, and it really allowed us to enjoy our time in Italy without worrying about a thing," recommends Luri. "We had the best time of our lives!"


Photo courtesy of Luri Lee & Chris Mercurio

Travel Tips from Luri & Chris:
"We went at the end of May to early June, which was great since we were doing a lot of sightseeing and the weather was not as hot as it would have been in July and August."
"Definitely book tours and any special activities and dinner reservations in advance!"
"Pack light! I always over-pack and that did not work in my favor – or my husband's favor, as he almost pulled a muscle putting my suitcase in the overhead bin on the train from Rome to Florence."
"Make sure you pack comfortable shoes. We did so much walking every day (especially in Rome and Florence). Most of the streets are cobblestone, so stick to a cute pair of sandals!"
"Take the train when traveling between cities! The trains are fast and comfortable – it only took 1.5 hours to get from Rome to Florence, versus 3.5 hours by car."