It's that romantic time of year again! Valentine's Day is just around the corner, and if you'll be exchanging gifts with your beloved this year or sending a gift to a dear loved one near or far, we've collected some Valentine's Day gift ideas for both him and her that everyone on your list will love. While some couples choose to go all out on this holiday with dinner reservations, a fancy wine tasting, or a weekend getaway, others choose to stay in and make a home-cooked meal while exchanging a little present or card followed by the usual Netflix marathon. With all that's going on in the world, we're sure many more couples will be staying in this year, but that doesn't mean you can't make the day extra special with a romantic gift for those you love.
Whether you're one of those pairs who plans on Valentine's Day being the most romantic day of the year or you use February 14th as an excuse to get your nearest and dearest a little something special to make them feel extra loved, we hope these Valentine's Day gifts are inspirational for you as you're doing your last-minute Valentine's Day gift shopping. From luxurious caviar for an at-home date night to fine dinnerware that can be used for a romantic meal at home, to sweet gifts that promote beauty and wellness, to lingerie and of course jewelry, you'll find something that your loved one will adore.
Take a look at 15 Valentine's Day gift ideas, below, and shop your favorites by clicking the product images!
1. Caviar
Even if you're staying at home this Valentine's Day, give your sweetheart or loved one the gift of a luxurious delicacy. Whether you're a caviar novice or a complete connoisseur, you'll love Masha Moro Caviar's distinct types of premium caviar curated in a beautiful collection that is designed to invite everyone to enjoy the exceptional luxury at an everyday value – ideal for both special occasions and casual nights at home alike. This is also a wonderful last-minute gift idea as orders placed before noon Monday through Friday receive priority overnight delivery, and you can use the code LOVECAVIAR to get 15% off your entire order! Masha Moro Caviar, pricing varies; 347.901.3824, mashamoro.com

2. Jewelry
You can never go wrong with gifting jewelry for Valentine's Day, and these South Sea pearl earrings feature sparkling elements and a drop-down pearl style showcasing South Sea pearls that feature a beautiful size and satin luster. Originating primarily from Australia, Assael's South Sea cultured pearls from Gearys will look stunning on your loved one and become an heirloom that can be passed on to future generations – as long as you carefully take care of your pearls. South Sea Cultured Pearl Drop Earrings, $6,000 by Assael; gearys.com
3. Valentine's Day Flowers
Another Valentine's Day gift that you can never mess up is a bouquet of beautiful blooms. Whether given as the primary gift or paired with another idea on this list, your beloved, mom, grandmother, or best friend will fall in love with these pretty flowers from The Hidden Garden – or an arrangement from your preferred local floral designer. There are a number of styles to choose from, but we love selecting the Designer's Choice option as the talented floral designers will create a fragrant masterpiece with their favorite blossoms. Designer's Choice arrangement from The Hidden Garden, prices vary; hiddengarden.bloomnation.com
4. Box of Chocolates
If your loved one is a lover of all things chocolate, they'll absolutely adore a box of Godiva chocolates or assorted truffles featuring a selection of delectable favorites that will melt in their mouth on Valentine's Day – and the week following if there are any left! Chocolate is a classic Valentine's Day gift, and once again, you really can't go wrong with gifting anyone you love with this sweet treat. With gift boxes ranging from four truffles to 36 pieces, your gift recipient will enjoy an assortment of white, milk, and dark chocolate truffles from the famed chocolatier. Also, be sure to enter code TWODAY at checkout for orders over $75 to receive free two-day shipping. Signature Truffles gift box, $13-80; godiva.com
5. A Photo Shoot & A Frame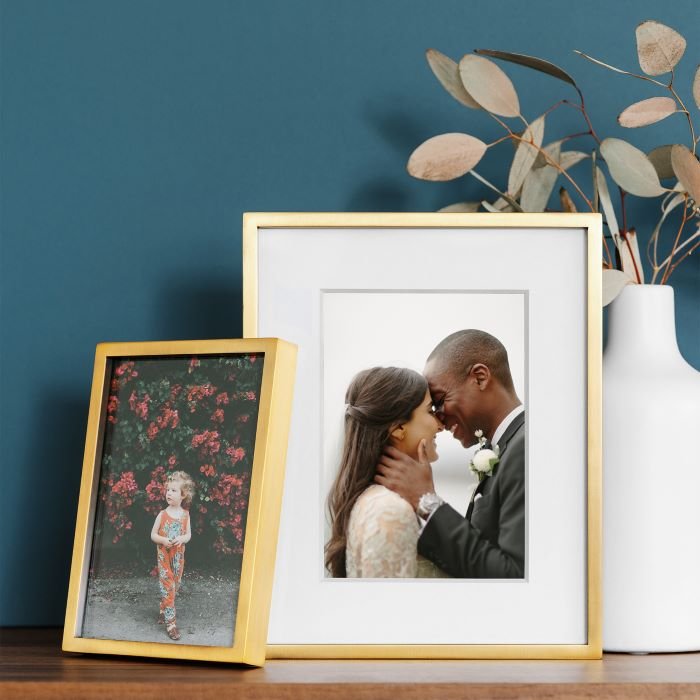 If your Valentine loves getting their photo taken – or displaying photos of you two both on and off of their technological device or smartphone – give the gift of a special Shoott photo shoot and gorgeous Artifact Uprising frames to present the photos in your home! From January 1st - February 28th, use code LOOKSLIKEWEMADEIT2021 for 20% off any purchases of 5+ photos for Shoott sessions booked before the end of February, and make sure you have a frame from Artifact Uprising ready to go – or gift a frame with one of your favorite photos that's ready to be displayed on the console table. Free 30 min. photo shoot, images starting at $15/photo; shoott.com + Metal Tabletop Frames, starting at $49; artifactuprising.com
6. Jewelry Box
Whether your beloved has tons of jewelry or you're planning on gifting a new piece of jewelry for every significant holiday to come throughout your lives and marriage, this beautiful red velvet jewelry box with brass hardware from Gearys will hold it all. The decadent design will surely bring a luxurious touch to your beloved's vanity – and the bold color of romance is the perfect touch for this special holiday. The jewelry box features a lower area for larger items, as well as a tray top divided into five jewelry compartments (including one for rings!). Beauvais Velvet Jewelry Box in Cinnabar, $975 by Aerin; gearys.com
7. Lingerie
Gifting your sweetheart or your best friend sexy lingerie for Valentine's Day? Consider a luxurious set from world-renowned bridal designer Claire Pettibone, who has dressed some of the most beautiful brides – including celebrity Nikki Reed when she married Ian Somerhalder. Hand-crafted in Los Angeles with the finest imported materials, the pieces evoke the luxury of the Renaissance, which will be perfect for a modern bride who loves vintage-inspired design details. "Gabriella Set" with a chemise and thong featuring guipure lace and silk ribbon lace-up ties, $783; clairepettibone.com
8. Gua Sha Facial Massage Gift Set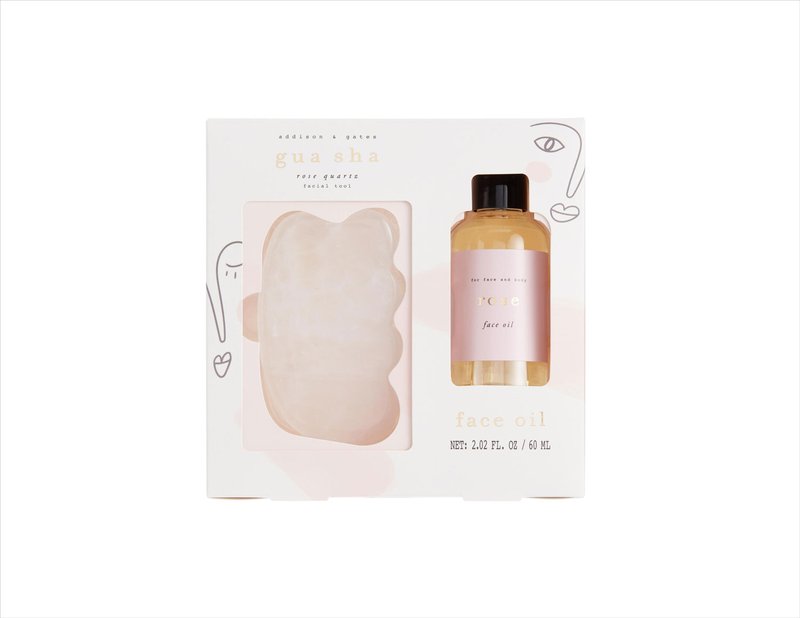 Everyone can use a little bit of self care this year, and we love this inexpensive gift option for your beloved, bestie, or future bridesmaids. One of the latest trends in beauty as of late has been gua sha face massaging, so this rose quartz gua sha face-massaging tool paired with facial oil will be much loved by all of your beauty- and self-care loving guys and gals. While you're at it, get one for yourself to stimulate blood circulation and lymphatic drainage in order to lift and tone skin both before and after the wedding day! Rose quartz gua sha facial massage gift set, $20 by Addison & Gates; worldmarket.com
9. Statement Vase
We've seen more and more couples adding luxurious vases to their wedding registry's wish list, but why wait for the wedding? The perfect vase for displaying on its own or filling with Valentine's Day flowers is this red crystal Baccarat vase from Gearys. It's bold and absolutely beautiful when put out every Valentine's Day, during the holidays, or all year round! "Eye" rectangular vase, $750-2,050 by Baccarat; gearys.com
10. A Night on the Town
If restaurants are open in your area, spending quality time with your beloved at a romantic dinner followed by a night or weekend stay at your favorite hotel can be a great way to disconnect from the everyday world and celebrate your love. If you're nearby the famed Oheka Castle in Huntington, New York, they're offering a one-night stay along with 12 long-stem roses, a bottle of private cuvée brut, and chocolate-covered strawberries in the room upon arrival, as well as a three-course dinner or 6-course prix fixe dinner for two depending on the day, plus a hot breakfast for two the next morning! "Forever Together" Valentine's Hotel Romance Package for Two, $895; 631.659.1400, oheka.com
11. Fragrance Diffuser
Another great Valentine's Day gift for absolutely anyone on your list is this beautiful glass bottle fragrance diffuser from Gearys. The pink color is perfect for the romantic holiday, the flowery and fruity fragrance will be loved by nearly everyone, and the piece is gorgeous enough to stay on your counter or coffee table throughout the year. "Bellini" Glass Bottle Collection fragrance diffuser, $100-150 by Dr. Vranjes; gearys.com
12. Bose Sleepbuds
Give your sweetheart the gift of a wonderful night's sleep with Bose's new Sleepbuds. Whether your beau is dealing with stress from the wedding or work, having a hard time sleeping with noisy neighbors or snoring, these comfortable eartips block noice and play soothing, relaxing sounds and content from Bose's sleep app to ensure the wearer stays asleep until they wake up from their personal alarm. Sleepbuds™ II, $250 by Bose; bose.com
13. Luxury Dinnerware
If you and your sweetheart have been eyeing new, luxury dinnerware for your everyday use or the china cabinet in your home, consider gifting each other statement pieces from Gearys for Valentine's Day. This Hermès pattern in a deep bordeaux hue would be ideal for a romantic meal on the Valentine's Day holiday; however, there are plenty of other designs to choose from to match your color preferences and preferred style. H Déco Collection red dinnerware, $80-1,360 by Hermès; gearys.com
14. Candle
Whether paired with chocolate and flowers or given entirely on its own, a beautiful, fragrant candle is a wonderful gift to send everyone on your Valentine's Day gift list. This three-wick soy wax candle smells like an exotic island escape with bright citrus tones, sweet floral fragrances, and spicy vanilla aromas – but you'll never have to leave the comfort of your home to be whisked away to a faraway destination. Pink Sands™ 3-Wick Candle, $20 by Yankee Candle; yankeecandle.com
15. A Personalized Song + Framed Lyrics
Nearly everyone has dreamed of having a song written about them, and now you can make this possible for your beloved – even if you don't have any musical talent. Simply select the style and mood you want your song to evoke, get paired with an artist that will write and record your personalized song, and gift your sweetheart with the recording, as well as extras including a framed print featuring the lyrics in a vinyl record shape. Personalized song ($249) and framed lyrics ($95), both by Songfinch; songfinch.com
Still need more gift ideas for Valentine's Day and beyond? Find inspiration from our holiday gift guide, get ideas from luxury presents for pairs who had to postpone their wedding, see engagement gift ideas, and discover even more Valentine's Day gift ideas!