Vintage details combined with the chic simplicity of a style icon create the backdrop for a wedding reminiscent of that of Kate Moss and Jamie Hince. What's old is new again with design aspects that include antiqued silver accents, beaded gowns, and fabulous flower-girl fashions.
To discover how to mix elements of the past with stylish modern glamour for a fashionable wedding worthy of a world-famous super model, view our vintage-chicinspiration below:
Romantic Décor
Lighting is everything! Instantly set the ambience for your big day with chandeliers that provide a romantic glow and elegant old-fashioned sparkle. Incorporate a blend of old family photos into the décor for a vintage look. Also, create a couple's monogram in a font that you love, and display your first official logo as a married couple as a decoration element.


Photos of birdcage, cardholder, signage, photo wall, sweets buffet, and tablescape by Stacey Reeves Photography. Photo of wedding cake by LCD Photography. "Bellina" chandelier, $399 by Z Gallerie; Giant wall-art monogram, $75 by 2PreppyGirls; Wedding Cake, $7,500 by White Flower Cake Shoppe.
Vintage-Chic Bride
Want to add sentimental value to your vintage flair? Peruse your grandmother's armoire and work an accessory from your family tree into your beautiful bridal look. Remember, bright white is not right for every bride. Choosing an antiqued white, crème, or beige gown can give you a romantic look and warm up your skin tone.


From L-R (top to bottom): "Winter Flower" pearl bracelet, $525 by Chanel; Diamond tennis bracelet, $57,500 by Alan Friedman; Diamond ring, $160,000 by XIV Karats Ltd; "Godichefac" heel, $895 by Manolo Blahnik; "Titziana-Perla" clutch, $799 by Azyra; "Iris" gown, $8,600 by Jenny Packham; Bridal bouquet, $250 by Tic-Tock Couture Florals; Organic "Coconut Lime" bath salts ($19) and "White Vanilla" soy candle ($36), both by Organic to Green; "Suede Blanc" and "Pink Citron" candles, $27/each by Voluspa; Retractable "Handi Brush" applicator, $50 by Jane Iredale; "Bloom de Nuit" perfume, $125 by Ajne.
Bohemian-Chic Flower Girl
Include your flower girls in your bridal style! Give them jewelry and accessories that complement your look, plus a personalized gift for good luck.


From L-R (top to bottom): Pearl bracelet, $88 by Lucy Jewelry; Bracelets, $125/each by Nandy Gem; Floral pins, $38/each by Kitson; Flower-girl dress of English net, $180 by Watters; "Cameo" bracelet, $151 by Anna e Alex; Rose bouquet, $85 by Tic-Tock Couture Florals; Lip balms, $5/each by Ladybug Jane; "Alyssa" Mary Janes, $110 by Ralph Lauren.
Rock Star Groom
Give your groom his rock-star moment with a streamlined suit in light grey or charcoal, rather than basic black.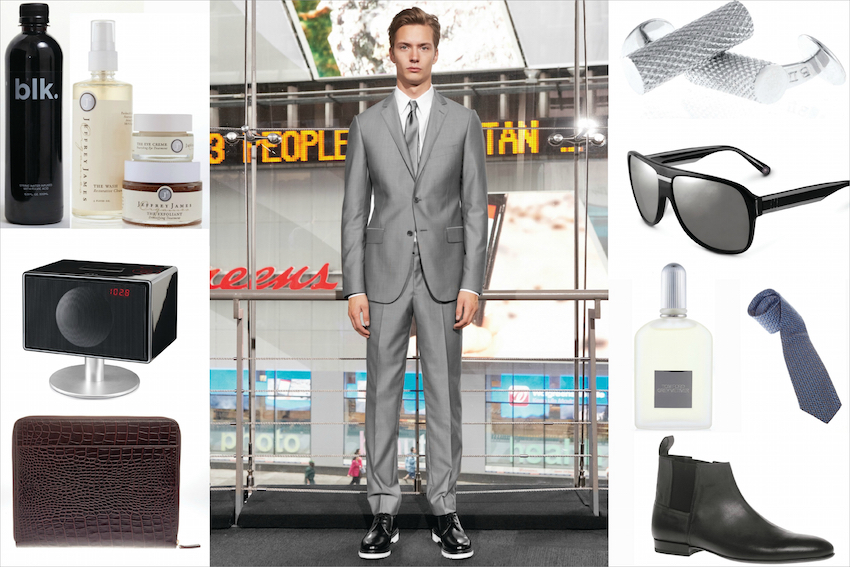 From L-R (top to bottom): Spring water, $55/case by BLK; "The Eye Creme" ($36), "The Exfoliant" ($36), and "The Wash" ($20), all by Jeffrey James Organics; "Model S" sound system, $299.95 by Geneva; "Brown Mara" iPad sleeve, $335 by Smythson of Bond Street; Wool two-button suit with notch lapel ($595), "Refined Fit" classic button-down shirt ($65), and silver silk tie ($63), all by DKNY; Knurled cuff links in sterling silver, $300 by Barneys New York; "Zak" sunglasses, $435 by Loree Rodkin Eye Couture; "Grey Vetiver" Eau de Parfum, $85 by Tom Ford; Blue jacquard tie, $185 by Gucci; "Hanso" boot, $275 by BOSS Hugo Boss.