Soon after you say yes to that special someone, your head will be filled with a long list of upcoming tasks and to-dos that come with wedding planning. One of the first items you'll need to consider is who you want standing by your side on the big day.
Choosing a wedding party that supports you throughout your engagement is key. On the bride's side, her ladies will swoon over bridal gowns while dress shopping, oftentimes host the bridal shower and bachelorette party, and may even help with mundane tasks such as assembling the invitation suites.
No matter how involved you'd like your bridesmaids to be, clear communication is something wedding planners constantly encourage. Your bridal party needs to know what's going on and when, so they can help alleviate your stress by answering questions for others, as well as make personal plans to be at all of your pre-wedding events.
Discover advice on how best to communicate with your bridesmaids – from the moment you ask them to be a member of the wedding party to the celebration itself.
Make Them Feel Special
Bridesmaid "proposals" are becoming more and more popular. This is when the bride sends a special gift or card asking their closest friends to be part of their bridal party, setting the tone for a fun times ahead. Tip: if all of your girls being able to attend is a must have, you may want to confirm everyone is available before you set the date and plan this special moment.
Share the Wedding Weekend Itinerary

Once you've selected your bridesmaids, a simple email to the wedding party outlining your plans well in advance of the big weekend is always helpful. Will there be a ladies lunch, welcome party, or a farewell brunch they need to attend? For anyone traveling, having a guideline of the events will help them know when to book flights and how many nights they'll need to stay at a hotel.

Photo by Jillian Rose Photography; Planning & Design by Tessa Lyn Events
Detail the Beauty Plan

Every wedding spending limit is different, but your attendants need to know the expectations early. If they are buying their own bridesmaid dresses, give them an idea of price and the order deadline. A few months prior to the nuptials, let them know if you will be covering hair and makeup services on the wedding day. If not, share the price and ask who would like to opt in for beauty services. Aside from the dress purchase, nothing should be required of your bridesmaids that you are not gifting.
Heels, Jewelry, Nails, Oh My!

When you provide the dress information, you should also include your wishes for shoe color, jewelry style, and nail hue. Give a few options to avoid "bridezilla" status. This is also a good time to reveal if you will be gifting anything (such as earrings).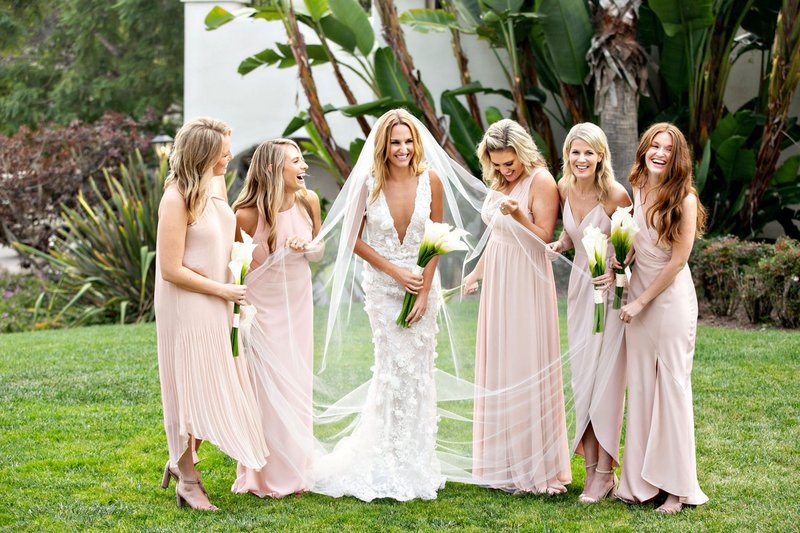 Photo by Laurie Bailey Photography; Planning & Design by Tessa Lyn Events

The Full Agenda

Two months before the big day, send out a detailed agenda of the wedding weekend that outlines all of the plans regarding where to be and when. There are some adorable templates for schedules found online that make this more fun than a mass email. With each communication, it's nice to share how appreciative you are that they will be with you as you say "I do."
Cheers to Them!

Throughout the engagement, your friends have showered you with gifts and scheduled their social life – and finances – around your events. Now it's time to make them feel special. Start the weekend by offering a meaningful present and card thanking each of your bridesmaids. On the morning of the wedding, purchase a nice bottle of Champagne for a quick toast to the amazing day ahead and have brunch delivered to the room so they are well-fed and will therefore be energized throughout the celebration.
Being thoughtful with small, simple extras and great communication throughout your engagement will go a long way in making the members of your wedding party feel loved and appreciated during the process. Take the time to make an effort and your special day will be even more beautiful and rewarding.