While most wedding-planning decisions focus on ceremony and reception décor, couples should also consider how they'll show guests to their seats. Typically, names of attendees and table numbers are written on escort cards and placed on a table covered with an elegant linen and topped with a towering flower arrangement; however, there are a number of ways to display seating assignments in a unique and memorable fashion.
Consider choosing a seating chart or escort card display that shows off your personality as a couple, or one that highlights your wedding theme. In lieu of a traditional escort card table, pin cards to a flower wall, attach seating assignments to trinkets displayed in a bookcase, or handwrite names on an oversized mirror. Though this area of wedding planning is often overlooked and left to the last minute, your guests will love the challenge of finding their names and table numbers on a well-thought-out display that truly becomes a part of the décor.
We've collected 20 unique seating charts and escort card displays from real weddings to inspire your own event! Take a look at the ideas below, and let us know your favorites in the comments! For more information about these events, click on the images.
1. Beach Wedding Wall


Escort cards pinned to a freestanding white-washed wood wall beautifully fit a beach wedding theme. Offer flip-flops to guests by way of wicker baskets at the base. Photo by Yvette Roman Photography; Floral Design by The Hidden Garden
2. Wood Wall with Watercolor Cards


This outdoor wedding featured a tall freestanding wooden wall pinned with heart-shaped escort cards with multicolor watercolor designs. Photo by Elizabeth Messina; Planning & Design by Bob Gail Special Events
3. Seating Chart with an Ocean View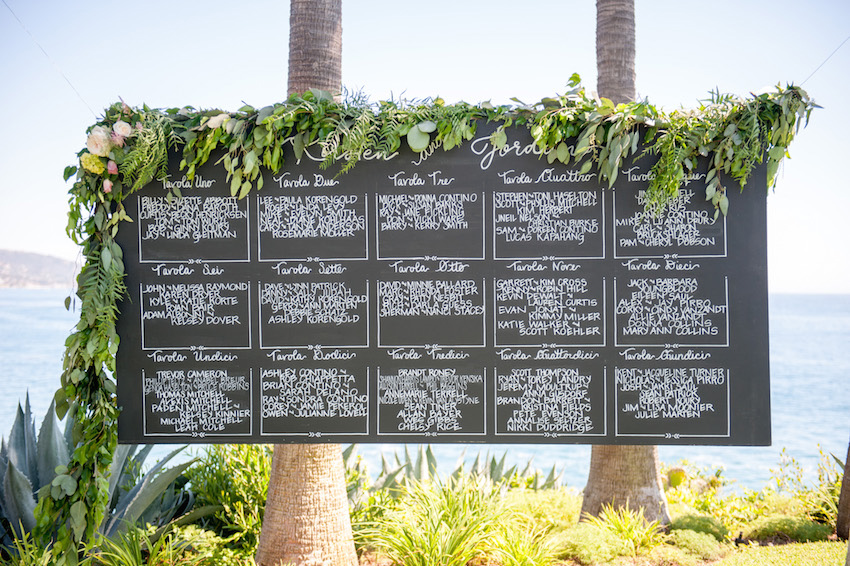 In lieu of individual escort cards, write guests' names on a large seating chart displayed between two palm trees and adorned with foliage and flowers. Photo by EDLT Photo
4. Shabby Chic Shelving Unit


When Tone It Up's Katrina Hodgson got married in Malibu, guests found their seating assignments attached to trinkets displayed on a rustic wood shelving unit. Photo by Jana Williams Photography
5. Golf Towel Structure


As an ode to the couple's love of golf, guests found their seating assignments embroidered on golf towels, which were displayed on a tall wooden structure. Photo by Adrienne Page
6. Wine Cork Frame


Since this wedding took place at the bride's family vineyard, loved ones found their escort cards attached to wine corks arranged on a rustic display. Photo by Elisabeth Millay Photography; Floral Design by Jackson Durham Events; Planning & Design by DFW Events
7. Freestanding Green Hedge


As a cute touch, seating assignments were attached to a greenery hedge wall by way of clothespins adorned with miniature roses. Photo by Jay Lawrence Goldman Photography; Invitations & Calligraphy by Lehr and Black
8. A Bookworm's Dream


For this couple's outdoor garden ceremony, guests found escort cards on a rustic bookshelf embellished with greenery and florals in pale hues. Photo by Stephanie Fay Photography
9. Upholstered Key Wall


Seating assignments were attached to antique-style brass keys and displayed on a freestanding white upholstered wall adorned with a garland of gilded magnolia leaves as well as roses and hydrangeas. Photo by Amy & Stuart Photography; Event Design by White Lilac Inc.
10. Frame on Top of Dresser


This whimsical celebration featured unique décor, including a striped dresser with a large frame consisting of escort cards pinned with gold bow-shaped pushpins. Photo by Ryan Ray Photography; Consulting by EverAfter Events
11. Rustic Window Panels


For a true rustic feel, guests found their table assignments handwritten on large window panels displayed atop haystacks outside of a barn. Photo by Michael Segal Photography
12. Antique Door


Ideal for a rustic-elegant wedding, secure escort cards to the glass panels of a shabby chic door frame. Photo by Laurie Bailey Photography; Planning & Design by Linda Howard Events
13. Wine Bottle Holder


Since this celebration took place at a vineyard, guests found their seating assignments written on wine bottles placed on a wooden wine board. Photo by Clane Gessel Photography
14. Handkerchiefs on a Clothesline


How cute are these handkerchiefs embellished with each guest's seating assignment? Hang linens from a clothesline for an extra-special touch. Photo by Elizabeth Messina; Planning & Design by Mindy Weiss Party Consultants; Rentals by Revelry Event Designers
15. Suspended Hearts


These heart-shaped wooden escort cards are adorable on their own, but when suspended from a tree for guests to discover, they become even more unique. Photo by Daniel Kincaid Photography; Planning & Design by Bluebell Events
16. Framed Flower Wall


For a luxurious look, pin escort cards to a flower wall composed of peonies in shades of pink and vanilla and add an ornate golden frame. Photo by Chip Gillespie
17. Mirror Seating Chart


Hire a calligrapher to write each guest's name on oversized mirrors (or have them etched) for a two-in-one décor element. Not only will guests love the ease of finding their names, but the mirror(s) will also emphasize the space! Photo by Sarah Kate, Photographer; Rentals by Revelry Event Designers
18. Show Ribbon Wall


Show off your equestrian background by awarding each guest with their own horse show ribbon emblazoned with their name, table number, and even an individual superlative (like this couple did for their attendees!). Photo by Chrisman Studios
19. Swirling Hedge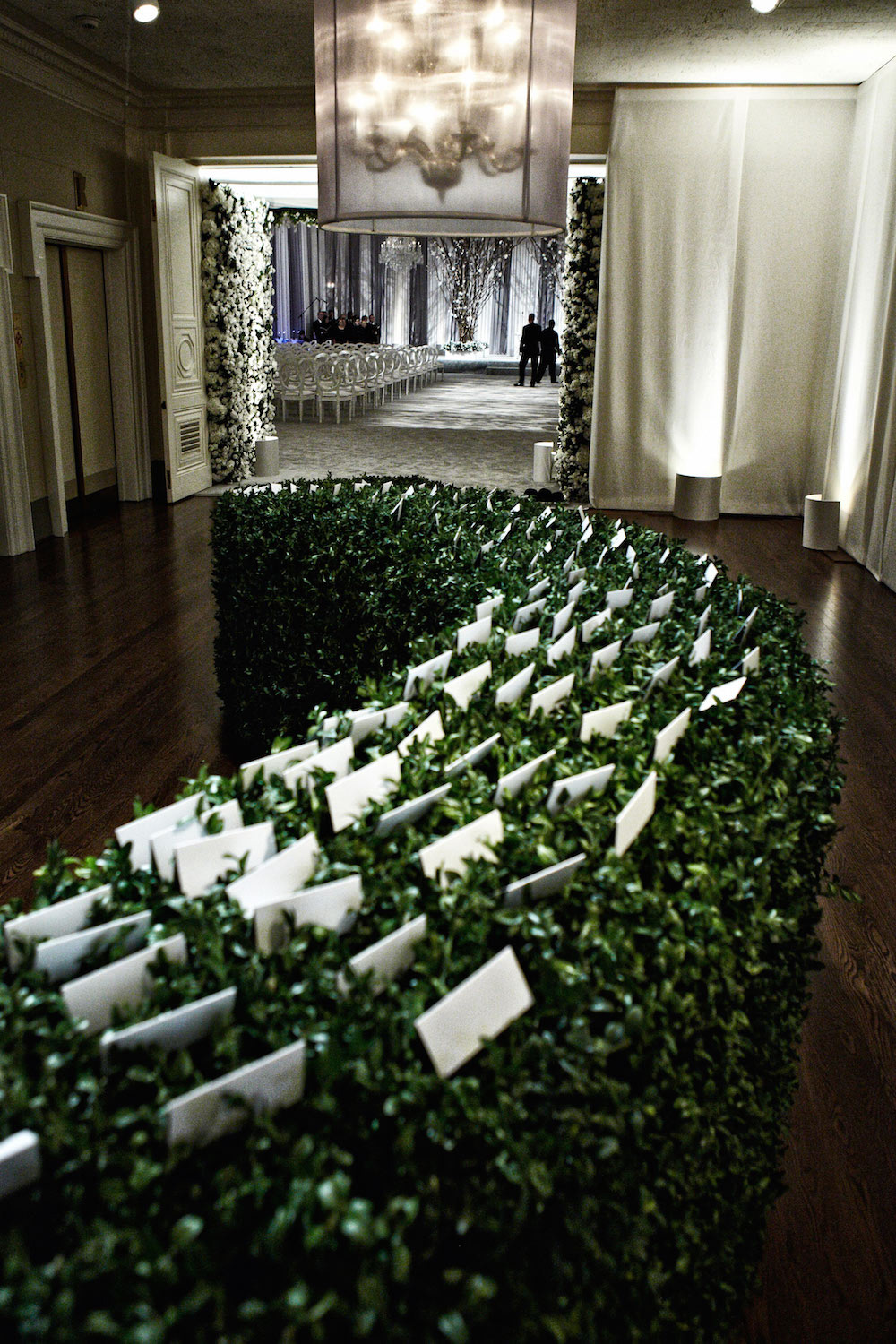 If you love the look of a garden wedding but your nuptials are indoors, try displaying escort cards atop a hedge of greenery to bring the outdoors in. Photo by KingenSmith
20. Ribbon Dance


Hang escort cards from ribbons suspended from an indoor tree or the ceiling for a fun, whimsical décor element! Photo by The Day
Want more escort card ideas? Discover 15 imaginative ways to show guests to their seats here and be sure to gather inspiration for your ceremony program. For more wedding ideas, visit our photo galleries to see thousands of images from real weddings across the country.