Once you've narrowed down your guest list, sent the wedding invitations, and received your RSVPs, it will soon be time to create your seating chart. After the arduous task of selecting where your friends and family will sit at the reception, you'll get to enjoy the fun experience of choosing what you want your guests' table assignments to look like!
These escort cards are a great opportunity for creativity and personalization at your wedding. You want each of your loved ones to stare in awe and say, "This is so them!" Every single wedding attendee will stop at this escort card table or display, so be sure to make it both memorable and fabulous.
What's Required?
First, you need to analyze what you need based on your venue and the type of meal service you are hosting. We always recommend assigning tables since open seating is a recipe for disaster, but will you assign seats as well? If so, you will need a place card or personalized menu at each seat.
Is it windy where the escort cards will be displayed and therefore paper is not an option? Try using unique items such as a miniature bottle of bubbly or a tag attached to a small favor.
Will your escort cards also need a meal indicator on them for the catering team to reference? If so, make sure you have a sign instructing guests to display it at their seat for the catering staff.

It's Time for Personalization
Once you have all of your logistical needs outlined, write a list of characteristics about you as a couple that your guests would recognize. Perhaps you both love to travel, you are known as wine connoisseurs, or your love story started in a New York City taxi. Think about your proposal, your first date, what you have in common with each other, and what you do on the weekends together. From your list of personality traits or preferences, you can come up with ideas for either the design of the escort cards themselves, the trinkets they're attached to, or the motif of your escort-card display!


Photo by Laurie Bailey Photography; Planning & Design by Tessa Lyn Events; From Real Wedding: Wedding with Rich, Romantic Décor at Luxury Hotel in Beverly Hills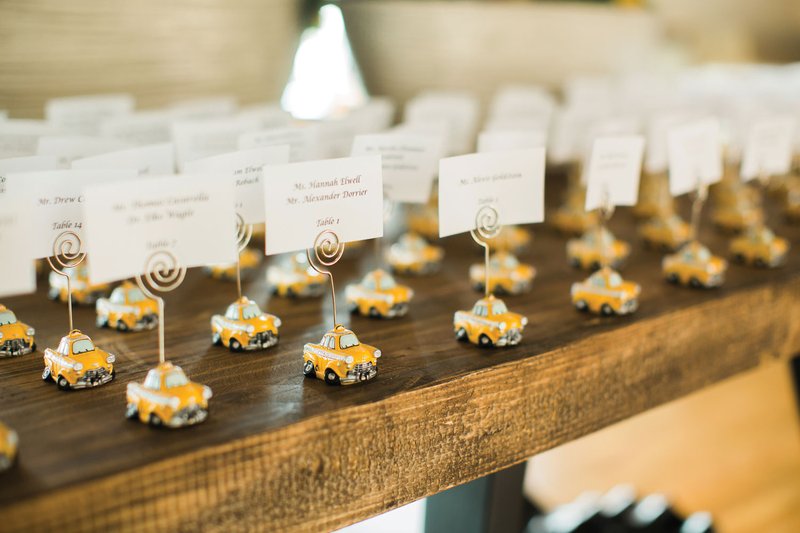 Photo by Chelsea Elizabeth; Planning & Design by Tessa Lyn Events
Fun Examples to Inspire
There are so many fun ideas of which to take advantage! A couple who loves Italian food may consider olive oil bottles as their escort cards. The Champagne lovers might want a swizzle stick displaying the table number in a chilled glass of bubbly. A couple who said "I love you" for the first time on a hot-air balloon may decide to make a large statement with a whimsical wall display. The pair who spends every weekend at the beach might do a message in a bottle creatively arranged in a sand box. A chef groom may choose cutting boards as a seating chart or a French bride who is famous for her macarons will want to share the dessert in a numbered box. A Palm Springs wedding may need a fluorescent, retro flair and a vineyard celebration may look best with more flowers. Be creative!


Photo by Michael Segal Photography; Planning & Design by Tessa Lyn Events; From Real Wedding: Alfresco Wedding with a Rosé-Inspired Palette at a Ranch in Malibu

Photo by David Mendoza III Photography; Planning & Design by Tessa Lyn Events; From Real Wedding: Inside the Wedding of Top Chef's Marcel Vigneron & Lauren Rae Levy
Decorate the Space
In addition to the escort cards themselves, have some fun with the setting! Knowing that every guest will see this display before they enter your reception space, work with your floral designer to add lush greenery and flowers that foreshadow the décor to come. If your space allows, add candles to this display as well to create a romantic ambience from the start.
These elegant, yet simple, additions will create a cohesive design that will effortlessly blend the concept of your ceremony, cocktail hour, and reception to make it recognizable throughout the evening. You can also rent or purchase props to adorn the area with personalized or decorative additions – perhaps a vintage suitcase for a couple who loves traveling, a glass shelving unit filled with framed photos for nostalgic brides and grooms, or a box full of moss for a garden wedding.

Photo by Jillian Rose Photography; Planning & Design by Tessa Lyn Events; From Real Wedding: Indoor Wedding with Beach-Inspired Color Palette in Santa Monica

Photo by Laurie Bailey Photography; Planning & Design by Tessa Lyn Events; From Real Wedding: Traditional Wedding at Same Venues as the Bride's Parents' Nuptials

While escort cards aren't one of the most anticipated parts of planning a wedding, they provide a unique opportunity to add your own twist on the celebration. What was once just a directional tool has now become a statement part of the big day that your guests will look forward to throughout cocktail hour. Even the most classic and timeless events can take advantage of incorporating a bit of personality, so don't miss out on this fun way to creatively personalize your fête.

For more tips and advice from wedding planner and designer Tessa Brand of Tessa Lyn Events, discover what your bridesmaids wish they could tell you, read a guide to wedding seating charts, and find out what to do the morning of the wedding!