Bridal showers are an integral part of the wedding experience. They offer a time for the bride to get together with her loved ones (now men and women) to share marital wisdom – and often gifts – with the bride. Bridal showers typically feature activities such as placing gift bows on a paper plate, which can later be used as a make-shift bouquet during the rehearsal dinner, and they're usually planned by the bride's bridesmaids, maid of honor, or mother. Today, modern wedding showers are bending the rules on the traditional gathering, and many bridal shower hosts are throwing parties with unique activities that offer long-lasting memories.
Take a look at six bridal shower ideas below, and let us know which activity would be included in your dream wedding shower! For more bridal shower inspiration, visit our weddings page and sort by bridal showers.
Wine Tasting


Instead of traveling to Napa Valley for a wine-tasting weekend, throw a Wine Tasting 101 party in your own backyard. Earthy tablescapes and fun picnic-like elements at place settings will instantly transport bridal shower guests to their favorite winery or vineyard. Select the bride's favorite reds and whites – or try some new varieties, and prepare to learn a little about wine while having a great time showering your bride. For an added bonus, serve a buffet-style lunch in a wine cellar, or incorporate the feel of a barrel room by using wine crates and barrels as décor. Photos by Images by Berit, Inc.
Custom Perfume Bar


Perfect for brides who always desire the latest fragrances, a perfume bar bridal shower offers a fun activity, as well as take-home favors for guests. Invite loved ones to create their own scent, and be sure to label stations with easy-to-read instructions. Choose a variety of feminine fragrance options that guests can layer to create a custom scent. Your bride may even find her wedding scent while sampling various perfume notes, and guests are sure to love the hands-on process regardless of how their personalized perfume turns out. Photos by Jasmine Star Photography
Mobile Massage & Nail Bar


Following a festive brunch or lunch complete with beautiful china, labels written in elegant calligraphy, and decadent desserts, invite guests of all ages to take a breather at a mobile massage station or nail salon. Select nail lacquers in colors suited to the event, such as wedding white, romantic blush, or shimmering champagne. And of course, allow your bride-to-be to spend a little extra time getting pampered before she opens her gifts or receives words of wisdom from loved ones. Photos by Steve Steinhardt
Cake Decorating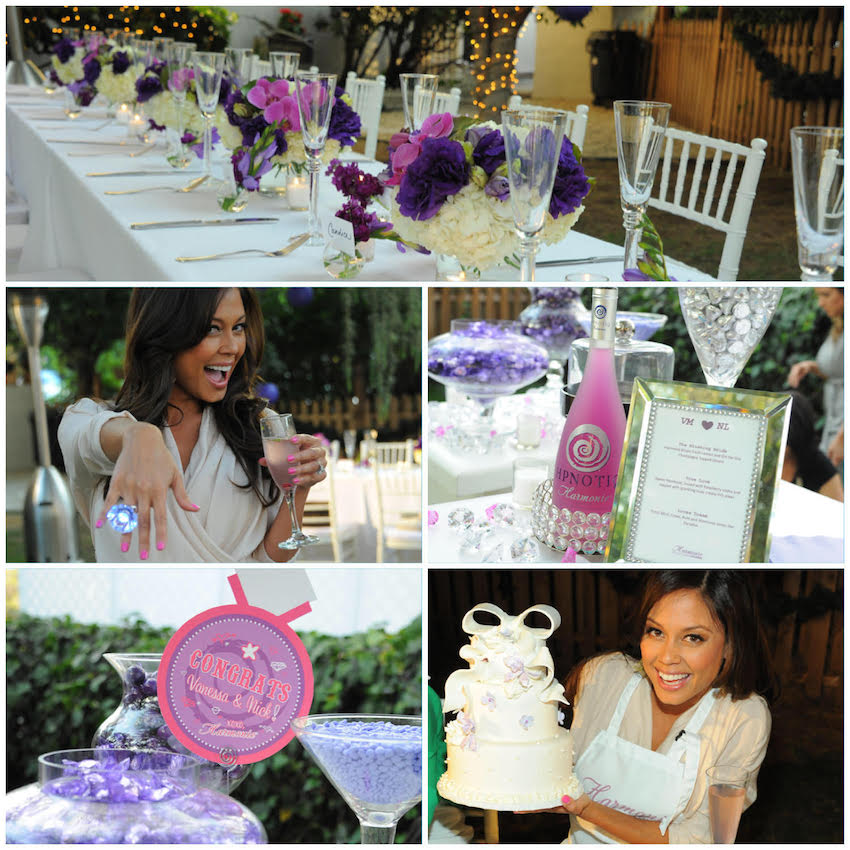 Before Vanessa Minillo married Nick Lachey, her loved ones threw her a bridal shower complete with festive cocktails and cake decorating! Create a bridal shower like this one by coordinating signature cocktails to match the hue of florals, and serve cupcakes throughout the celebration to whet guests' palates for the main event. At the end of the night, invite wedding shower guests to add "bling" to their own confections using fondant bows, flowers, and pearl dots – also in the color scheme of the event. Photos by Angela Weiss for WireImage
Planting & Gardening


With the rise in DIY wedding décor, bridal showers that incorporates do-it-yourself activities are also growing in popularity. Instead of sending guests home with purchased, pre-made favors, why not invite them to create their own? Present an array of planters, seeds, florals, and herbs to wedding shower attendees at a rustic flower stand, and have fun planting. To take the DIY element a step further, have guests create larger arrangements that can be used as centerpieces on the big day. Photos by Dave Richards Photography
Tea Party


In lieu of a high tea at a luxury resort, throw a tea party for your bride at your favorite intimate venue. Label a variety of tea sandwiches with festive flags and serve tea-infused cocktails – or iced tea in stemware for younger attendees. Send bridal shower guests home with bags of loose-leaf tea in a variety of flavors, so they can create their own custom blends and remember the occasion for days to come. Photos by Steve Steinhardt