We've almost reached the end of the year of marsala, which Pantone named as the color of 2015 back in January. The color of 2016 will be revealed in just two short months, but before we say goodbye to marsala, we thought we'd look back at the weddings featured this year that incorporated this rich, lovely shade. If you were skeptical of marsala before, these celebrations should prove that the color is absolutely gorgeous when it comes to wedding décor.
Perhaps the best aspect of marsala is its versatility. Paired with lush greenery and wooden accents, it creates a bohemian, rustic style. The color takes on a more sophisticated personality when combined with metallics and other neutrals, like white or slate grey. Or, it even provides a dramatic, modern pop of color to a contemporary black-and-white celebration. Marsala may soon be out as color of the year, but future brides and grooms should remember this beautiful shade!
Classic Arizona Wedding of Denver Broncos NFL Player Brock Osweiler


With the help of their wedding planner Amy Mancuso, Erin and Brock Osweiler planned a beautiful Scottsdale, Arizona, event in a neutral color palette with pops of burgundy, pink, and marsala at a Mediterranean-inspired venue. Deep red napkins topped gold chargers, while bouquets of red, pink, and blue flowers were displayed in silver vases. The marsala shade of the napkins was echoed in the seating cards, as well as in the lush bridesmaid bouquets and flower girl crown. Earthy stone and wood accents brought out the warmth of the marsala shade, while metallic details made the entire event pop. Photos by Jared Platt Photography; Consulting by Amy Mancuso Events
Bride Wears Claire Pettibone Gown to Bohemian Outdoor Wedding


For their "gypsy fairy tale" wedding with a romantic, bohemian aesthetic, Jessica and Marty selected a bucolic ranch in the Santa Susana Mountains, less than a half an hour from Los Angeles, California. The ceremony took place in a shady tree grove. Rustic wood chairs were lined on either side of an aisle runner featuring a bohemian pattern. Marsala flowers were intermixed with plentiful greenery, creating a natural, lush look. That free-spirited, fairy-tale style carried through to the reception, where handpicked arrangements of flowers topped the tables and pink and marsala flowers adorned a simple cake. Photos by Amanda McKinnon Photography; Bridal Gown by Claire Pettibone
Florida Wedding Celebration with Vibrant Colors and Wooden Details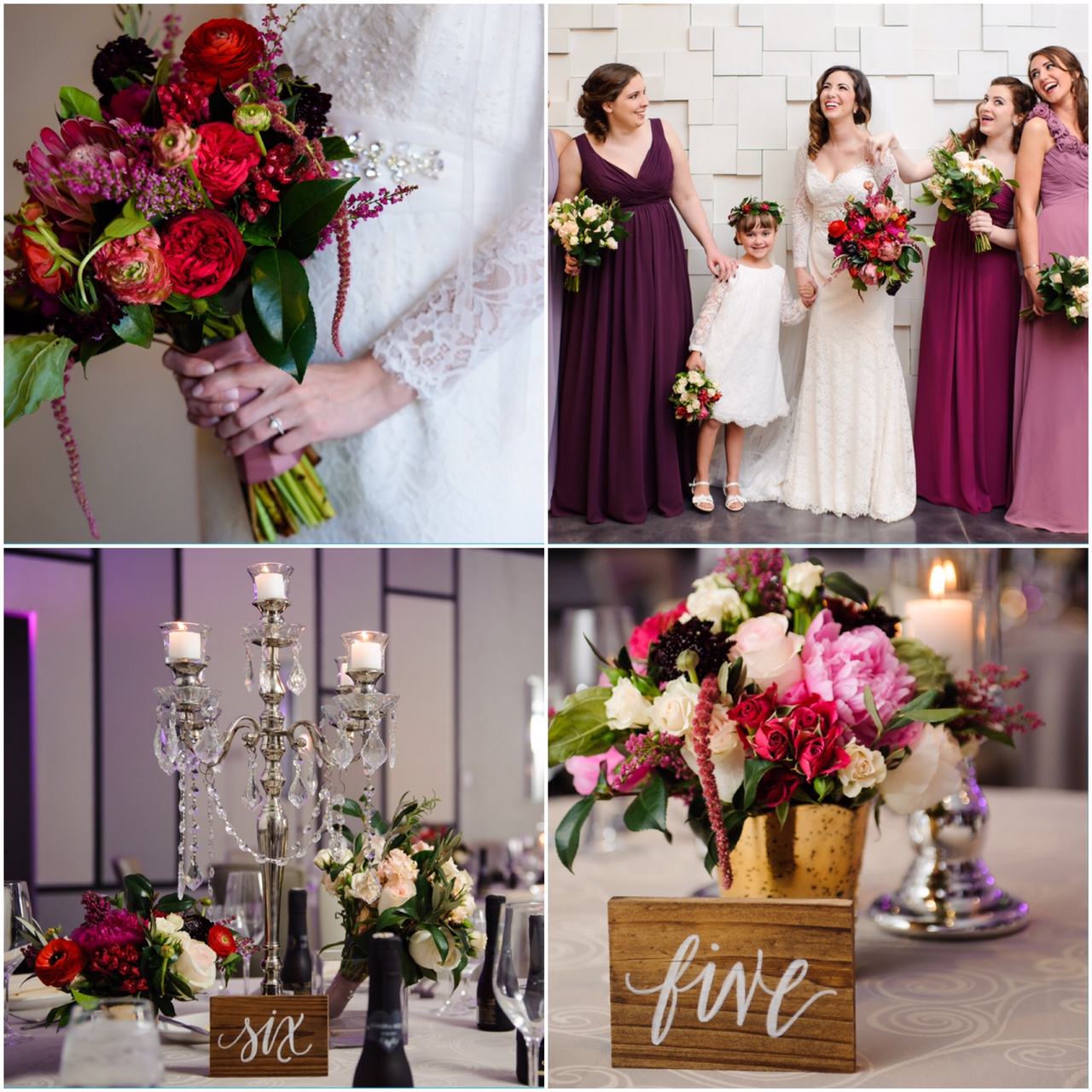 The rich hues of berries inspired the color scheme of Angela and Wynston's wedding – from save-the-date cards and bridesmaid gowns, to the bridal bouquet and floral décor. Mismatched bridesmaid dresses in shades of red and purple were cohesive without being identical, while navy menswear proved to be a beautiful complement. Bursts of color were provided by a medley of fuchsia, ruby, and ivory blooms and verdure in pewter and golden mercury-glass vases. "The overall feel with the florals was to be very organic, almost like you just picked the flowers yourself from a beautiful garden," explains the bride. Soft lighting emanated from pillar candles in silver hurricanes and votives in gilt vessels. Photos by Sarah & Ben
Inspirational Wedding Shoot with Black, Red & White Geometric Décor


"For this styled shoot, I wanted to create inspiration for couples that don't fit the model of what is 'traditional,'" explains Sara Holland of At Your Door Events. Indeed, the shoot featured a striking black, white, and marsala color scheme, punctuated by pops of greenery. An Art Deco-inspired invitation suite, complete with black geometric designs and pops of red, set the stage for the magical, yet mysterious, event. An ornate settee was paired with a sweetheart table adorned with leafy garlands, verdure, and crimson blooms in matte black and gilded vases. A rouge cymbidium orchid was the finishing touch to each stunning place setting composed of an ornate ebony charger, china with a ruby floral pattern, and a garnet glass plate. Photos by Kristina Lee Photography; Linens by Luxe Linen
For more wedding ideas from real events, visit our photo galleries. Be sure to search thousands of images by category or the colors in your desired palette!
Opening photo by Kristina Lee Photography