What it is: A sand ceremony is a ritual performed during the wedding service that uses sand to represent the union of the spouses-to-be.
How it works: Typically, a small table at the altar will display two glass jars, each filled with a different color of sand, plus one additional empty vase. The officiant explains that each color of sand represents each partner, and that their union and devotion to each other is inseparable – just like two colors of sand once they're combined. The couple will then take turns pouring their sand into the empty jar, eventually pouring their sand at the same time, combining the grains into a mixture that cannot be separated.
Who can participate: The ceremony is non-religious, so any couple can include the ritual at their wedding. It is particularly popular among couples holding non-denominational services, although it can also be worked into religious services.
How to personalize it: Use sand that comes from beaches with significance to each of you; for example, incorporate sand from Santa Monica if the bride is from California and sand from Miami if the groom is from Florida. Or, incorporate sand from meaningful vacations you've taken together, like Hawaii or the Caribbean. If either of you has children, invite them to pour their own sand into your mixture, representing the blending of your families. And of course, have fun searching for the perfect glass jars to use during the sand ceremony – consider having it monogrammed for a special touch!
Why we love it: Sand ceremonies are a beautiful representation of your lifelong union. Although lighting a unity candle holds a similar meaning, your sand jar can be saved and displayed at your reception and in your home after the wedding. The bohemian nature of the ceremony means it complements a garden or beach wedding beautifully, and is a lovely way to add a non-religious ritual to a spiritual wedding ceremony.
Below, see how real couples incorporated sand ceremonies into their weddings!

Vibrantly colored sand creates a beautiful finished vase. It's also easy for guests to see during the ceremony! Photo by Paul Barnett Photographer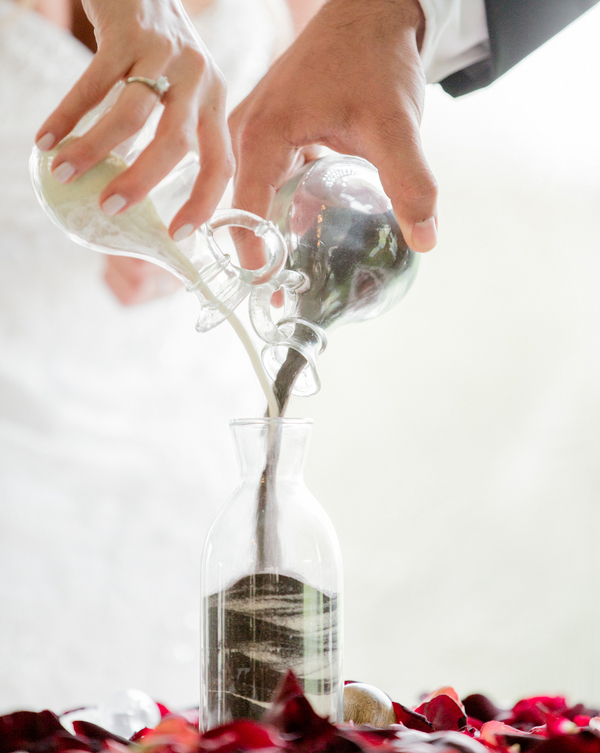 Choose elegant jars, like these mini glass jugs! Photo by Jared Platt Photography

For a wedding in Hawaii, wooden bowls complement the tropical setting. Photo by Stewart Pinsky
Opening photo by Melissa Mermin