The day has finally arrived. You bat your eyes open after a night of excited tossing and turning. It's early: no one else is awake yet. You sit up and stretch, beaming from ear to ear. Your gaze falls on the little white envelope sitting on your nightstand, marked with your name, written especially for you by your best friend and fiancé(e) and given to you at last night's rehearsal dinner. You had strict instructions not to open the envelope until the morning of your wedding day, and that moment has come at last. Isn't that an incredibly touching visual?
Penning a private love letter to your fiancé(e) for your big day is a sweet, intimate way of reminding them – after all the hectic planning and organization – that you can't wait to marry them. Some couples exchange letters they've written to each other weeks, even months in advance. Others wait until the night before, when the emotions are strongest, to compose their love notes. A number of sweethearts open their loved one's message first thing in the morning, while others wait for other significant parts of the day, such as just after they're done getting ready or in the final moments leading up to their walk down the aisle. No matter the timing, it provides the nearly newlyweds with a quick escape from the chaos of the day to reflect on their love and commitment to one another.
How do you write a heartfelt wedding letter? As with anything from the heart, it can be difficult to put one's thoughts and feelings into words when writing a letter to the bride or groom, so we came up with a list of tips for how to write a love letter to your darling on your wedding day.


Keep it at a reasonable length.
You're most likely filled with abounding sentiments about your partner – a beautiful thing to mention at some point in your letter – however, it being your wedding day, you both will be strapped for time when preparing for the big day. We'd recommend keeping your love note and wedding letter to a page or two. If you know your sweetie is a fast reader, writing more is a viable option for a bridal letter or letter to the groom, but keep in mind that they'll probably want to read your words slowly and deliberately, so try your best to be mindful of your word/page count.
Don't try to be the next Hemingway if you aren't.
Many who didn't ace English in high school or major in writing during college believe they won't be able to do this task justice. Well, good news: you don't have to write the next great American novel – remember: reasonable length – to make this note meaningful. Flowery language is superb, but this kind of undertaking requires straightforward, genuine feelings about your life together. As they say, write what you know, and your wedding letter is no different!

Keep it positive.
This may sound like a given, but our emotions can make us do funny things if we let ourselves get swept up one way or another and feel like we can let everything out about our love story – good and bad – on paper. Unless you both have a very specific brand of humor, making a joke about your three-month breakup two years ago or a late pet you both loved is less than desirable in a wedding letter. If you're unsure, it's best to err on the side of caution and stick to your unwavering devotion when penning letters to each other about the way your life has been enriched by one another on the wedding day.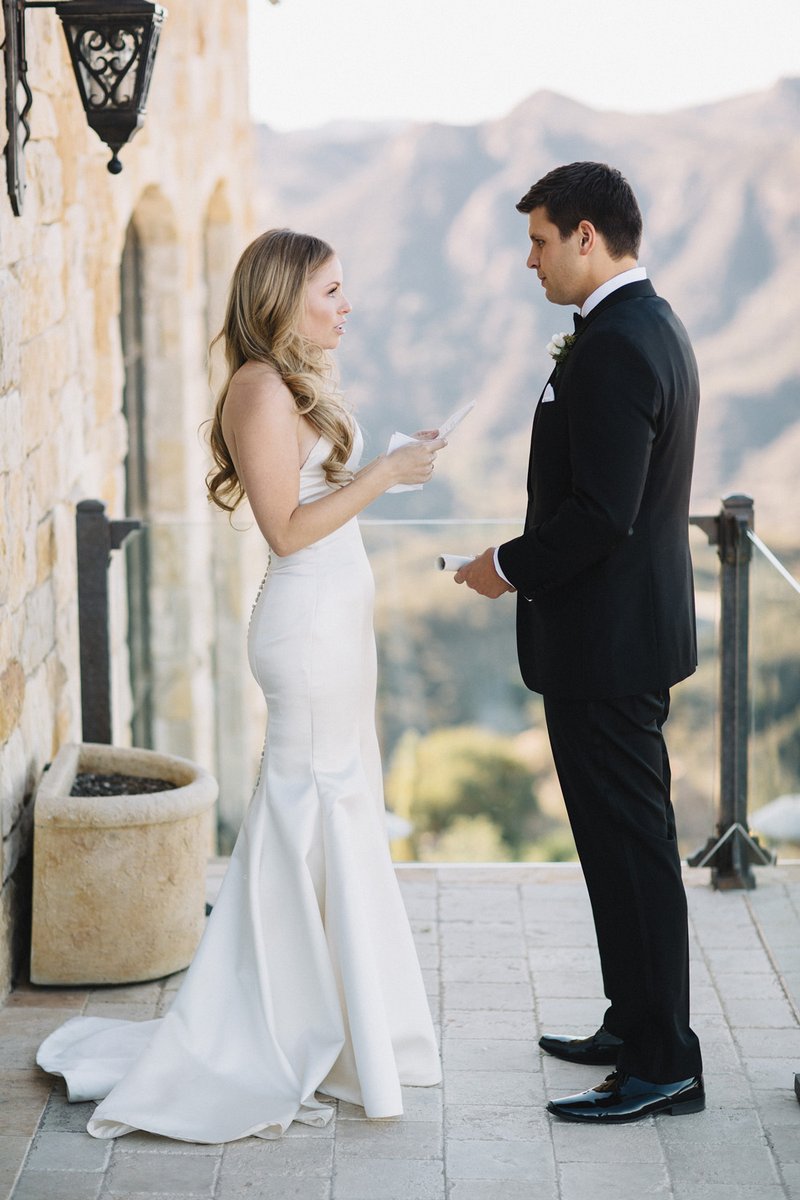 Photo by Hugh Forte; Planning & Design by Tessa Lyn Events

Do more than simply list what you love about them.
It's very tempting to make a letter to a bride with a bullet-point list entitled "36 Reasons Why I Love Anna," but Anna has likely heard most of these points from you in former Valentine's Day notes and birthday cards. This is your chance – perhaps even your first opportunity – to talk about your future together and everything you're looking forward to in this new chapter of your lives. You could even subtly preview your vows – if you wrote your own separately – and other promises you intend to keep over the course of your marriage. Isn't that the best wedding gift of all?

Stick to your personal style.
If you're not naturally sappy, don't attempt to make your wedding letter into what you think a poem by Nicholas Sparks might sound like. Similarly, if you aren't skilled at writing funny anecdotes under pressure, don't struggle to make jokes – though a little bit of humor is encouraged; this is a happy occasion! We understand the desire to impress your beloved, but trust us: your future spouse wants to hear your voice in their head when they read what you've written, and they can't do that if it doesn't sound like you.

Spray the final product with your favorite perfume/cologne.
Adding a familiar fragrance to your note may have a calming effect on your bride or groom leading up to the wedding. Studies show that our sense of smell is strongly associated with memory, and during the stressful hours leading up to the wedding ceremony, triggering thoughts of you via your signature scent could help your other half to slow down, smell the roses (or your Chanel, as the case may be), and keep a level head. However, we don't recommend soaking the inside of the envelope; a spritz or two should work wonders.

If you just remember one thing when writing a letter to your bride or groom, remember this: write from the heart, keep it feeling personal, and make it sound like you! The morning of your wedding can feel like you have a million things to do, but before you put on your wedding dress or tuxedo, take a moment to read a letter from the one you've chosen to spend your life with. Cherish the moment and the entire day along the way!

https://www.insideweddings.com/weddings/gorgeous-alfresco-wedding-with-stunning-mountain-views-in-malibu/45659/