There's no better time than now to start adding new items to your daily beauty regimen designed to protect your skin and hair, leading to a beautiful glow all year round. The heat of the summer season, as well as increased sun exposure can lead to early signs of aging, making it key to start preventing the damage as soon as possible. Whether you're exchanging vows soon or even preparing to be in or attend a celebration this upcoming fall, winter, spring, or summer, we encourage you to practice self care so you can look and feel your best.
Summer often leads to more time outdoors or traveling, and when paired with the stress that comes with planning a wedding (during a pandemic), sun damage and stresses can wreak havoc on your skin and hair. To help, we've gathered a number of products ideal for brides preparing to say "I do" in the coming months or year – and future wedding guests as well! From self-tanning products for a safe summer glow and reef-safe sunscreen, to skincare items and haircare favorites that will keep you looking picture-perfect, you'll discover a number of summer beauty products – and household items and accessories – that will help you stay relaxed and well-rested while wedding planning, look radiant all year long, and enjoy the rest of the summer season.

Photo by Brett Matthews Photography; Bridal Salon: Bridal Reflections
Whether you're a bride-to-be, future bridesmaid, mother of the bride, or wedding guest, take a look at 11+ beauty products and services to add to your summer beauty routine!


Many experts say that there's no such thing as a safe sun tan, so if you want to stay "sun safe" this summer while still having a beautiful bronze glow, there are many self-tanning products that can come to the rescue. This exfoliating mitt will help prepare your skin for a natural-looking tan, and the quick-dry tanning mousse is enriched with nourishing oils and 100% natural DHA to create a gorgeous glow without the "self-tan smell" your fiancé likely hates. Whether you choose to self tan or not, brides-to-be will also love the luminous glow from the highlighting sticks! Just swipe over your cheekbones, nose, and cupid's bow for a gorgeous look for the wedding day and beyond! Exfoliating mitt ($13), self-tanning mousse ($30), and highlighter sticks ($30/each), all by Bali Body; us.balibodyco.com

This clean, reef-safe sunscreen is just what you need to stay safe from the sun this summer. If you're planning on having fun outdoors and swimming at the pool or beach, the SPF 40 lotion is water resistant for 40 minutes while the SPF 50 face stick is water resistant for 80 minutes – making both simple to reapply. The products are also broad spectrum, so they'll block out 98% of harmful rays, include soothing shea butter, and don't leave a white cast – so the only white you'll be flaunting at your bachelorette party or honeymoon is your wedding-white bridal swimsuit. Sunshine Mineral Sunscreen Face & Body Lotion ($16) & Face Stick($10), both by C'est Moi; cestmoi.com

Whether you have straight, wavy, or curly hair, give yourself a quick, beachy summer look with this lightweight spray to achieve those perfect beach waves. Even if you're not saying "I do" by the ocean, you can give yourself that effortless look for an upcoming wedding event by spritzing this texture mist that will transform your hair. Since the product is not formulated with actual sea salt (instead its made with rice protein), it's safe for color- or keratin-treated hair! As a bonus, the spray also showcases a romantic floral fragrance so you may not even need perfume! Wave Spray, $26 by Ouai; available at sephora.com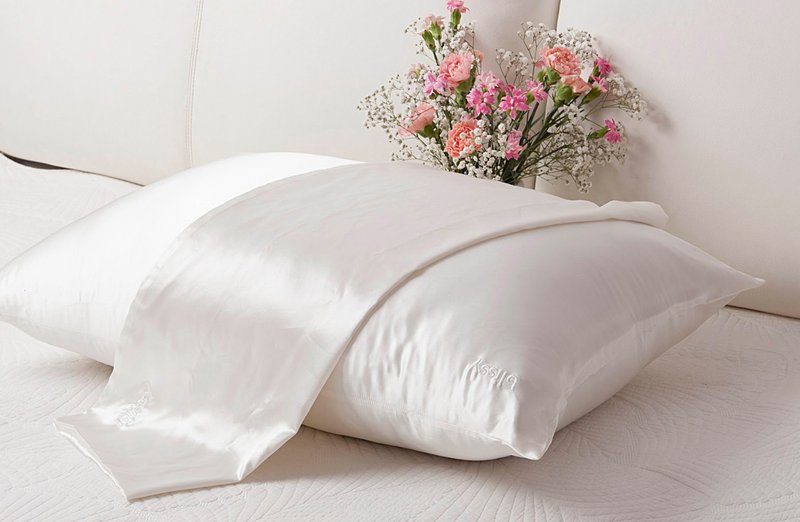 The secret to a good night's sleep that also helps your hair and skin stay radiant is a silk pillowcase. This particular natural and hypoallergenic silk pillowcase is handmade using 100% pure mulberry silk and works wonders for your hair and skin, all while you're sleeping soundly. The benefits include anti-aging properties, since there's less friction than cotton, no sleep creases, and an efficient and easy way to regulate your natural body temperature. The silky pillowcase will also help your skin retain moisture and minimize split ends and hair damage with minimal effort required! Silk pillowcases, starting at $90 ($70 on sale!) by Blissy; blissy.com

Whether the summer sun has damaged your hair or frequent coloring and bleaching has wreaked havoc on your locks, make sure you restore your tresses before the big day! This nourishing coconut-and-fig hair masque is a five-in-one treatment that restores damaged hair while also improving texture and shine, treating split ends, taming frizz, and hydrating and deeply conditioning so your revived hair feels like new from the inside out. "Like a Virgin" hair mask, $45 by Coco & Eve; cocoandeve.com

A beautiful bridal glow starts with clean, fresh air! Especially in today's current climate, it's more important than ever to reduce airborne viruses and bacteria and also alleviate asthma, colds, and seasonal allergies. Thankfully, this humidifier can help create an oasis in your home, while also soothing dry skin, so you can have the perfect base for all of your bridal makeup. If you love aromatherapy, you can also use the built-in essential oil tray for an additional benefit from this product that even Kendall Jenner loves. Cool Mist Ultrasonic Humidifier, $80 by Everlasting Comfort; everlastingcomfort.net

A woman can never have too many lipsticks! If you're looking for an option with natural ingredients, you'll love this moisture-infused sheer lipstick with buildable color and shine. Whether you want just a bit of pink for a wedding-related meeting or a full lip look for an engagement party or bridal shower, this shade incorporates safe ingredients and is part of a collection inspired by blooming dahlia flowers – which may even be featured in your bridal bouquet or centerpieces! Blooming Edition "Lip Paradise" sheer dew-tinted lipstick, $34 by Dear Dahlia; en.deardahlia.com

Summer travels and long days can often lead to dark circles or puffy eyes, so if you need a quick pick-me-up, these retinol-infused eye masks can quickly give you a boost! Diminish fine lines and wrinkles, hydrate dry skin, and minimize dark circles without the chemicals. This cute pack-of-five set featuring a star motif is also a great gift for bridesmaids or a welcome addition to a "Will You Be My Bridesmaid?" box or wedding welcome bag! All-natural retinol-infused eye mask, $25 (pack of 5) by KNC Beauty; available at sephora.com

If you want to go bra-free on your wedding day or as a wedding guest, but you still want to give your girls a lift, "boob tape" is a must. You've likely tried a few different brands over the years, but we love this one because the "adhesive bras" are made with 97% cotton and are waterproof and sweat-proof for all-day wear. This particular style is also the first adhesive bra to offer a range of skin tone options – and they're even strong enough for larger cup sizes (up to DDDD+), so you can wear what you want no matter what! Brassybra invisible breast tape, $38 by Brassybra; brassybra.com

Looking for a natural foundation to revamp your "clean" beauty routine leading up to the big day? This foundation is a wonderful choice! The skin-nourishing foundation offers buildable coverage – use half a pump mixed with your favorite moisturizer for light coverage, one pump for medium coverage, or two pumps for full coverage. The makeup is also silicone-free and features antioxidant rich, skin-balancing ingredients to help support skin's moisture barrier to give you a fresh, youthful appearance at any age that looks and feels like natural skin. Woke Up Like This flawless finish foundation, $46 by Lawless; available at sephora.com

Every bride-to-be has nightmares about their skin breaking out right before a big wedding event... If the worse-case scenario happens to you, ease your pre-wedding stress with this serum that works to quickly clear blemishes. It also helps to prevent acne from returning, controls oil, and can even brighten the look of post-breakout spots, so you'll look picture-perfect on your wedding day and throughout your honeymoon. Just make sure to also incorporate a moisturizer with SPF to stay safe and keep your skin hydrated and glowing! Acne Serum, $34 by Peace Out; peaceoutskincare.com

Your favorite celebrities and bloggers have likely had their hair done by Nikki and Riawna of Nine Zero One Salon, and now you can get the effortless look they're known for at home. The stylists, educators, founders, and friends created their own line of hair-care items, and one of their newest products that's suitable for all hair types can revitalize your look. Mist on dry hair to quickly refresh and soften your locks before heading to a meeting with your wedding planner, or mist on damp hair and comb through to prep and protect your tresses. Just in time for summer, the spritz helps protect hair against harmful UVA/UVB rays, while also eliminating frizz, static, and flyaways. With even more benefits, you'll have to try the magic out for yourself! Magic Myst Universal Elixir, $35 by In Common; incommonbeauty.com