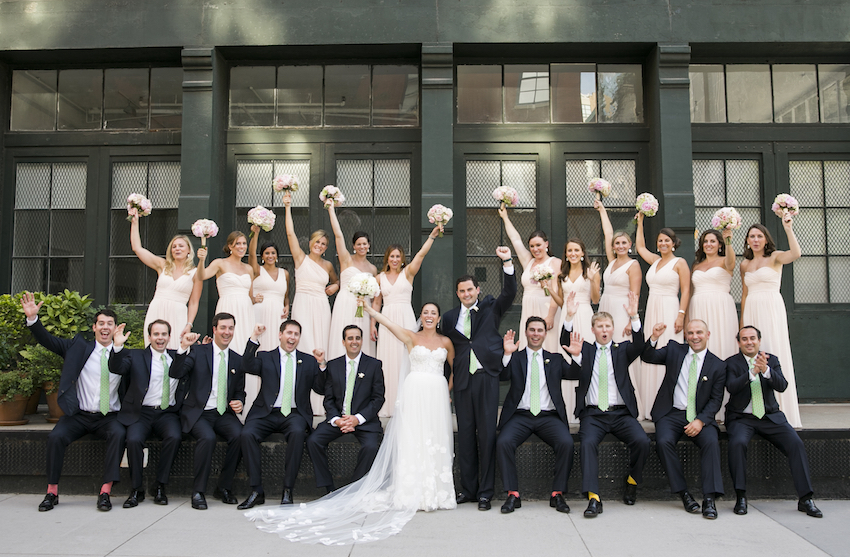 If you're getting married this summer – or next summer – it's important to follow some helpful guidelines wherever you're tying the knot. The summer months can bring heat, humidity, and even warm-weather storms, so it's important to be prepared and have a plan to keep you, as well as your wedding party, family, and guests, comfortable during the festivities. Even if you've planned an indoor event to beat the heat, many wedding photographs are still taken outside, so taking the warm weather into account is very important.
We asked two esteemed members of our Editors Circle to offer their tips for brides and grooms who are planning their summer nuptials. Alexandra Rembac of Sterling Engagements offers wedding-planning tips for summer soirées, and Berit Bizjak of Images by Berit, Inc. shares her thoughts on how to get the best wedding photos during hot summer days and warm summer evenings. See below for their top five summer wedding tips:
1. Save that date. "We find that during the summer months, vacations are booking so far out that we encourage our couples to mark their big day and send their save the dates closer to 8-12 months out. Additionally, we have been recommending that invitations go out closer to 8-10 weeks in advance when planning anytime during the summer – but especially around the holidays in July and August." - Alexandra Rembac, Sterling Engagements
2. Be Mindful of Photography Locations. "I speak with [clients] well beforehand about outdoor locations with shade, and backup indoor locations if the heat/humidity is too oppressive. Sometimes, when planning the family photography, we will opt to take photographs indoors in very hot weather, and then possibly only photograph the couple and the wedding party outside. I am sensitive to the needs of the very young and the older family members in this regard. I have also planned the photography near an air-conditioned space, so that my clients can step in and cool down every now and then." - Berit Bizjak, Images by Berit, Inc.
3. Stay Hydrated. "It's so important! I always make sure, when talking about the photography logistics, that there be water and food nearby for everyone. People are much more likely to want to participate in photography when they are hydrated and nourished." - Berit Bizjak, Images by Berit, Inc.
4. Relax, Refresh, and Welcome. "We always love doing delicious pre-ceremony beverages like flavored waters, teas, and lemonade. Lately we have been adding a refreshing bite to tray pass along with the beverages. Even the slightest addition like fresh watermelon skewers with mint or melon pops make all the difference for guests. It's the perfect refreshing bite as they sit down on a hot day." - Alexandra Rembac, Sterling Engagements
5. Choose Appropriate Photo Times. "If it's possible, it's always a good idea to try for late afternoon to early evening photography for the couple and families when the sun is lower – which is also more flattering – and a bit cooler." - Berit Bizjak, Images by Berit, Inc.
For more expert advice, visit the Expert Blogger Directory to read articles from your favorite wedding professionals!
Opening photo by Images by Berit, Inc.