If one of your New Year's resolutions is to eat healthier in 2020, consider serving an array of nearly guilt-free desserts on your wedding day. Though you'll likely choose to offer slices of a delectable wedding cake to loved ones, it's also a good idea to have a separate dessert table for attendees who may not want to be tempted with a sugary confection.
While it's difficult to create a truly guilt-free wedding dessert, there are many sweets that are less sugary and fattening than the go-to chocolate-on-chocolate cakes, nostalgic candies, and other treats that sound absolutely delish – but choices your guests might regret later. Cake pops are a great way for couples to serve their favorite cake flavors since the portions are much smaller, so guests can also enjoy fresh fruit, pies, tarts, kettle corn, and more.
Take a look at the 21 wedding dessert ideas below – including two wedding cakes: a "naked" cake with just a bit of frosting and fresh berries and a stacked pancake confection ideal for a brunch wedding (or a couple who doesn't like cake). While these desserts certainly are not entirely guilt-free, it is possible to make healthier versions of all of these sweet treats, which provide guests with a taste of sugary sweetness without overwhelming their palates – and allowing them to stick to their New Year's resolutions.
1. Fresh Berries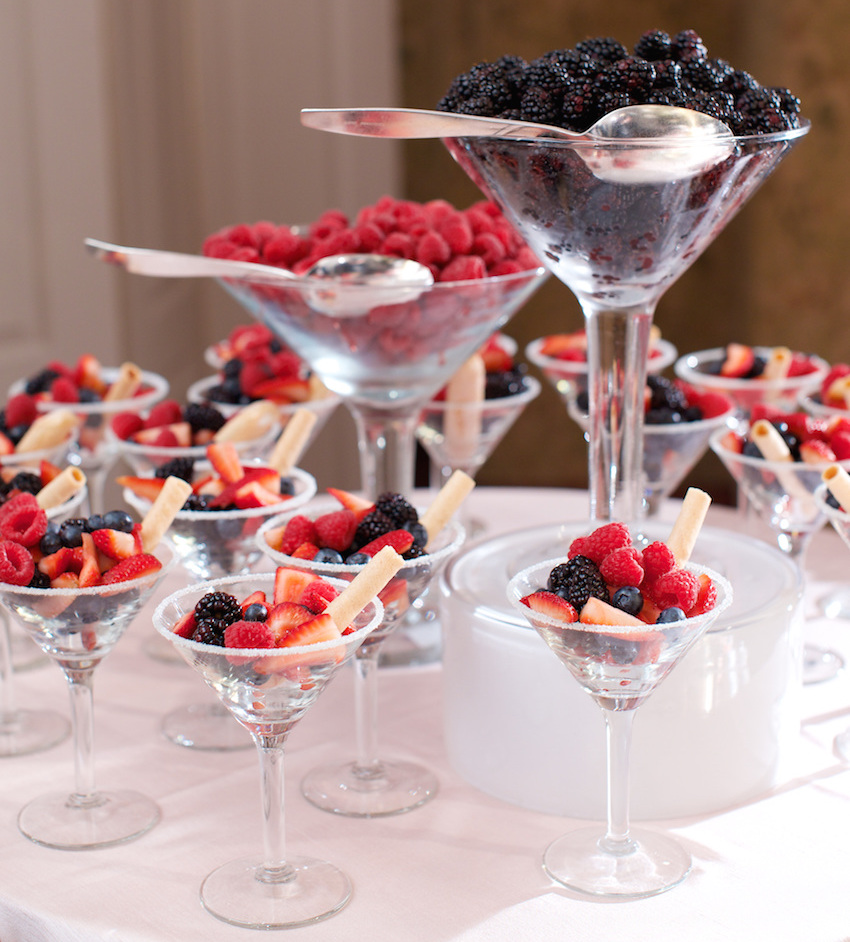 Photo by Bob & Dawn Davis Photography
2. Popcorn or Kettle Corn


Photo by Caroline Tran
3. Cake Pops


Photo by Steve Steinhardt; Planning & Design by Beth Helmstetter Events, Inc.
4. Pies


Photo by Ryan Ray Photography
5. Chocolate-Dipped Strawberries


Photo by Catherine Hall Studios
6. Mini Donuts


Photo by Simone Photography; Planning & Design by Mindy Weiss Party Consultants
7. Chocolate Chip Cookies


Photo by Yvette Roman Photography
8. Strawberries & Cream


Photo by Samuel Lippke Studios
9. Fruit Tarts


Photo by Marc Royce Photography
10. Tea Party Desserts


Photo by Carasco Photography
11. Pie Pops


Photo by Michael Segal Photography
12. Lemon Bars


Photo by Yvette Roman Photography
13. Chocolate-Covered Pretzels


Photo by Bob & Dawn Davis Photography
14. Cotton Candy


Photo by Millie Holloman Photography
15. French Macarons


Photo by Caroline Tran
16. Mini Pies in Mason Jars


Photo by Jana Williams Photography
17. Mini Berry Pies


Photo by Mischa Photography
18. Mini Pecan Pies


Photo by Vue Photography
19. Jelly Beans


Photo by Paul Barnett Photographer
20. Pancake Wedding Cake


Photo by Elizabeth Messina
21. "Naked" Cake with Fresh Berries


Photo by Sarah & Ben
For more wedding cake and dessert ideas, visit our photo galleries to see hundreds of images from real weddings! View inspiring small wedding cakes with seriously stunning style, discover ways to serve pie at your wedding, and get ideas from these gorgeous donut displays.