If your wedding ceremony and reception are being held in two separate venues, you've likely considered how to transport the wedding party and guests from one location to the other. Additionally, you may have thought about how loved ones will arrive to the wedding venue from the hotel, or how you and your groom will dramatically exit the reception.
Shuttles, classic cars, and limos are widely used for transportation at wedding events, though there are plenty of other ideas couples can consider. Why drive away in a getaway car when you can sail off in a wooden boat decorated with a "Just Married" sign? If you want your celebration to ooze small-town charm, invite guests to hop aboard a classic trolley. Or if your wedding has a winter wonderland theme in a snowy destination, transport loved ones from one venue to another by way of a horse-drawn sleigh. The point is – the options are endless and it is possible to highlight the wedding theme with your choice of transportation.
Take a look at the inspiring transportation methods used by real brides and grooms, below. Have you been to a wedding where the transportation was just as interesting as the décor? Let us know in the comments!

Bridesmaids dressed in all white were transported to the ceremony location in a large horse-drawn wagon decorated with greenery and white blooms to complement their flower crowns. Photo by Elisabeth Millay Photography; Consulting by DFW Events; Floral design by Jackson Durham Events

Natalie and David took part in a joy ride in a tiny red sports car with a decal featuring their names on the front windshield. Photo by Samuel Lippke Studios; Floral and event design by White Lilac Inc.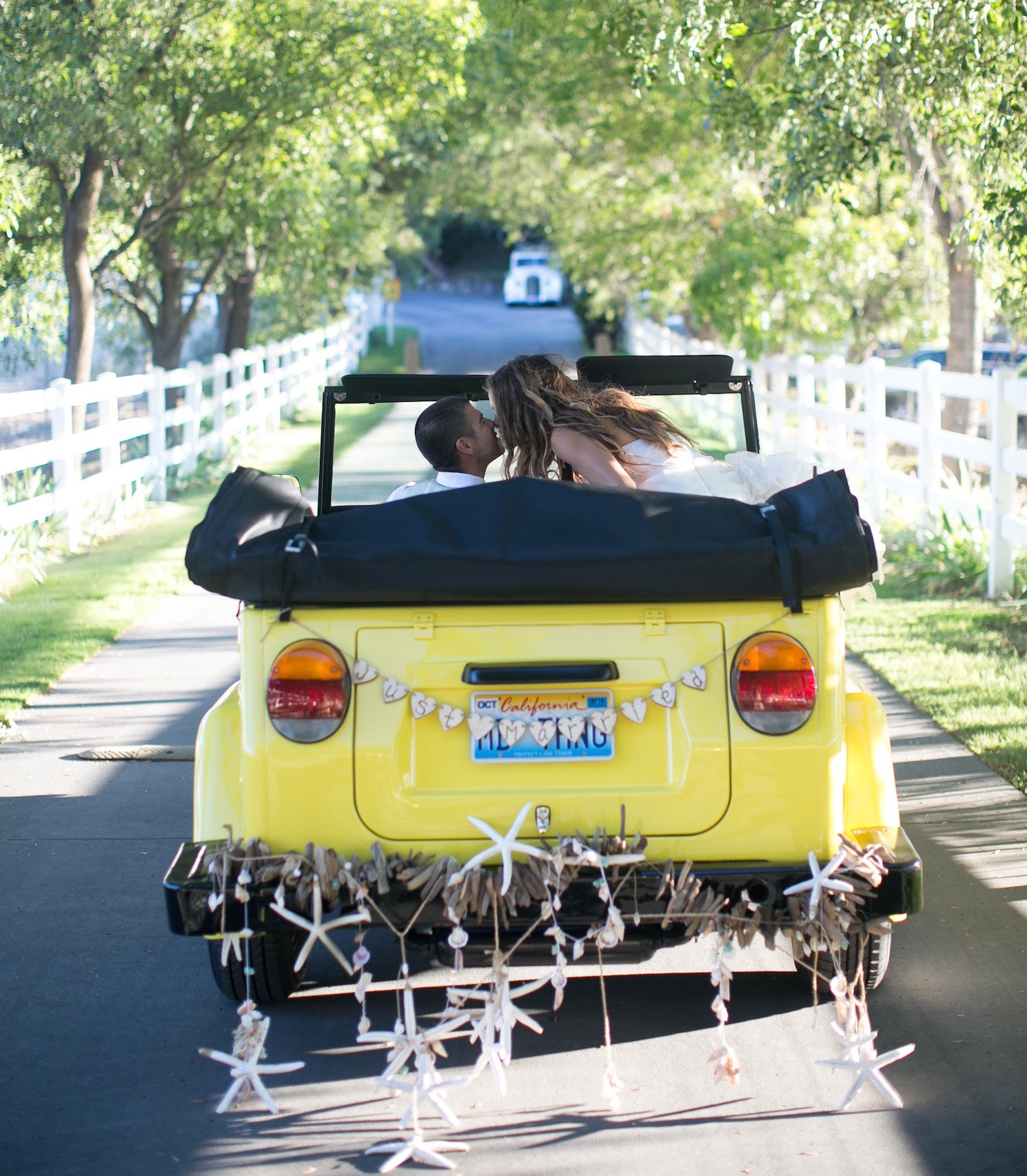 Tone It Up's Katrina Hodgson and Brian Scott drove themselves to their Malibu reception venue in a bright yellow 1973 Volkswagen Thing – the bride's wedding gift from her groom. Photo by Jana Williams Photography; Bridal gown by Monique Lhuillier

To make their outdoor winter wedding even more dreamy, the couple and their guests were transported through the snowy terrain to the reception lodge in festive horse-drawn sleighs. Photo by Handeland Tesoro Photography; Consulting by Alex Events Inc.

As an ode to the bride's equestrian background, she was led on horseback by her father. To complement the verdant outdoor setting, the horse wore a wreath of greenery and ivory blooms. Photo by Chrisman Studios

Add some charm to your wedding event by using trolleys in lieu of shuttles for guest transportation! A trolley in wedding white may fit beautifully into your color scheme. Photo by Cassi Claire Photography

Make your grand entrance to the ceremony venue in a horse-drawn carriage for two: you and the father of the bride! Photo by Elisabeth Millay Photography; Consulting by DFW Events; Floral design by Jackson Durham Events

Ideal for bohemian weddings or outdoor garden ceremonies, arrive on horseback. Be sure to dress the horse for the event – you can even add gold glitter to hooves! Photo by Amanda McKinnon Photography; Bridal gown by Claire Pettibone

During the customary baraat during this Indian wedding, which hosted 800 guests, the groom arrived by riding an ornately decorated elephant! Photo by Tomas Ramos Photography

This couple, who tied the knot during a traditional Hindu ceremony in Brooklyn, took wedding portraits in an iconic New York City yellow taxi. Photo by Danny Weiss

Following their lakeside nuptials, these happy newlyweds sailed around the lake in a boat labeled "Just Married," and then returned to continue celebrating late into the night. Photo by Robert Evans Studios

Have a Cinderella moment in a white horse-drawn getaway carriage enveloped in garlands of greenery and picturesque white blooms, as well as a "Just Married" sign. Photo by Regina Hyman Photography

Why drive away in a classic car when you can take off on the back of a cute golf cart decorated with a banner of letters reading, "Just Married?" Photo by Elizabeth Messina; Bridal gown by Monique Lhuillier; Invitations & calligraphy by Lehr and Black

This couple took their wedding hashtag one step further than most newlyweds by displaying it on the license plate of their "something blue" Mustang convertible getaway car. Photo by Thisbe Grace Photography; Consulting by Jordan Payne Events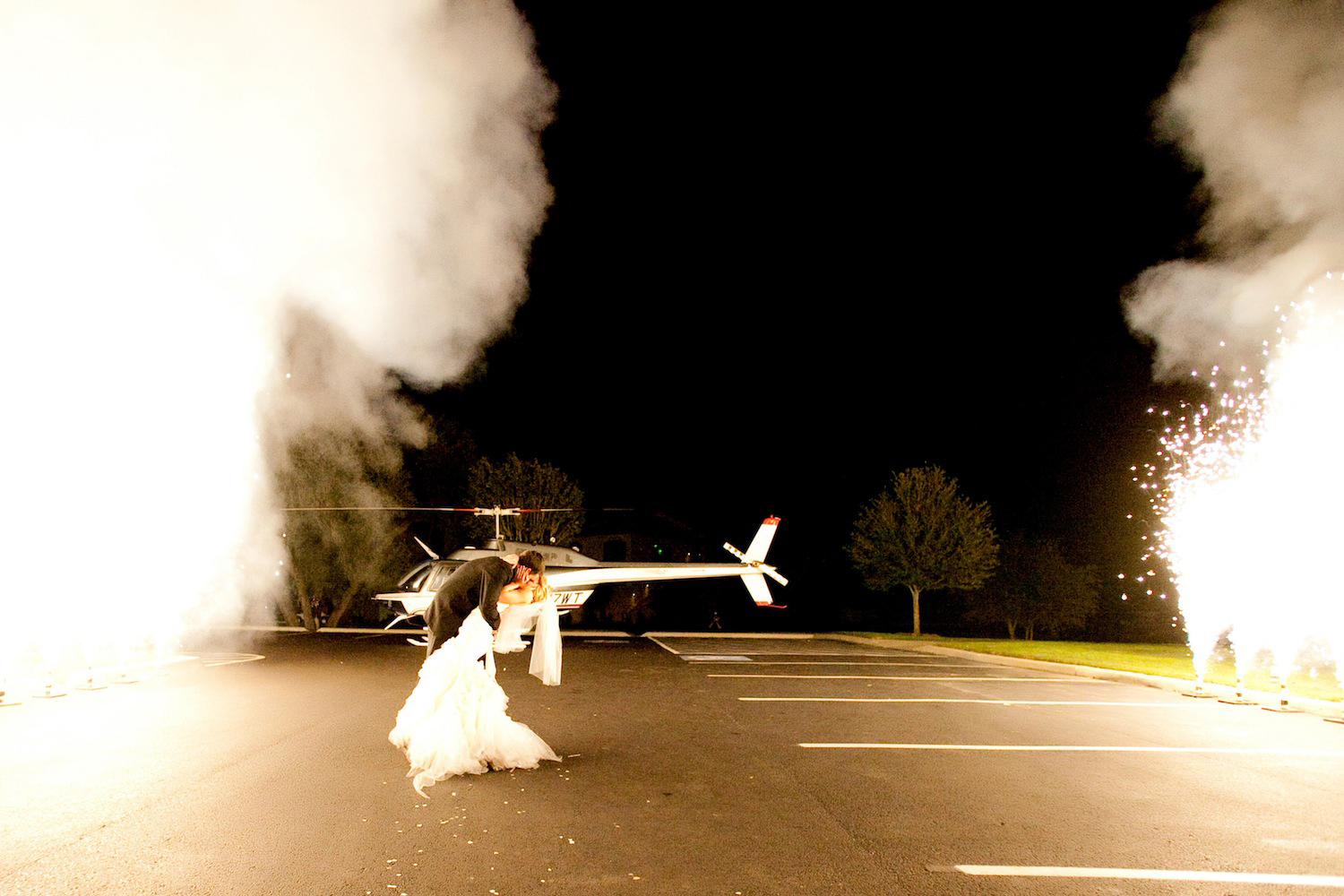 The ultimate wedding transportation: This lucky couple departed the reception by running through a concert-worthy pyrotechnic "tunnel of fire" to an awaiting helicopter that transported them to the airport for their flight to Belize. Photo by Michael Carr Photography; Consulting by Ann Whittington, Event Planner