Whether you've experienced a death in the family shortly before your wedding, or you wish to honor your great-great-grandparents who passed many years ago, there are plenty of ways to pay your respects to late loved ones throughout your wedding day. For parents who have passed away, brides and grooms often leave a chair at the ceremony empty in their loving memory, or they may incorporate a family heirloom into their wedding ensemble. Speeches during the ceremony or reception pay tribute to loved ones beautifully – but be sure to have tissues or an embroidered handkerchief ready. Play your loved one's favorite song at the reception, or choose a color palette that you know they'd love.
Each relationship is different, and therefore, there are hundreds of ways to pay respect to deceased loved ones at your wedding. The important thing to remember is: it should be special and unique to you. Take a look at 15 ideas below, all of which showcase examples from real brides and grooms. No matter how you choose to commemorate those who are no longer with us, the beauty of paying tribute to late loved ones is that they will be there with you, joyously celebrating your big day, in spirit.
1. Wear Her Wedding Dress
One of the most prominent ways to honor a loved one at your wedding is to wear their wedding dress. If your mother, aunt, or grandmother, has passed away, then the vignette of a bride wearing her gown is even more special.


Lauren walked down the aisle in the same lace wedding dress worn by her grandmother and mother for their nuptials. She honored her late grandmother's memory by wrapping her bouquet with pearls she had received from her. Photo by Asya Photography
2. Carry a Family Heirloom
Whether you choose to wrap a symbolic rosary around your bouquet or wear your loved one's wedding ring down the aisle, there are many ways to incorporate a family heirloom into your wedding-day ensemble in order to feel as though those who have passed are with you on your special day.


Dominique honored her late grandmother by carrying her wedding ring with her down the aisle. It was secured in a made-to-order, mother-of-pearl purse attached to her bouquet. Photo by Dennis Mock Photography

This bride wore an antique sapphire ring on her wedding day, which was owned by her late maternal grandmother. Photo by Hazelnut Photography
3. Add a Photo to Your Bouquet
To feel as though your late loved ones are walking you down the aisle, affix a photograph of them to your bridal bouquet in a heart-shaped locket or a small charm.


This bride carried a bouquet tied with a small, framed photo of her father, who had passed away only a few months before she and her groom became engaged. Her grandfather escorted her down the aisle, but the presence of her father's image allowed her to feel as though he was also walking her down the aisle. Photo by Aaron Delesie Photographer



When Ben and Katherine got married, the bride adorned her bouquet with a heart-shaped locket bearing the photos of her late grandparents – also named Ben and Katherine. The groom confides, "She was very close to them and wanted them to be with her during the ceremony." Photo by Elizabeth Messina



As Jamie was getting ready for the ceremony, her wedding planner presented her with a bouquet to which they had affixed a charm with a photo of her mother, who passed away just one week before the wedding. "I wear the charm on a necklace every day," shares the bride. Photo by Mischa Photography
4. Choose Sentimental Accessories
Take "something borrowed" to a whole new level by incorporating a loved one's wedding accessory into your bridal ensemble. A sparkling tiara or a swatch of lace from a wedding dress can be easily incorporated into a bride or groom's wedding look and leaves a lasting impression.


Scott wore his late grandfather's cuff links and a boutonniere fashioned out of a swatch of his late grandmother's wedding dress for the wedding. "While they weren't there physically, their memories were felt throughout the ceremony," he shares. Photo by Bob & Dawn Davis Photography

The bride wore her late sister-in-law's wedding tiara on her own special day. "I was her maid of honor," shares Michelle. "It was extremely significant to me to wear her tiara down the aisle. It is something considered sacred to my family and will be worn for generations to come." Photo by Brett Matthews Photography; Venue: Oheka Castle
5. Incorporate a Special Tallit
If you'll be having a Jewish wedding, consider using the tallit of your late loved one(s) in your chuppah design. You'll feel their presence as you exchange vows.


Poles of birch wood supported the prayer shawls once owned by the couple's late grandfathers to form a chuppah inside a gazebo. Photo by John Solano Photography; Consulting by International Event Company

Rebecca and Julian exchanged vows beneath the tallits of their late grandfathers, which were incorporated into the chuppah for their Jewish wedding ceremony. Photo by Fred Marcus Studio
6. Add a Photograph at the Altar/Chuppah
If your parents or grandparents have passed away prior to your wedding ceremony, honor their presence by framing a photograph of them and displaying it on the altar table or beneath a chuppah.


Lauren and Matt's chuppah table featured a framed photograph of the groom's late parents. "The image of Matt's mom and dad allowed us to feel as if they were a part of the ceremony, even though they are not with us," shares the bride. Photo by Gruber Photographers
7. Incorporate Their Favorite Tunes
As more and more couples are choosing contemporary hits for their celebrations, the music you select for your ceremony and reception offers a perfect chance for you to remember loved ones who have passed by way of song – or instrument!


As Chelsea Oder and Josue Pineda's Christian wedding ceremony began, a Spanish guitarist performed melodies by Andrés Segovia – a favorite musician of the groom's late father. Photo by Joe Buissink Photography; Consulting by Geller Events; Floral Design by The Hidden Garden

To honor his Scottish heritage, Angus wore a traditional kilt made of the family tartan. Bagpipers dressed in custom garb played atop a waterfall. "My father, who passed away, was a Scotsman and the bagpipers made me feel that [my dad] was really in our presence," shares the groom. Photo by LiquidLightImages Photography
8. Choose Respectful Aisle Escorts
If your father is not able to walk you down the aisle, consider having an older brother, grandfather, or godfather fill in. Alternatively, if other members of your family do not have an escort, think of creative ways to honor their presence instead of calling on an usher to help.


Since the bride's grandfather had passed away shortly before the wedding, his memory was honored during the ceremony. Rachel's cousin escorted their grandmother down the aisle wearing their grandfather's favorite white tuxedo jacket. "It was incredibly touching and absolutely wonderful," remembers the bride. Photo by Adam Barnes; Consulting by SoCo Events; Floral Design by Amaryllis Floral & Event Design
9. Honor Their Memory During the Ceremony
Incorporate special speeches in honor of your late loved ones during the rehearsal dinner, ceremony, and/or reception. Many couples also choose to leave ceremony chairs empty to commemorate those who are no longer with them physically.


The ceremony between Amanda and Robert included special touches dedicated to Amanda's mom who had passed away: a memorial candle burned throughout the service, a bouquet was placed on an empty first-row chair, and the reverend incorporated a reading honoring mothers in his sermon. Photo by Suzanne Delawar Studios
10. Choose a Memorable Motif
If tulips are your late grandmother's favorite flower, or your mother loved butterflies, incorporate these motifs into your wedding décor. That way, as you're celebrating with friends and family, you'll feel as though they helped plan your special day.


To honor the bride's late mother, a custom annular motif – fashioned after a necklace that belonged to her – appeared on wedding invitations, stationery, and the dance floor. "You can imagine how powerful it was for us to have that symbol of her love surrounding and supporting our union," says Christine. Photo by Vallentyne Photography; Venue: The Lodge at Torrey Pines
11. Select an Important Wedding Venue
Choosing a venue to host your wedding is one of the most important decisions you'll make during the wedding-planning process. While most couples take the time of year, guest count, and spending limit into account, you may also want to consider a site that is special to those deceased family members close to your heart.


Since Zoe wanted to select a venue with her late mother in mind, she initially planned for a wedding at her family's summer home in upstate New York. Instead, the couple chose a beachside locale in California where Zoe and her mother had watched countless sunrises and sunsets together. Photo by Elizabeth Messina; Consulting by Mindy Weiss Party Consultants
12. Consider Favorites in Your Floral Design
When choosing a design for your wedding flowers, keep in mind the varieties that were adored by your late loved ones. Did your mother love peonies? Do you remember picking roses from your grandmother's garden as a child? Incorporating flowers that are special to your family will add a subtle, sentimental component to wedding décor.


To commemorate the bride's grandmother, who had recently passed away, each place setting at the reception was adorned with a single gardenia bloom – her grandmother's favorite flower. Photo by Bob & Dawn Davis Photography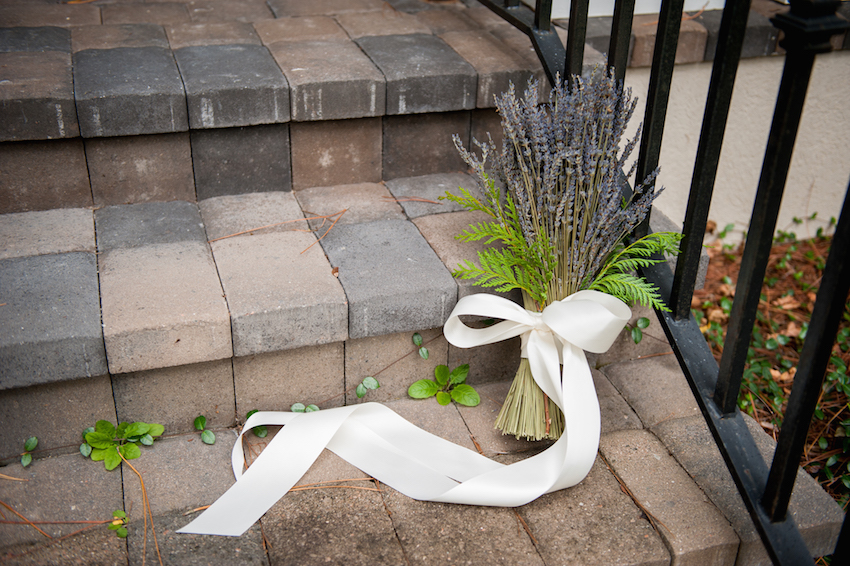 To honor her grandmother – who had passed away just three months prior to the wedding, Jessica incorporated dried lavender into bridesmaid bouquets and ceremony programs. "As I waited with my [dad], a breeze caught the sweet aroma filling the air... and in that moment we could feel [her] presence. I believe those few seconds were my grandmother's blessing," shares the bride of her walk down the aisle. Photo by 6 of Four Photography
13. Make a Special Toast
A very special time to commemorate late family is at the reception. While giving a toast to the bride and groom, consider having your father share a sentimental story or words of wisdom from a loved one who is no longer with you. Having a moment of silence for a recently deceased family member is another option, or incorporating a song in their honor during the reception is another idea, if you don't want lengthy or teary speeches.


Julie's father made a toast with a glass of wine that was made by his father before his death decades earlier. Joe kept his late grandfather close throughout the day by carrying a coin he had given him, which the groom made into a keychain, in his pocket. Photo by Peter Thurin Photography
14. Honor Their Wishes
If you and your mother, father, or grandparents discussed your wedding before they passed (even if you weren't even engaged yet!), you can honor some of their wishes during the ceremony or reception. Have their favorite dish served at dinner, choose their preferred song for a special dance, or include an extra detail that you may not have considered had they not mentioned it.


As a sentimental touch, Lisa and Rick had an artist paint their first dance in real time. "My grandmother passed away a couple months before I got engaged, but she had told my mother that she wanted to have [a live painter] at my wedding, so it was as if she was present with us for the wedding," Lisa shares. "We will be able to look at this precious memory forever in our home." Photo by Laurie Bailey Photography; Planning & Design by Tessa Lyn Events
15. Select Touching Wedding Favors
Send wedding guests off with a token of love inspired by a late family member. If your father or grandmother passed away from cancer, make a donation in each guest's honor to a charity in lieu of traditional wedding favors. Since most guests just toss "cutesy" favors after the wedding day, this type of favor will make a lasting impression.


"I designed a favor card that had a faded American flag with metallic writing highlighting my father's name," says Tori. Each card explained that a donation had been made in the name of Edward Mardovich to Families of Freedom, an organization that provides education to children who lost relatives on September 11th. Photo by Dear Stacey
If you have other ideas about how to honor deceased loved ones at a wedding, we'd love to hear your thoughts in the comments!