No matter what wedding style, color palette, or venue brides and grooms choose for their wedding days, one of the commonalities between each couple is the desire to personalize as many aspects of their event as possible. Whether you choose to customize your aisle runner, cocktail napkins, or dance floor, one of the easiest ways to add a personal touch to nearly every wedding décor element – and set your wedding apart from other events – is to incorporate a custom monogram.
See how real couples utlized their wedding monogram by viewing the photos below. To see more from each of these wedding events, simply click on the photo to be redirected to the corresponding real wedding. Be inspired by the following wedding images and discover 22 ways to use your wedding monogram. Have more ideas? Let us know in the comments!
1. Aisle Runner
Instead of walking down a plain white aisle runner, make it your own by decorating a custom aisle runner with your monogram. Line the runner with fresh rose petals in your favorite hue for an added décor element.


Photo by Brett Matthews Photography; Aisle Runner by The Original Runner Company; Venue: Oheka Castle
2. Wedding Bouquet
For a unique look, tie your wedding bouquet with a ribbon embellished with an embroidered monogram. Your ribbon doesn't have to be the typical satin style – try a ribbon with a velvety finish to add a bit of texture to your floral design.


Photo by Liz Banfield & Adrienne Page
3. Shirt Cuffs
Have your groom wear his heart – or monogram – on his sleeve. This style adds a personal element to typically traditional groom's attire, and it's also a great gift idea for the best man or groomsmen. An embroidered cuff will set your groom's dress shirt apart from all of his other button-up attire.


Photo by Elizabeth Messina
4. Handkerchief
Your wedding will likely be one of the most emotional days of your life. You'll be marrying the one whom you love with your whole heart as you're surrounded by all of your most-loved family and friends. Be prepared for the occasional teary moment by packing a handkerchief embroidered with your monogram in your bridal clutch.


Photo by Christian Oth Studio
5. Groom's Shoes
If your groom chooses a non-traditional pair of wedding shoes like NHL player Brandon Dubinsky, add a personalized touch with an embroidered monogram.


Photo by Donna Newman Photography
6. Cuff Links
For the groom and his groomsmen, a personalized set of cuff links is a handsome accessory. If the groom wishes to gift his groomsmen with matching cuff links – save for their personal monograms – it's a gift that will be surely appreciated by all and kept as a sentimental accessory for years to come.


Photo by John Solano Photography
7. Welcome Gifts
Whether you and your beloved are hosting a destination wedding, or you just want to welcome your loved ones with a sweet gift, offering custom welcome tote bags to wedding guests are a great way to introduce your loved ones to the region – and to your event.


Photo by Chrisman Studios
8. Ceremony Program
Wedding program designs are often ordinary and simple. Dress up your ceremony program with a custom monogram that will tie your paper goods into the rest of your décor!


Photo by Images by Berit, Inc.
9. Ceremony Fan
If your ceremony is being held outside in the spring, summer, or even fall, temperatures and humidty can often combat the elegance of your event. Keep loved ones cool by providing paper fans decorated with your monogram.


Photo by Kristen Weaver Photography
10. Ring Bearer Pillow
To match the shimmer that will be radiating from your wedding rings, consider decorating a ring bearer pillow with your monogram spelled out in sparkling rhinestone letters.


Photo by Barber Photography
11. Ceremony Petal Cones
In lieu of confetti or rice, invite guests to toss rose petals as you make your way up the aisle as husband and wife. Decorate paper cones with your monogram and secure them to chairs with an ivory ribbon.


Photo by Bob & Dawn Davis Photography; Paper Goods by Lehr and Black; Consulting by Mindy Weiss Party Consultants
12. Ceremony Pillows
Guests at this destination beach wedding on the sand sat atop white slipcovered benches instead of traditional ceremony chairs. Plush pillows in purple and white provided comfort for loved ones and were decorated with the bride and groom's initials.


Photo by Jason and Rebecca Walker for Ira Lippke Studios; Consulting by Mindy Weiss Party Consultants
13. Wedding Invitation
If you have a custom monogram created, it's a no-brainer to include it in your wedding invitation design. Add the monogram to the invitation itself, have monogrammed labels made, or have a wax seal produced that uses the personalized design.


Photo by Jay Lawrence Goldman Photography; Invitation by Lehr and Black; Consulting by Mindy Weiss Party Consultants
14. Cocktail Napkins
Details, details, details! While cocktail napkins are typically crumbled up and thrown away by attendees, personalized napkins may make your guests reconsider. Adding a personalized touch to beverage napkins will add a certain level of sophistication to your event, and your loved ones may want to hold on to these beauties as souvenirs.


Photo by KT Merry Photography
15. Drink Stirrer
Think outside the box when it comes to personalization. If you know your guests will be enjoying the libations and signature cocktails of the evening, take care to make the experience a special part of your event. Adding a modern monogram to drink stirrers is a sure way to impress revelers.


Photo by Vue Photography
16. Table Runner
Add a monogram to your reception tables! A plain white linen can be paired with a neutral table runner embellished with your monogram embroidered in your wedding colors. This tablescape featured complementary colors by way of orange tulips and a table runner emblazoned with the couple's blue monogram.


Photo by lunaphoto
17. Table Napkins
Top each guest's place setting with a linen napkin embroidered with a custom monogram. A monogram in glittering gold gives the reception table a regal touch, or choose a hue that complements your floral centerpieces.


Photo by Lauren Ross Photography & Nancy Cohn Photography
18. Reception Lighting
Use gobo lighting to illuminate a blank wall with your wedding monogram. This Chicago wedding reception featured ambient blue lighting and a sophisticated gobo monogram lighting design.


Photo by Bob & Dawn Davis Photography
19. Dance Floor Lighting
If you prefer the walls of your reception space to be decorated with drapery, consider decorating your dance floor with a gobo lighting design that displays your monogram.


Photo by Jay Lawrence Goldman Photography; Consulting by Mindy Weiss Party Consultants
20. Dance Floor Design
If you love the look of a monogrammed dance floor and want it to be a bit more permanent, create a custom dance floor design emblazoned with your monogram in the center. This design will surely impress your guests and look absolutely lovely in your first-dance photos.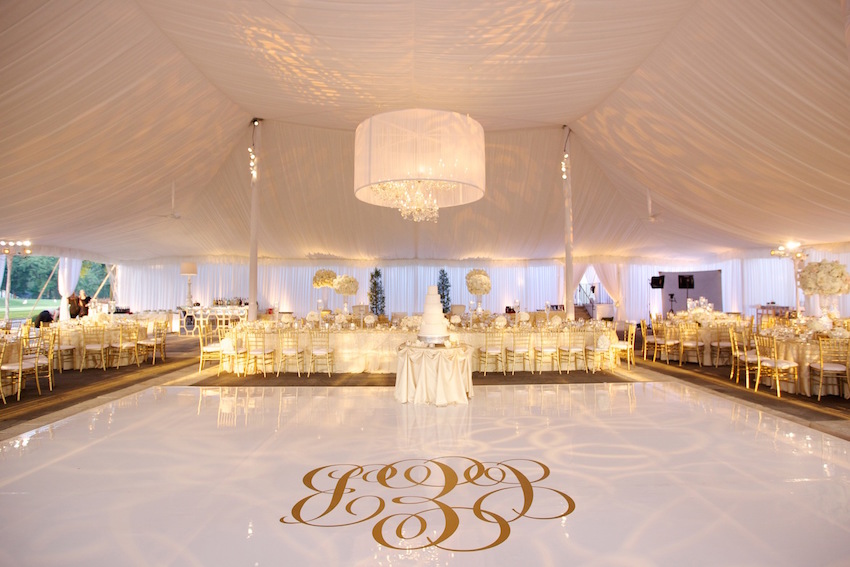 Photo by Amanda Sudimack for Artisan Events
21. Wedding Cake
When choosing a wedding cake, you have two options: traditional or modern. No matter if you choose a five-tiered white wedding cake with elegant piping and sugar flowers or a contemporary three-layer cake with ruffles and sparkle, adding a monogram to one of the layers is a sophisticated way to make your cake unique to you as a couple.


Photo by Robert Evans Studios
22. Wedding Favors
Send guests home with wedding favors presented in packaging that features your monogram! Adding a bit of personalization to your favors will tie your event together and allow you and your beloved to share your custom design throughout the wedding and beyond.


Photo by Bob & Dawn Davis Photography
If you're interested in having a custom monogram made, we suggest talking to a calligraphy specialist, such as Laura Hooper Calligraphy, who designs custom monograms and provides high-resoultion pdf and jpg files for couples to use throughout their wedding decorations – and for paper goods to use for the rest of their lives.