In today's fast-evolving world, it can be difficult to plan elements of your celebration that will still be in style by the time you say your vows. Trends can come and go quickly, so when planning your nuptials, you need to get in front of what might be popular. Whether they're classic traditions that are cycling back into the bridal zeitgeist or modern fads to keep your guests on their toes, 2016 is sure to be a promising year for weddings.
To help with the decision-making, we put together a list of some of our favorite styles that seem to be on an upswing in the new year.
1. Relaxed 'Dos


If the 2016 Golden Globes gave us any indication of what hairstyles are going to be "in" this year, be prepared to see a lot of brides and bridesmaids with loose, breezy 'dos. This year, we'll see a decline in the seemingly complex updo and the rise of the effortless-chic look. When Olivia Wilde walked the red carpet on January 10th, she modeled a beautiful low ponytail with beachy waves perfect for the modern bridesmaid. We're seeing more relaxed braids interwoven with fresh flowers, metallic confetti, and sparkly fabric. Even if the look still takes an hour or two to create, it tends to look carefree. Photo by Veronica Varos Photography
2. Creative Wedding Hashtags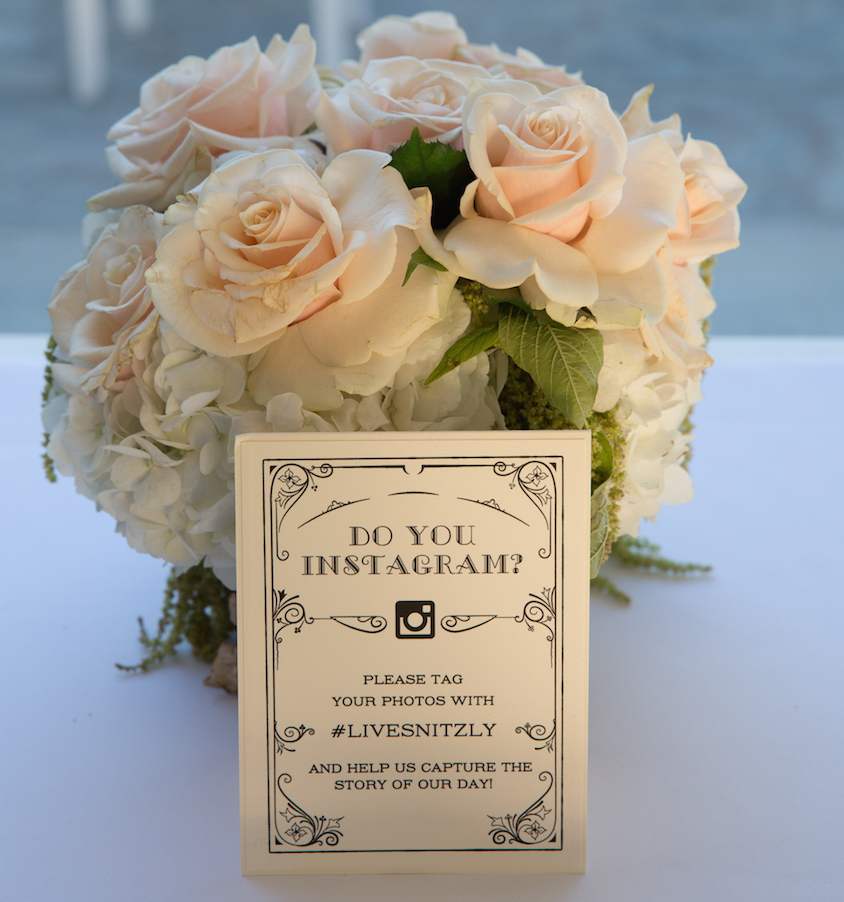 Engaged couples have started doing this within the last few years, and hashtags will be more prevalent – and more unique – than ever in 2016. Wedding hashtags are sayings that the couple invents and shares with their guests, hoping that they add the saying to all pictures and posts from/related to the nuptials. For example, if John Doe is marrying Jane Smith, they might come up with "#JaneSaysIDoe" as their official hashtag. Couples can put their hashtag in their wedding invitations, share it on social media, and place reminder cards around their ceremony/reception space. When the trend first began, the sayings were very basic (#JohnsonWedding2K13, etc.), but brides and grooms have started getting creative to make their celebrations stand out. Ashley Zisook and Neal Snitz's hashtag – #LiveSnitzly – is one of our favorites! Photo by Jay Lawrence Goldman Photography
3. Dark & Neutral Colors


Though we love seeing pops of color in an event, the new year will bring some innovative uses of grey, charcoal, pale nude, and black. Weddings are really all about the details, and with so many extra pieces in the décor, brides are feeling more confident in utilizing historically unexciting colors. Additionally, adding a few metallic elements in these colors can bring some spice to the overall aesthetic of the special day. Photo by Studio EMP
4. All About the Lighting


Providing the reception space with an array of different lights is becoming the new "it" trend for weddings. We're seeing everything from large crystal chandeliers and intricate candelabra to rustic lamp centerpieces and suspended bulbs coming into style this year. This trend could be about brightening up the occasion or simply to provide guests with the perfect lighting for their selfies. Either way, it's on the rise! Photo by Michael Carr Photography; Consulting by Ann Whittington, Event Planner
5. A Different Take on the Cake


In 2016, the traditional wedding cake will be on its way out. There are so many new confections for couples to choose from, including non-cake options. Some brides are opting to offer designer cupcakes or cake pops while others are going with entirely different sweet treats, such as make-your-own ice cream and an assortment of candies, for their guests. For a new spin on the classic confection, brides can follow the "naked" cake trend: unfrosted sides and a simple, adorning floral arrangement. Photo by Images by Berit, Inc.
6. The No-Phone Zone


With today's prevalence of smartphones connecting us to our social-media profiles at all times, some couples will kindly ask guests to adhere to a "no phone" policy for specific events throughout the wedding. Most likely, these allotted time periods will be during part or all of the ceremony; this is a strategy to ensure people aren't preoccupied with snapping the perfect "I do" picture and blocking others' views. Additionally, the couple may want their first moments as husband and wife captured by a professional – without the added feature of a bunch of raised arms and iPhones in the foreground. Photo by EDLT Photo
7. Any Time of the Day


Traditionally, weddings start in the mid-afternoon and go on into the late evening, but in 2016, couples will begin to shift around those "start" and "end" times. Perhaps it's more your style to make your day an elegant Sunday brunch or an intimate event that ends before dinner. Playing around with lighting and food service will inspire some brides to buck tradition and pick a time that fits their personal style. Photo by Elizabeth Messina; Consulting by Mindy Weiss Party Consultants; Rentals by Revelry Event Designers