Springtime is here and Mother's Day is right around the corner! If you don't have a gift for mom yet, don't worry – you're in luck! We've gathered some of our favorite gift ideas that will be perfect for your own mom, a friend or bridesmaid who has children of her own, as well as a recent bride or bride-to-be who is expecting.
From Mother's Day gift ideas for the mom in your life who loves to bake, to the sporty mom who is always in her workout clothes, or the woman who has absolutely everything, you'll find a wide range of pretty presents in a variety of price ranges she'll love. Whether you're looking for gifts under $25 or a splurge present that she'll keep for years to come, it's truly the thought that counts! You'll discover diamond necklaces, candles and diffusers for the home, and even at-home baking and floral design tutorials that will give her skills she'll always remember. There's something for every mom on your list!
Even if your mom asked for "no gifts" this year, show her that you're thinking of her with one of these offerings. Take a look at 21 gift ideas for Mother's Day, below, and click on each image (as well as the links) to shop your favorite items that mom will absolutely adore!
Floral-Print Dinnerware

Gift your mom with beautiful springtime dinnerware that will bring her delight every time she sets the table. The artfully depicted cherry blossoms are a Japanese symbol for the "beauty of life" and offer a wonderful sentiment for the love surrounding Mother's Day, the wonder of spring, and everything special to come throughout her life. Berry & Thread Floral Sketch collection dinnerware, starting at $34 by Juliska; gearys.com
Diamond Necklace

We've found the perfect splurge gift for mom! If she's a fan of diamonds, she'll love her title artfully written in a diamond-encrusted script on this 14K gold necklace from Sydney Evan. Whether for your mom, a soon-to-be mama in your life, or a new mom who is celebrating her first Mother's Day, you can't go wrong with this piece as diamonds are a girl's (and mom's) best friend. "Mama" diamond script necklace, $1,210 by Sydney Evan; intermixonline.com
Mother's Day Cupcakes

If your mom is a fan of sweets, she'll smile from ear to ear when this heart-shaped box of cupcakes arrives at her door! Featuring beautifully decorated cupcakes in 12 unique flavors, these sweets from popular bakeshop Georgetown Cupcake will certainly be a hit and give you some brownie (or cupcake) points. "Mother's Day Cupcakes"in a heart-shaped box, $70 by Georgetown Cupcake; williams-sonoma.com
Pink Coffee Table Book

Written by author and photographer Claiborne Swanson Frank, this beautiful hot-pink coffee table book showcases photos and stories of iconic families of mothers and children that beautifully capture the emotional bond between mother and child, as well as the special nature of motherhood. A wonderful option for the book collector or coffee-table decorator, this Mother's Day gift will be cherished forever. "Mother and Child" coffee table book, $95 by Assouline; gearys.com
Floral Design Membership

Ideal for the mom who always has fresh flowers in her home, give the gift of floral artistry skills taught by one of the best: Amy Child Marella of The Hidden Garden! With Bloom Academy, your mom will have a monthly digital membership that offers expert guidance to create one-of-a-kind floral arrangements from the comfort of home – plus access to live tutorials with Amy and a private community of other members! "Bloom Academy" monthly digital membership for floral enthusiasts, $47/month by The Hidden Garden; academy.hiddengardenflowers.com
Mother's Day Lip Kit

For all of the beauty-guru moms in your life, we love this Mother's Day lip kit that comes in a variety of gorgeous colors (the glamorous rose hue "Diva Mom" is shown above). The kit includes a primer-infused lip liner, as well as a creamy, peptide-infused lipstick – both cruelty free – that provide smooth color and moisture-boosting properties to give mom a gorgeous smile. "Mother's Day Lip Kit" in Diva Mom, $24 by Smashbox; smashbox.com
Artwork from a Designer's Mom

Bridal designer Claire Pettibone has a long-standing tradition of sharing one of her late mother's paintings on her birthday each year. With overwhelming demand for the beautiful artwork, Claire partnered with Fine Art America to share her mother's work with the world in the form of fine-art prints, canvases, phone cases, and more. What's a better Mother's Day gift than sharing the artistry of an esteemed designer's mother with your own mom? Phone cases and wall art by Shirley Pettibone, starting at $38 by Shirley Pettibone; shirley-pettibone.pixels.com
Floral Diffuser

If the mom on your Mother's Day gift list truly has everything, this beautiful diffuser featuring sculpted florals is a wonderful gifting option she'll love! The fragrance from the perfumed essential oils diffuses through three flowers made by skilled artisans from natural materials that are both environmentally friendly and exceptionally luxurious. "Air Essence" diffuser in Golden Cassis, $140 by Agraria San Francisco; gearys.com
At-Home Baking Kit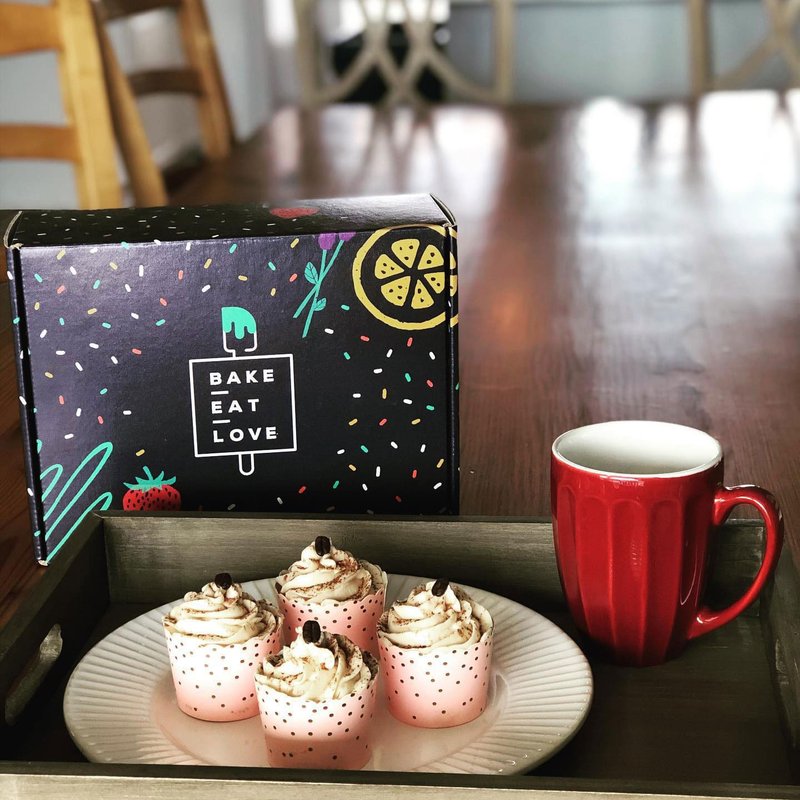 If your mom loves to bake – or even if she has no clue what she's doing in the kitchen – she'll love this at-home baking kit that brings her all of the ingredients in a box shipped to her door. Choose from an array of tasty recipes (like the tiramisu cupcakes in the photo above!) and rest assured that mom will enjoy baking up some tasty treats to enjoy herself or share with you! Baking kit, $38 by Bake Eat Love; bakeeatlovebox.com
Happy Planner for Mom

Whether you're gifting this to a new mom or your mom, any woman who needs to stay organized will love this weekly planner. From shopping lists to errands and everything in between, this gift will be used as her go-to planner for the rest of the year – and also give her the little pick-me-ups she needs to get through both the worst and best weeks ahead. "Best Mom Ever" classic 12-month planner, $28 by The Happy Planner; thehappyplanner.com
Travel-Inspired Candle

Since Mother's Day is in the month of May, this candle that celebrates the month of May in Paris, France, is a wonderful gift that will last for days, weeks, and even months depending on how often it's lit. Filled with a fragrant blend of linden and tulip, your mom will be immersed in the romance of the city whether she's visited in the past, plans to visit in the future, or just wants to cherish the magic of Paris at home. "Paris Max One" candle, $60 by Baobab Collection; gearys.com
Instant Camera with Mini Printer

We all have camera phones nowadays, but nothing can replace the beauty and nostalgia of printed photos. Give mom the gift of printable memories with this pocket-sized instant camera that creates 2" x 3" or 2" square prints that can be stuck on any surface. Perfect for tech lovers as well as those who don't even have a social media account, this camera-printer combo brings Instagram photos to life. IVY CLIQ+ Instant Camera & Portable Printer + App, $160 by Canon; bloomingdales.com
Designer Puzzle

If your mom became a fan of puzzles during quarantine – or if she's been a puzzle lover ever since you can remember – she'll love these designer puzzles from artist Ceci Johnson, who also designs couture invitation suites and stationery. Instead of the typical cardboard puzzle, these high-end pieces showcase beautiful works of art on high-quality wood pieces to provide fun for all ages. Artistic wood puzzles, starting at $50 by Ceci New York x Mosaic Puzzles; cecinewyork.com
New Luggage

Now that counties, states, and countries are opening up for travelers, it's time to upgrade your mom's suitcase! She'll love the white-and-tan faux leather style of this spinner luggage that's easy to pop in the car on road trips or traverse busy airports in style. The on-trend design also comes in a carry-on if your mom prefers a smaller size!"Chatelet Plus" 24" spinner suitcase in Champagne, $600 ($450 with code FRIEND) by Delsey; macys.com
Floral Placemat

Ideal for the mom who loves to host luncheons and dinner parties, this stunning placemat will brighten her day – and the tablescape for her next gathering. Featuring sequined hydrangea blossoms and a layered beading technique that presents ombré petals crafted by hand, this showstopper will be a delightful addition to her collection of table décor. "Hydrangea" placemat, $158 by Kim Seybert; gearys.com
Mini Portable Humidifier

We've featured humidifiers in our past beauty posts on InsideWeddings.com, and that's because they help improve the look and feel of your skin by providing hydration; however, they can often be clunky and take up a lot of space. This cute, portable USB humidifier is quite the opposite! It's simple to use and offers eight to 12 hours of hydrating mist to ensure mom's skin stays fresh and dewy no matter if she's at home or on the go. Portable Facial Humidifier, $39 by Hey Dewy; nordstrom.com
Sustainable Workout Set

For the mom who loves yoga, pilates, and working out, this set pays homage to Mother Earth and also features sustainable fabrics and eco-friendly prints that blend art, fashion, and sustainability. If she also loves locally made products, she'll love the Sustainable Soul Collection as it's designed in Venice, California, and sewed, cut, and dyed in Los Angeles. She'll have comfort in knowing her comfy set is good for the environment and made in the USA."Sol y Luna" bra ($52) and high-rise midi legging ($79), both from the Sustainable Soul Collection by Onzie; onzie.com
Compact Espresso Machine

If your mom is still using a traditional coffee maker but prefers espresso drinks, this chic and compact espresso maker will help her have a wonderful morning, every morning. Complete with a milk frother, this machine will give her the option to create her own espresso, cappuccino, or latte in less than one minute with easy-to-use coffee capsules that brew the perfect beverage every time. Nespresso Lattissima One Espresso Maker by Delonghi in Silky White, $380 by Nespresso; williams-sonoma.com
Sound Machine for Sleep

This may be a gift for the mom in your life, but you'll probably want to get one for yourself too! The advanced sound machine features over 60 sound profiles scientifically designed to promote deeper sleep and provide an easy-to-use tool for relaxation and renewal. On "Adaptive" mode, the sleep-sound machine also adapts to the sounds around you to automatically raise or lower volume to mask out unwanted noises while you're in a deep slumber. Sound+Sleep SE, $100 by Sound of Sleep; soundofsleep.com (Also available to shop on Amazon)
A Smart Vase

Instead of just sending mom flowers for Mother's Day, pair the blooms with this smart vase that ensures florals last longer with its easy, three-step process. Simply twist, drain, and trim to keep flowers fresh and vibrant for longer than they would be unattended – plus, your mom won't have to worry about getting her counter dirty with fallen leaves and petals while tending to her blossoms. The Amaranth Vase for floral care, $100 by Amaranth Vase Company; amaranthvase.com (Also available to shop on Amazon)
Box of Goodies

Mother's Day is the perfect time to give mom the break she deserves. This gift box curated by celebrity event planner Beth Helmstetter comes with everything she'll need to fully relax on Mother's Day and beyond. The elegant boxed gift includes a black silk eye mask, a CBD bath bomb and chocolate bar, the sleep mist from Aromatherapy Associates, and a Milk & Honey candle. "Mommy's In Time Out" gift box, $200 by Shop by Beth Helmstetter; bethhelmstetter.com/shop
For more ideas, see beauty products for brides that we love and learn how to plan your wedding like a pro with this virtual wedding-planning series from celebrity event planners.
Opening photo by Amy Anaiz Photography; From Real Wedding: Rooftop Ceremony + Glam Reception with Chic Blooms in New York City