Spring is here, and it's the perfect time to start planning your wedding or finalize the details for an event that's been postponed at least once. With so many decisions to make leading up to the nuptials – and many of those changing based on the current regulations – we always recommend hiring a wedding planner to help organize the entire celebration. However, even if you are planning the event yourselves, we strive to share the advice of our Editors Circle members to provide expert advice from planners, floral designers, photographers, and more wedding professionals across the country on a range of topics, both on the website and in the magazine.
Whether you don't know where to start with your wedding theme or you're looking for unique ideas to inspire your ceremony and reception, we've gathered tips and suggestions from the nation's top wedding planners and floral designers. Read on for ideas to spark your wedding celebration – you'll see advice on everything from the latest trends in floral design and décor, to unique wedding theme ideas, where to find inspiration for your big day besides Instagram and Pinterest, and elegant ways to dress your wedding tables. Happy planning!
Gather Inspiration Offline
"Since the task of designing a wedding is similar to creating a painting where you consider colors, composition, light and dark, etcetera, I always find it extremely inspiring and helpful to look at paintings of our Old Masters like Monet, Morisot, van Gogh, and Matisse as well as emergent artists." - Kim Ahonoukoun of KA Mariage


Photo courtesy of KA Mariage

Photo courtesy of KA Mariage
Send Your Invitation Stylishly
"The look of a finished calligraphed envelope with a collection of vintage stamps affixed is always beautiful. The coordinated colors and miniature splash of art those stamps provide to complement the couple's heritage, college, traveled locations, or even the wedding color palette give the envelope recipients the feeling that something special must be inside." - Mary Wright Shah of Diamond Affairs

Photo courtesy of Magnolia Postage
Choose a Unique Theme
"I love the décor of a 'Country French Wedding' concept. The combination of bold florals, along with whitewashed chairs, twinkle lights and lanterns, as well as blue-and-white French chargers intermingled with different colors of French goblets is remarkably romantic." - Linda Howard of Linda Howard Events


Photo by Laurie Bailey Photography; Planning & Design by Linda Howard Events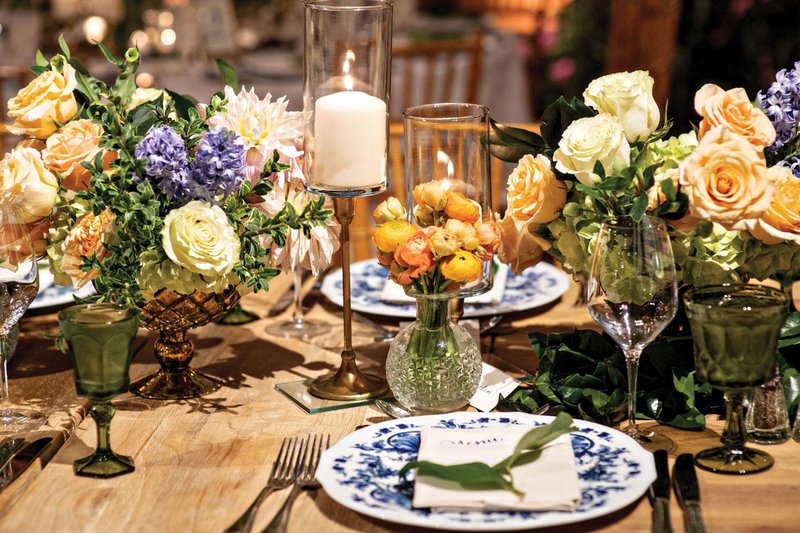 Photo by Laurie Bailey Photography; Planning & Design by Linda Howard Events
Use On-Trend Monochrome Color Palettes
"When it comes to choosing your wedding hues, monochromatic color themes are very on-trend. From neutrals to pastels to jewel tones, couples are definitely leaning toward this new wave of shades in varying gradients that makes picking your palette easy. Tablescapes are a key component, with color shifts in dinnerware, centerpieces, and more." - Eddie Zaratsian for Eddie Zaratsian Lifestyle and Design

Photo by Duke Images; Floral & Event Design by Eddie Zaratsian Lifestyle and Design
Consider Décor Other Than Flowers
"Due to the pandemic, you'll see lots of intimate weddings and outdoor garden celebrations using creative décor elements, such as balloon arches for added dimension, layers of greenery, and the use of dried flowers and silk blooms." - Nahid Farhoud of Nahid's Global Events

Photo by Duke Images
For more wedding ideas, find out how to add a creative element to escort cards and seating charts, check out some of our favorite beauty products for brides, and view a new bridal collection by Claire Pettibone inspired by a painting.
Opening photo by Roey Yohai Studios; From Real Wedding: Romantic Wedding with Unique Florals & "Mad Men" Vibe in New York